Marvin McNutt: 5 Biggest Strengths and Weaknesses of 2012 NFL Draft Prospect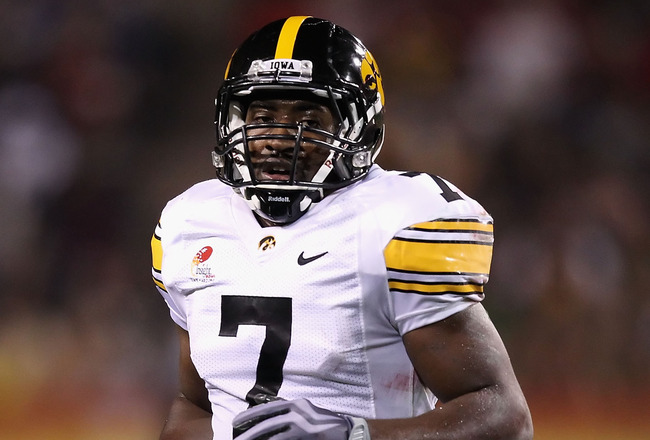 Christian Petersen/Getty Images
Marvin McNutt is a big, physical wide receiver from the University of Iowa. He is 6' 2-1/2" and 216 pounds and he plays a physical brand of football. McNutt does some things very well as a wide receiver but there are questions about some things he doesn't do as well also.
Going into the final stretch before the 2012 NFL draft, we will look at the five strengths of McNutt's game. We will also examine the five weaknesses of his game.
Strength: Size/Strength Combination
Eric Francis/Getty Images
Marvin McNutt is a wide receiver that has great size, strength and he uses both of these tools to produce at the position. He uses his big body to box out defenders and to keep them on his back.
He uses his physicality to push cornerbacks around at the line of scrimmage so press corners won't have much success against him.
Weakness: Separation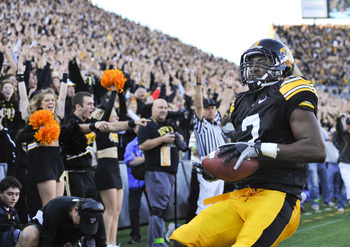 David Purdy/Getty Images
Marvin McNutt is a big wide receiver and he uses the tools he has well, but he lacks the ability to separate himself from defenders. He lacks the speed to be able to separate and get open for his quarterback.
This problem will only get bigger as he goes against quicker cornerbacks in the NFL. McNutt will struggle to get open early in his NFL career and he will need some coaching in this area of the game.
Strength: Production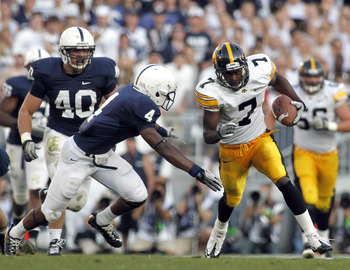 Justin K. Aller/Getty Images
Marvin McNutt has gotten better every year at the University of Iowa. As a senior, he caught 82 passes for 1315 yards and 12 touchdowns. This is an extremely productive year for a wide receiver who is not an elite speedster.
McNutt is going to be productive as a NFL wide receiver as a possession receiver with some good red zone ability.
Weakness: Lack of Speed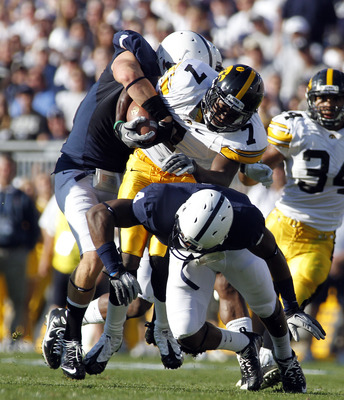 Justin K. Aller/Getty Images
Marvin McNutt lacks ideal top end speed and speed is not a particular strength of his game. He won't really run away from a defender and is not suited to use his speed to his advantage.He is quick in small spaces and this shows itself in how much he works underneath a defense.
He has decent straight line speed but this isn't a strong aspect of his game.
Strength: Route Running Ability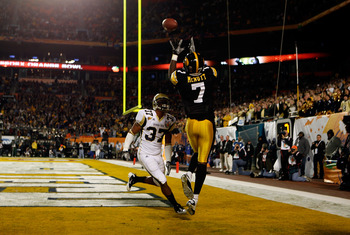 Marc Serota/Getty Images
Marvin McNutt has good route running ability, especially in underneath routes and against zone coverage where he can use his body to box out defenders. He shows nice quickness in short areas and has a nice feel for finding open areas in coverage.
McNutt sets up defenders well and uses his body to get himself open. If McNutt is to find any success in the NFL, it will be because of his ability to find open spaces.
Weakness: Footwork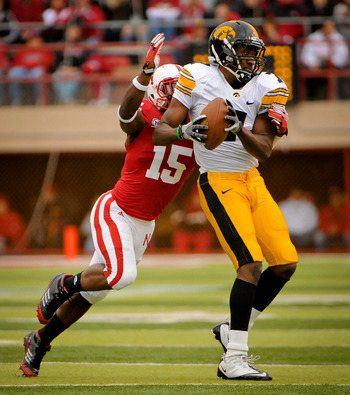 Eric Francis/Getty Images
McNutt has average feet for a wide receiver at this point in his career. He is not precise with his footwork and will round off the top of his routes, causing him to not have any real explosion out of his breaks. This compounds the speed problem and is a issue that can get much worse against the faster cornerbacks at the next level.
He projects as a possession wide receiver at the NFL level and he has to get better with his feet.
Strength: Blocking Ability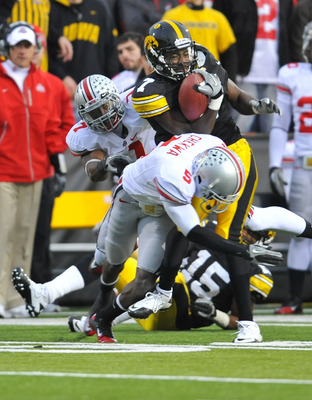 David Purdy/Getty Images
McNutt is a very willing blocker that has the ability to dominate defenders down the field. He has big hands and uses them very well while blocking. He also has long arms and is a feisty blocker that will engage and stay on a block until the play is over.
Weakness: Stride
Jamie Sabau/Getty Images
Marvin McNutt has really long legs and these long legs make him a strider as a runner. He doesn't have great ability to chop his feet and therefore he will lose speed as he has to slow himself to make a lateral move.
He isn't a fast athlete and it takes him a few strides to get to top speed. McNutt is good runner, but he isn't an elite athlete and it will limit his ceiling in the NFL.
Strength: Football Awareness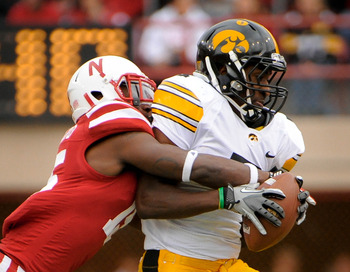 Eric Francis/Getty Images
McNutt is a former quarterback and a player that uses good football awareness to be a productive football player. As a former quarterback, he knows where to find open spaces in the defense and this will be critical for him as an NFL wide receiver. He is willing to help his quarterback by going into the middle of the defense.
Weakness: Pass Catching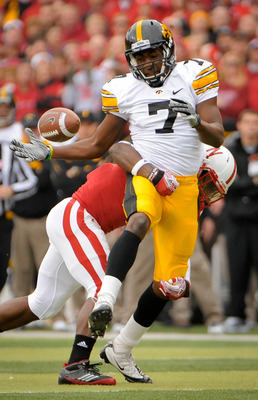 Eric Francis/Getty Images
McNutt has good hands, that's not the area of pass catching that he needs to work on. He sometimes lets the ball get into his body instead of catching it away from him or catching it at it's highest point.
When you add this component to his inability to separate, you see a problem where defenders will be able to knock the ball out before the ball can get to McNutt's body.
Keep Reading