Chelsea vs. Arsenal: Preview, Start Time, Live Stream and More
April 21, 2012

Ian Walton/Getty Images
Chelsea FC are hoping to carry the momentum of their massive midweek upset victory over Barcelona into the Premier League ties Saturday against London rivals Arsenal. The Gunners will be looking to get back on track themselves after becoming the latest victims of Wigan's recent dominance at knocking off the top of table.
It is not perhaps the most storied rivalry in all of the game, but it certainly has developed into one of the most formidable in recent years. The influx of money into Chelsea in the past decade has come as a challenge to Arsenal's clear title as the elite club of London. And with another trophy-less season at the Emirates, it is hard to make the case any longer that they stand alone with that acclaim.
However, the Gunners have nothing but excitement heading into the matchup. Though there will be no silverware to show for it, it has arguably been the best time for a Gooner since the days of the "Invincibles." Robin van Persie, with a full healthy season under his belt, has emerged as the rumored superstar many believed he was.
On the other hand, Chelsea fans have only been able to smile in recent weeks as Roberto Di Matteo has completely transformed a side that was once thought to be too old and stubborn to produce anything at all. Their win over Barca not more than a week ago has spirits at the Bridge at an all-time high.
Chlesea has more on the line in terms of results, as they still sit outside of the final Champions League spot in the league. Dropping any points could prove too big of a loss to recoup. But Di Matteo must also be aware of the return leg against Barca at Nou Camp.
Arsenal have third place all but mathematically locked up and pride is what is most at stake for them. Though that should be enough, as they want to finish strong going into the offseason.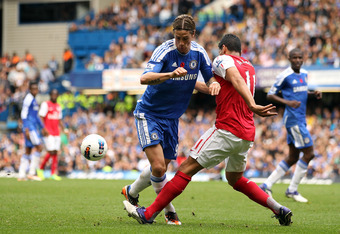 Ian Walton/Getty Images
Here is everything you need to know for the game.
Where: Emirates Stadium, London
When: Saturday, April 21, 7:45 a.m. EDT
Watch: ESPN2, ESPNDeportes
Live Stream: ESPN3.com
Player to Watch: Fernando Torres
Didier Drogba reconfirmed why he is a legend for the Blue's with his man of the match performance over Barcelona in the midweek. Not only was his goal pivotal in the result, but his hold up play and constant threat going forward gave the Blue's that bit of break in the Barca attack to secure the 1-0 win.
However, he was recently ruled out of the Arsenal match, having sustained a knee injury sometime since the game.
Fernando Torres is sure to get the start and will have a big role to fill. He has been hot and cold this season, at times putting in a brilliant 90 minutes up top and others finding himself meaningless the entire match.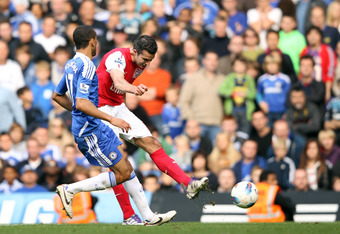 Ian Walton/Getty Images
Arsenal's backline has not been invincible this season, conceding more goals than any other team in the top half of the table. If Torres is ever able to find a time to score, it would be tomorrow. The Gunners do not exactly have a ton of speed along the back and Torres needs to find that space as he has been ineffective when defenders get into his body.
On top of that, the chances of Drogba featuring Tuesday against Barca are uncertain. Torres will need to have a good game and be full of confidence if he is forced to start in Spain. One goal at Nou Camp could be enough to get them to their second ever Champions League final.
Stats Tell the Story
Chelsea have scored more goals between the 46th and 60th minute when they are away than any other 15-minute window. Arsenal has not conceded in that same window at home all season.
Interesting Trivia
In Roberto Di Matteo's time as a player at Chelsea he never once beat Arsenal in league play.
Prediction: Chelsea 2-2 Arsenal
Not wanting to go all out, Chelsea will get an early lead off of a Fernando Torres strike and try to practice their game plan for the upcoming match against Barca. However, the size and strength of van Persie will be too much and he will ensure an Arsenal comeback. But Chelsea will steal a point late to make it an even 2-2 draw.
For all my articles, follow me on Twitter: @thecriterionman