Virginia Tech Football Spring Game: Live News, Analysis and Results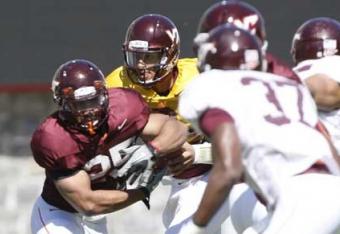 Virginia Tech's first public scrimmage could be summed up by saying that the defense was totally dominant, the second showed a slowly improving offense, but Hokie Nation will get it's best look yet at the 2012 edition of Virginia Tech football tomorrow.
The Hokies' annual Maroon and White game starts at 4:00 P.M. tomorrow and will be broadcast on ESPN 3. Throughout the game I will be blogging with analysis and color commentary about all things Hokie. I welcome all of you to converse in the comments section below. I will start the live blog at about an hour before the start of the spring game.
According to ESPN and hokiesports.com the maroon and white game will not be rescheduled, so it will be awhile before Hokie Nation has a chance to see their football team.
Sadly the game has been cancelled.
We will get more information about this delay from ESPN at 5 ET.
As of now (45 minutes into delay) nothing has changed on the radar.
We are a half hour into the weather delay and it looks like this current cell is on its way out followed by a small clear window, so the game may be started here soon.
If you are waiting on the game like I am then you have two other choices to pass the time. We have game 5 of the Stanley Cup Playoffs between the Capitols and the Bruins on NBC, you can also switch over to Fox for the Yankees and Red Sox.
ESPN 3 just provided an update and showed a totally empty Lane Stadium. They aren't sure when the game will begin. Just so you know the maroon team is the starters and the white is the second team. Because of this advantage the white team is being spotted 21 points.
The radar shows a small but powerful cell moving through the Blacksburg area. There is another cell that will come through after this current one but it looks like it will just be rain so hopefully we will be able to get going pretty soon.
The Maroon and White game is currently in a weather delay. There is thunder and lightning in the vicinity, I will continue to bring you updates during the delay.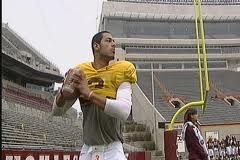 We are only a half hour away from the Maroon and White game, and there are some major questions that fans want answered on the field on Saturday. Has Logan Thomas grown as a passer? Can Michael Holmes or J.C. Coleman handle the majority of the snaps at running back? Are the wide receivers reliable enough?
We are a little more then an hour out from the 2012 Maroon and White game. I will be bringing you live analysis throughout the day. If you are bored and have nothing to do for the next hour then I suggest you switch over to ESPN as Real Madrid and FC Barcelona are about to start the second half of a 1-0 game. Just make sure to head back here at 4:00 to get your first look at the 2012 Hokies.
This article is
What is the duplicate article?
Why is this article offensive?
Where is this article plagiarized from?
Why is this article poorly edited?

Virginia Tech Football: Like this team?