2012 NFL Mock Draft: Full First-Round Predictions with Alternate Picks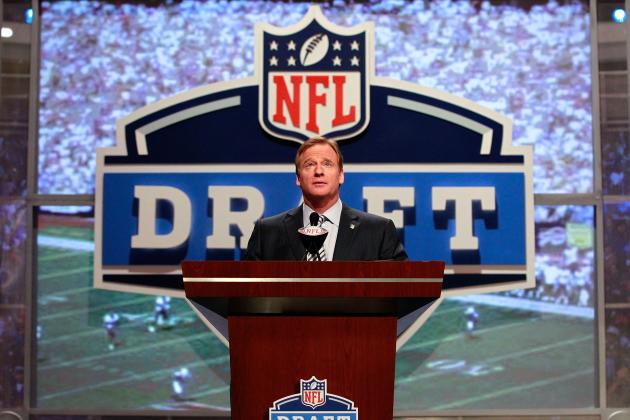 Chris Trotman/Getty Images
A generic draft picture with Roger Goodell. Perfect.
Unlike last year, the top two picks of this year's draft are set in stone. Still, the excitement isn't going away any time soon as the draft begins tonight.
With so many mock drafts already out, you've likely seen a variety of picks for your favorite team. Not all of them can be right. Not all my picks will be right either.
So in the case that the pick fails, provided are some backup picks that each team might choose.
So with draft day here, it's only fair to make some last-minute predictions.
Begin Slideshow

»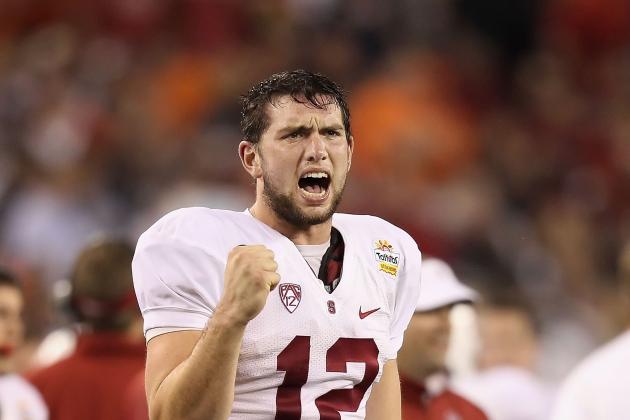 Christian Petersen/Getty Images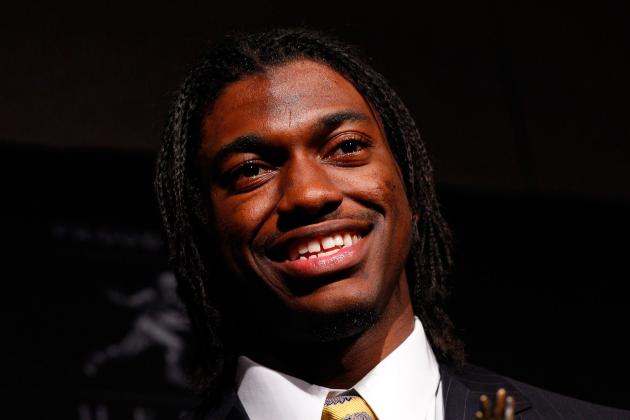 Jeff Zelevansky/Getty Images

It will be interesting to see in five years who turns out better, Luck or Griffin.
Both are mobile quarterbacks who prefer to throw but can also gain yards on the ground.
The Redskins didn't give up three first-rounders to select any other player than Griffin.
Alternate Pick: None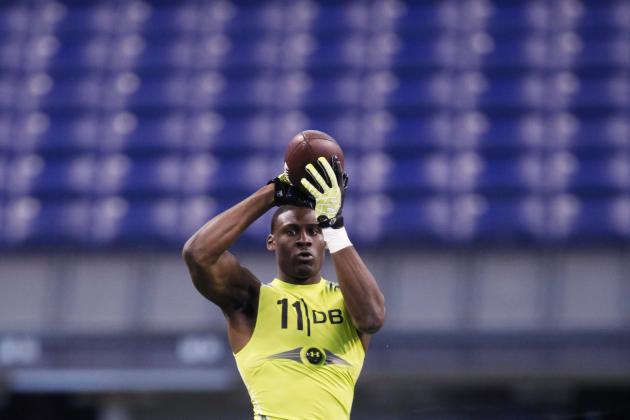 Joe Robbins/Getty Images

Claiborne, while a less dominant athlete, is a better player coming out of college than former teammate and last year's fifth overall pick Patrick Peterson.
The Vikings are desperate for a cornerback and Claiborne fills their biggest need better than Matt Kalil helps the offense.
Alternate Picks: Matt Kalil, OT, USC; Justin Blackmon, WR, Oklahoma State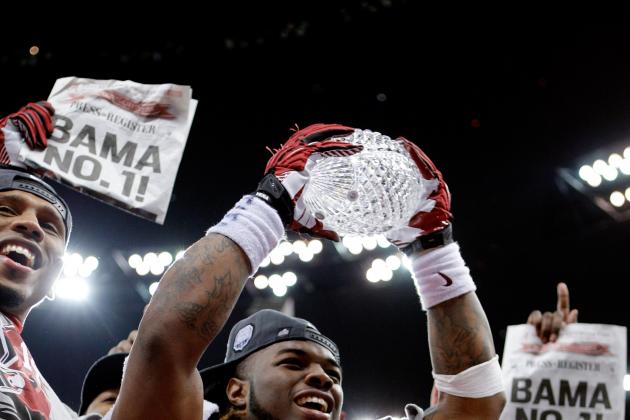 Andy Lyons/Getty Images

At 5'11", 224 pounds, Richardson is a pretty solidly built back. He's a player who can do it all, from pounding the rock to pass protection.
The Browns have a dearth of talent at running back, especially after Peyton Hillis left.
However, the devaluation of the running back position could make the Browns pass up the best player left on the board in favor of Justin Blackmon.
While Blackmon certainly isn't worth the fourth overall pick, any offensive playmaker helps the Browns.
Alternate Picks: Justin Blackmon, WR, Oklahoma State; Ryan Tannehill, QB, Texas A&M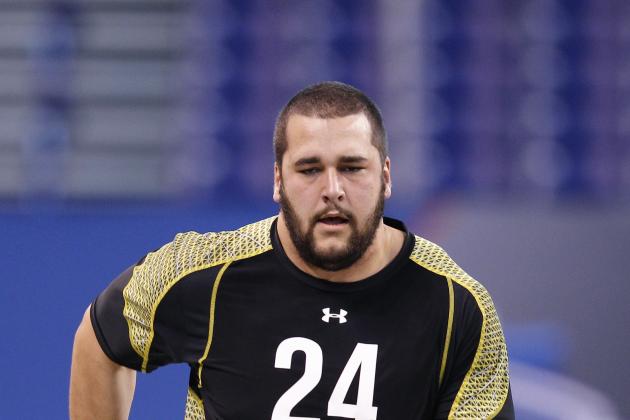 Joe Robbins/Getty Images

I found it funny a few months ago when people thought Jonathan Martin was a better prospect than Kalil.
Kalil is this year's top offensive lineman. He combines athleticism with technique. He has room to grow, but in Tampa he'd be an instant upgrade.
The Buccaneers don't have a very good pair of offensive tackles. It's time to give Josh Freeman some protection.
Alternate Picks: Luke Kuechly, MLB, Boston College; Stephon Gilmore, CB, South Carolina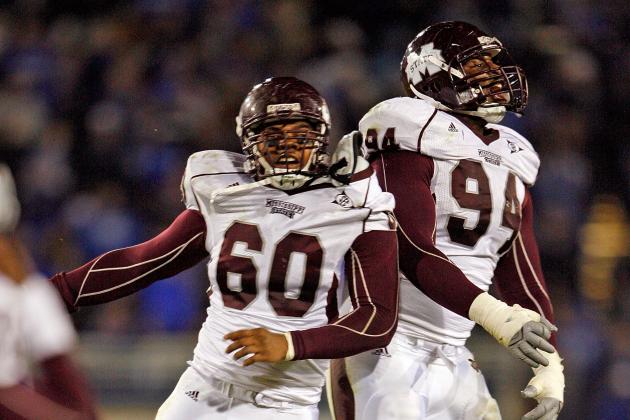 Andy Lyons/Getty Images

After an impressive combine that saw Cox run a 4.79 40-yard dash at 6'4", 298 pounds, Cox's stock has skyrocketed. He's now essentially a lock to be a top-15 pick.
Cox is a great athlete with upside to spare, but he often relies on his athleticism to make plays.
He's a little raw and needs to be coached, but the Rams are awful along the defensive line.
Alternate Pick: Justin Blackmon, WR, Oklahoma State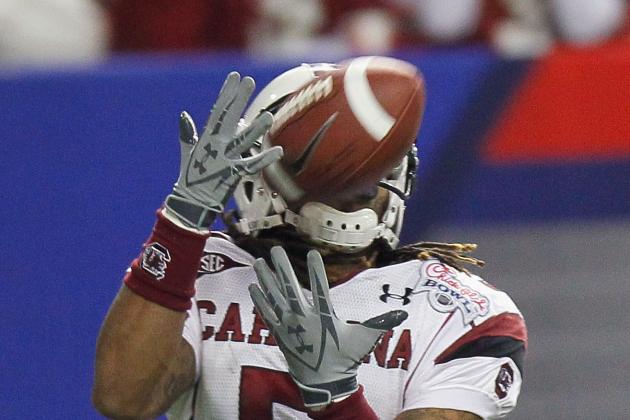 Kevin C. Cox/Getty Images

The Jaguars reportedly have a higher grade on Gilmore than on Morris Claiborne. If true, that would almost lock Gilmore into this spot.
Gilmore is a big, physical corner with good athleticism. While the Jags don't necessarily need a corner here, the fact that they think so highly of him bodes well for his selection here.
Wide receiver and defensive line are two huge needs here, so it wouldn't surprise anyone if they opted to go with a player at either of those positions.
Alternate Picks: Melvin Ingram, OLB/DL, South Carolina; Michael Floyd, WR, Notre Dame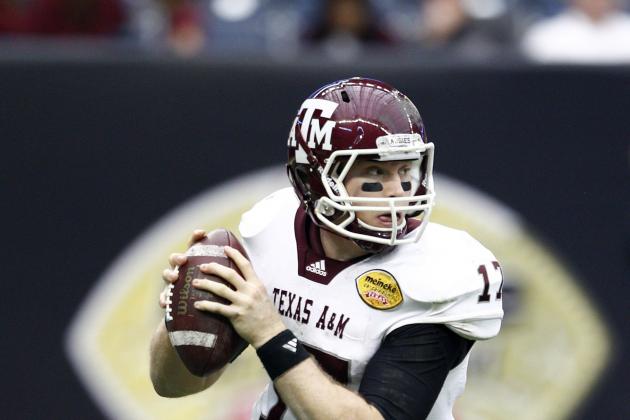 Bob Levey/Getty Images

Tannehill is one of the most polarizing prospects in the entire draft. You either love him or hate him. There isn't much of an in-between.
There are a number of reasons why Tannehill could be the pick here. His former coach at Texas A&M, Mike Sherman, is now the Dolphins' offensive coordinator. The Dolphins also aren't set at quarterback with David Garrard and Matt Moore.
Tannehill has tantalizing physical attributes, including a rocket arm, but isn't ready to start yet.
Miami could let Garrard and Moore battle it out in camp. Whomever wins would start until they feel Tannehill is ready.
Alternate Pick: Michael Floyd, WR, Notre Dame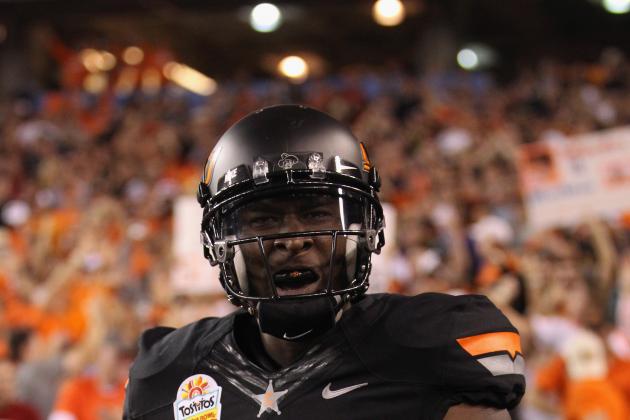 Christian Petersen/Getty Images

The wide receiver class this year, while deep, lacks any elite talents.
Blackmon is an incredibly overrated player who lacks elite size (6'1", 207 pounds), speed and strength.
He does have an impressive catch radius, runs good routes and knows the game, but he doesn't have enough potential to justify a top-10 pick.
Still, someone will take a gamble on this receiver in the top half of the first round.
Alternate Pick: Luke Kuechly, MLB, Boston College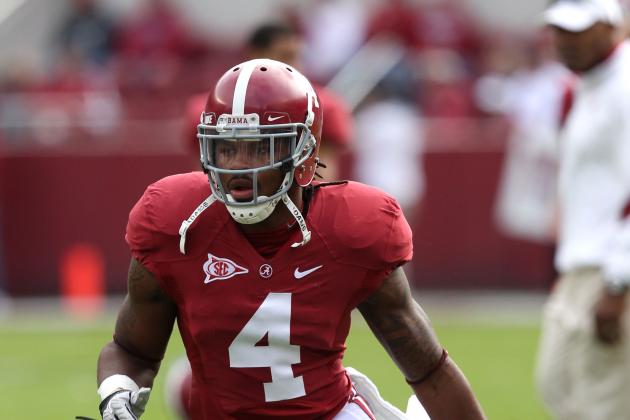 Mike Zarrilli/Getty Images

With the loss of Demetress Bell to Philadelphia, the Bills have a lot of question marks on their offensive line. That's not good news for a team that wants its $59 million investment Ryan Fitzpatrick to succeed.
However, they'll have to pass up perhaps their biggest need for a player like Barron. He is an asset against both the run and in coverage, though he isn't overly athletic.
Alternate Picks: Riley Reiff, OT, Iowa; Melvin Ingram, OLB/DL, South Carolina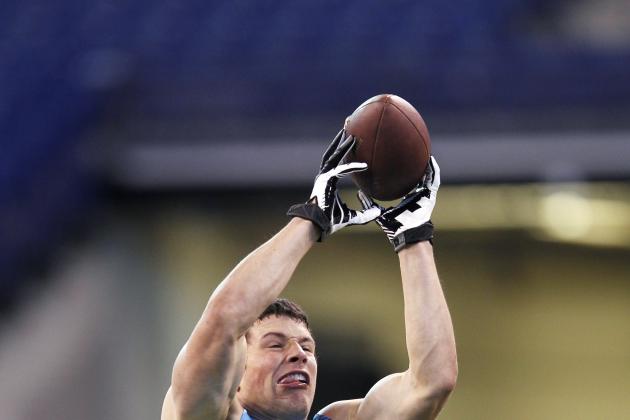 Joe Robbins/Getty Images

Kuechly answered questions about his athleticism at the combine by posting a 38-inch vertical jump as well as a 4.58 40-yard dash.
He has superb instincts and is arguably the draft's best coverage linebacker. Kuechly also led the NCAA in tackles last year.
The Chiefs struggled in run defense despite having stud linebacker Derrick Johnson manning one of the inside linebacker spots.
Selecting Kuechly here would vastly improve Kansas City's defense.
Alternate Picks: Dontari Poe, DT, Memphis; David DeCastro, G, Stanford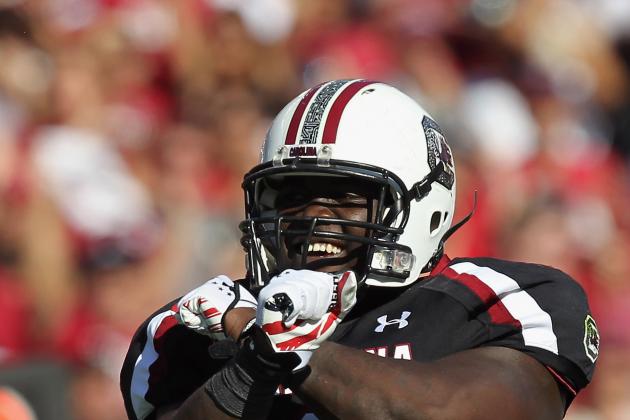 Streeter Lecka/Getty Images

Versatility is the key for South Carolina's Melvin Ingram.
Not only can he line up anywhere along the defensive line, but he also played some linebacker at South Carolina as well.
Ingram has the speed to be an effective edge rusher and give the Seahawks some badly needed pass rush.
The Seahawks are reportedly considering moving safety Kam Chancellor to linebacker, so Alabama's Mark Barron is an option here if they choose to do so.
Alternate Picks: Mark Barron, S, Alabama; Quinton Coples, DL, North Carolina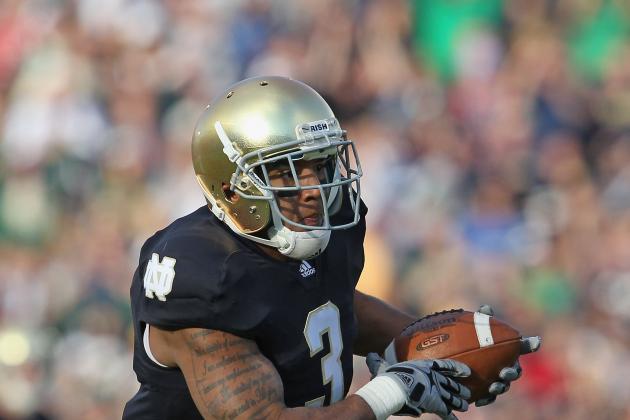 Jonathan Daniel/Getty Images

Besides the ultra-talented Larry Fitzgerald, the Cardinals don't have many receiving threats.
Picking up Michael Floyd, who some think is the best wide receiver in this year's draft class, would give the Cardinals an instant upgrade over most of their receivers.
Floyd is a big target at 6'3", 220 pounds, and while not overly fast still has enough speed to make defenses worry.
Alternate Pick: David DeCastro, G, Stanford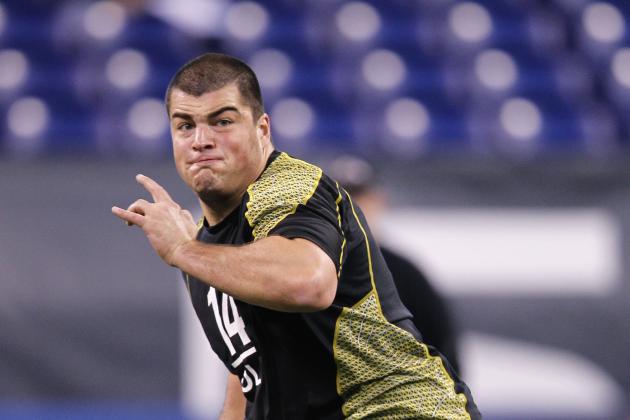 Joe Robbins/Getty Images

Though the Cowboys already acquired one starting guard, Nate Livings, via a horrible deal in free agency, they still have another opening.
DeCastro is easily the best guard in the draft. If there are any weaknesses in his game, they're minor.
That DeCastro is a guard means he should be available here for the Cowboys, who had top target Mark Barron poached from them earlier.
Alternate Pick: Dontari Poe, DT, Memphis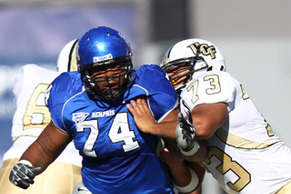 http://guysnfldraftlockerroom.com/sites/default/files/dontari-poe_display_image.jpg
Ever since Poe wowed the folks at the combine by showing insane strength and speed, his stock has been on the rise. It's risen so far he's a candidate to be drafted way too early.
Though many call Poe a nose tackle in a 3-4 system, he doesn't play that way.
His inability to eat up multiple defenders at a time suggests he'd be an ill fit as a nose tackle.
Instead, the Eagles could use him as a pass-rushing defensive tackle in their 4-3 scheme, a much better fit for his playing style.
But let the buyer beware: Poe has massive bust potential.
Alternate Picks: Quinton Coples, DL, North Carolina; Michael Brockers, DT, LSU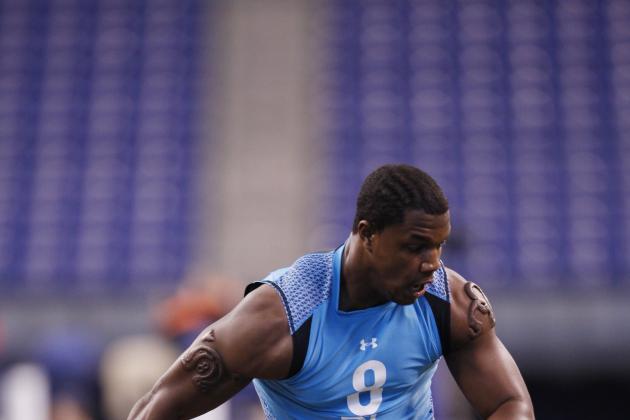 Joe Robbins/Getty Images

Coples is arguably the draft's best pass-rusher, but concerns about his work ethic and dip in production as a senior at North Carolina will cause him to fall this far.
Had he not tore up the Senior Bowl, Coples may have fallen further than this.
Coples is already a good run-stopper. But unless he can develop a consistent motor, his pass-rushing skills might never develop like they should.
There's a legitimate chance Coples slides further than this, but the Jets will have to take a flier on him here.
Alternate Picks: Whitney Mercilus, OLB/DE, Illinois; Chandler Jones, OLB/DE, Syracuse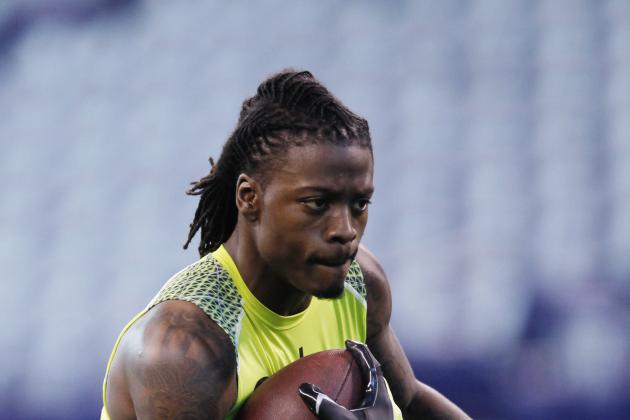 Joe Robbins/Getty Images

As evidenced by the whole Pacman Jones fiasco, off-the-field issues don't scare off the Bengals.
While many felt Kirkpatrick could go higher than this, his drug arrest dropped his stock a little.
Kirkpatrick is a physical but stiff corner who may move to safety if he doesn't perform well at corner.
Alternate Pick: Courtney Upshaw, OLB/DE, Alabama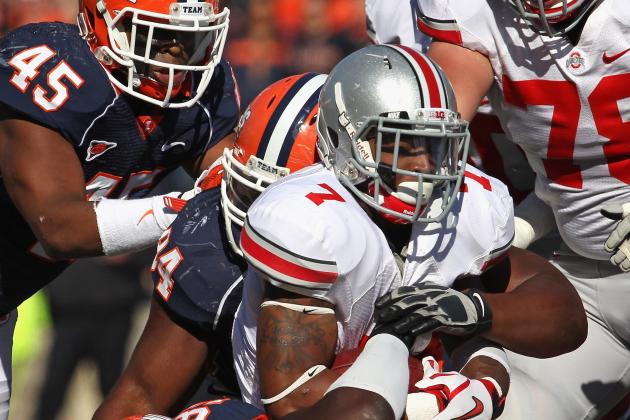 Jonathan Daniel/Getty Images

It's been a few years since the Chargers started their search for a better pass rush.
In the 2009 NFL draft, they selected OLB Larry English, who has been a bust up to this point. Last year, they chose Mercilus' former teammate Corey Liuget, a defensive tackle..
The Chargers seem to yet again be on the prowl for a pass-rusher, and the best one available is Whitney Mercilus.
Though Mercilus has been pegged as a one-year-wonder by some, he's still an explosive player who should be able to contribute immediately on passing downs.
He isn't bad against the run either, so it should only be a matter of time before San Diego feels safe deploying him full time.
Alternate Picks: Chandler Jones, OLB/DE, Syracuse; Nick Perry, OLB/DE, USC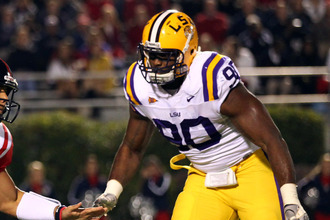 http://cdn.bleacherreport.net/images_root/slides/photos/001/969/315/133510698_display_image.jpg?1330377728
While receiver is the Bears' biggest need, there's some value to be had in the second round at that position. The Bears seem primed to use their first-round pick on a defensive lineman.
A report came out that the Bears will use their first-round pick on Brockers if he's available, and it makes sense.
The LSU product knows how to play the run well but needs to develop in other phases of his game.
He'll see some playing time in his first year but may be removed on passing downs.
Alternate Picks: Kendall Wright, WR, Baylor; Chandler Jones, OLB/DE, Syracuse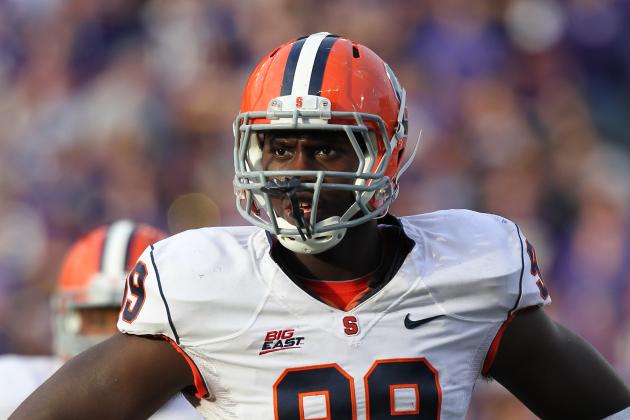 Otto Greule Jr/Getty Images

In a complete toss-up between Jones, North Alabama CB Janoris Jenkins and Georgia G Cordy Glenn, I decided to go with Jones.
Jones is an intriguing pass-rusher who uses his long arms to fend off defenders.
While both Jenkins and Glenn fill needs here for the Titans, a player like Jones might be too good to pass up.
Alternate Picks: Cordy Glenn, G, Georgia; Janoris Jenkins, CB, North Alabama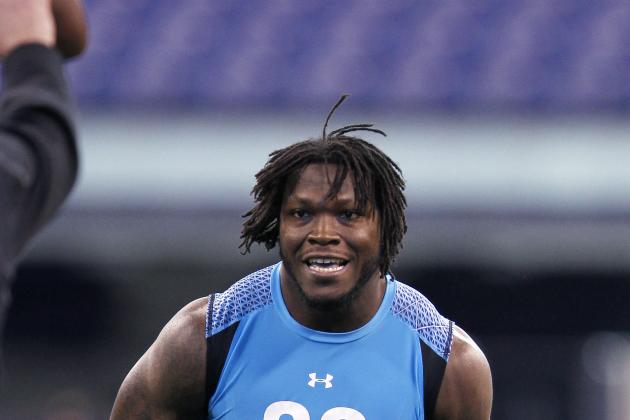 Joe Robbins/Getty Images

The Bengals have a lot of interest in Upshaw, to the point where they'll reportedly take him with one of their picks if he's still available.
The Bengals aren't exactly set on their defensive line, so Upshaw's ability to stop the run and rush the passer would be welcome.
Upshaw doesn't have a ton of potential due to his mediocre athleticism, but the Bengals like him a lot.
There's enough here to justify the pick.
Alternate Pick: Cordy Glenn, G, Georgia; Stephen Hill, WR, Georgia Tech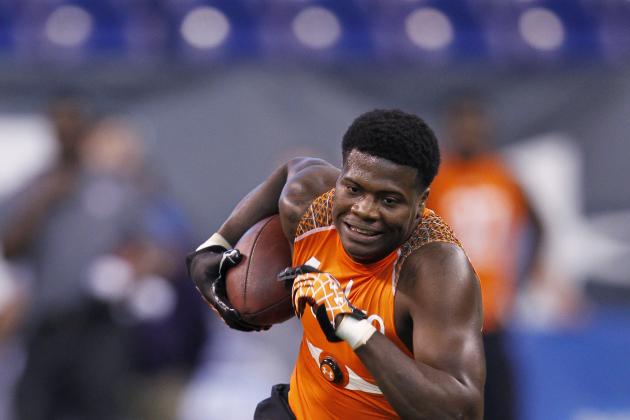 Joe Robbins/Getty Images

The Browns simply need receivers.
By properly passing up a receiver at No. 4 for a player like Trent Richardson, Cleveland can now use the 22nd pick for the best receiver available, Kendall Wright.
With a good offseason, the explosive Wright could've been drafted in the top half of the draft. A bad offseason has dropped him here.
Wright can play in both the slot and the outside. He gives the Browns a speedy complement to possession receiver Greg Little.
Alternate Picks: Stephen Hill, WR, Georgia Tech; Brandon Weeden, QB, OSU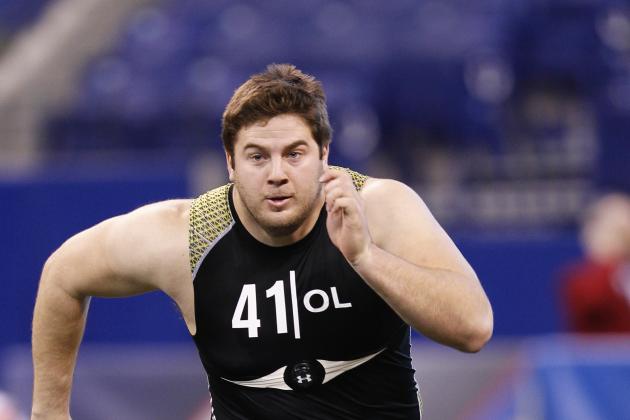 Joe Robbins/Getty Images

Because of the way things worked out with other teams, Reiff slides all the way back here to the Lions at No. 23, who happily grab him.
Reiff has relatively short arms, but the move to guard that some expect is way off-base.
Reiff comes from an excellent offensive lineman-producing school in Iowa and is a better run blocker than pass protector.
The Lions have big needs at cornerback and offensive tackle. Their GM has already stated that marijuana usage will not prevent them from selecting a player. This makes the two alternate picks here legitimate possibilities.
Alternate Picks: Janoris Jenkins, CB, North Alabama; Mike Adams, OT, Ohio State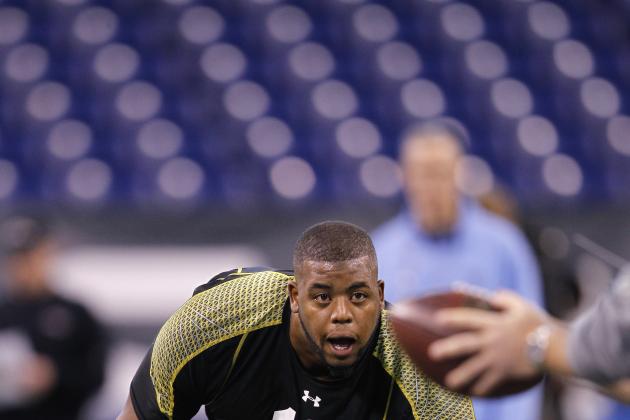 Joe Robbins/Getty Images

Offensive line is perennially one of the Steelers' biggest weaknesses.
Though center is set with Mike Pouncey, not much else is.
It's about time that the Steelers addressed their offensive line in the first round of the draft. They do so by selecting the best offensive lineman left who isn't a center.
Glenn is a big, versatile lineman who can play tackle or guard. He fits the mauling theme of the Steelers.
Alternate Pick: Dont'a Hightower, MLB, Alabama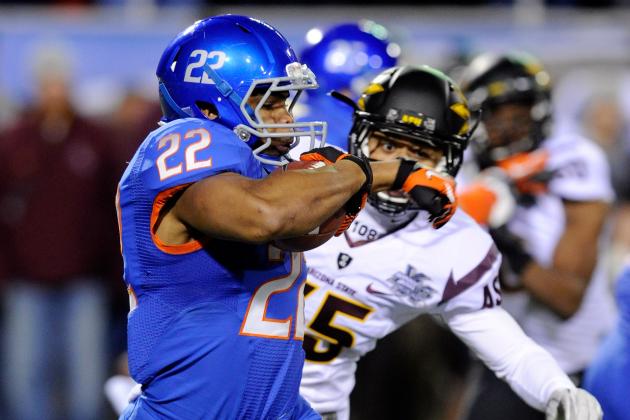 Ethan Miller/Getty Images

A legitimate first-round talent, Martin is in danger of falling out of the first round due to the decreasing importance of the running back in today's game.
Fortunately for him, the Broncos will rescue him from that fate.
Martin has dual value as a returner and will help Peyton Manning with his abilty as a pass protector.
Martin is a legitimate feature back with big-play ability, but he sn't extremely elusive.
It's only a matter of time before Willis McGahee spontaneously combusts, so it'd behoove the Broncos to either select Martin here or trade for Carolina's Jonathan Stewart.
Alternate Picks: Devon Still, DT, Penn State; Jerel Worthy, DT, Michigan State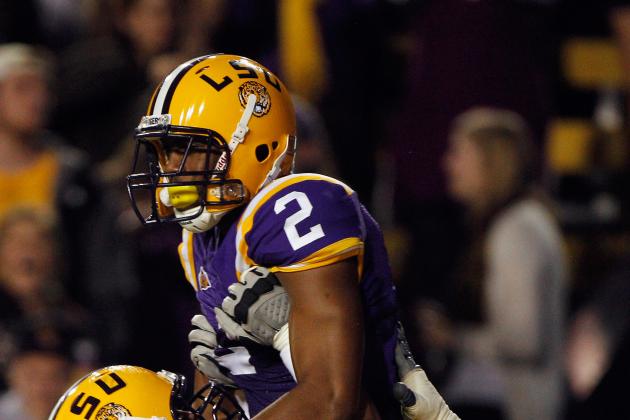 Chris Graythen/Getty Images

The Houston Texans desperately need a second receiver to take the pressure off Andre Johnson. They seem primed to take a receiving threat here.
Randle is a player who could come in and mmediately and, as long as he puts in the effort, put together a solid season opposite Johnson.
A big, smooth receiver, the Texans may be Randle's best shot at being selected in the first round.
Alternate Pick: Coby Fleener, TE, Stanford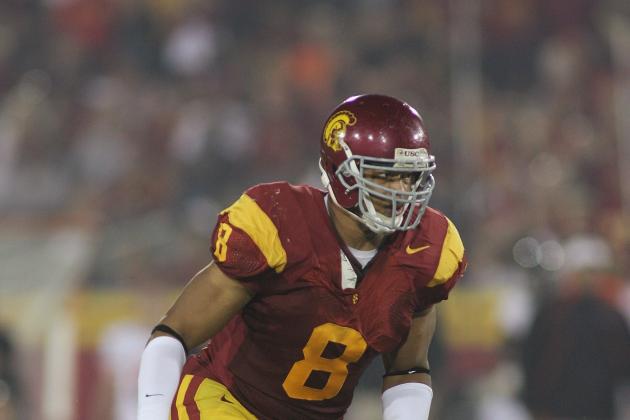 Jeff Golden/Getty Images

The Patriots might not have this pick, as they are expected to deal one of their first-rounders away like they always do.
With Andre Carter a free agent and Mark Anderson gone, the Patriots have very little pass rush on their roster.
Perry is an explosive workout warrior who is a bit of a tweener.
The Patriots are so desperate for a pass-rusher that they'll take Perry off the board even if he isn't great against the run.
Alternate Pick: Shea McClellin, OLB, Boise State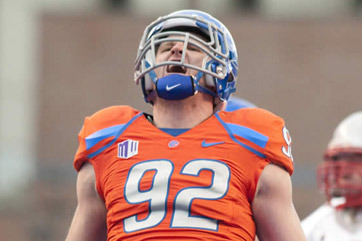 http://www.boisestatefootball.com/sites/all/themes/zen/bsu/images/shea-mcclellin.jpg
Shea McLellin is a bit like the other outside linebacker that the Packers have. Like Clay Matthews, McClellin played several different positions in college.
He's also solid in all aspects of his game, and, more importantly for the Packers, is a good pass-rusher.
He could thrive immediately opposite Matthews.
Alternate Picks: Andre Branch, OLB, Clemson, USC; Peter Konz, C, Wisconsin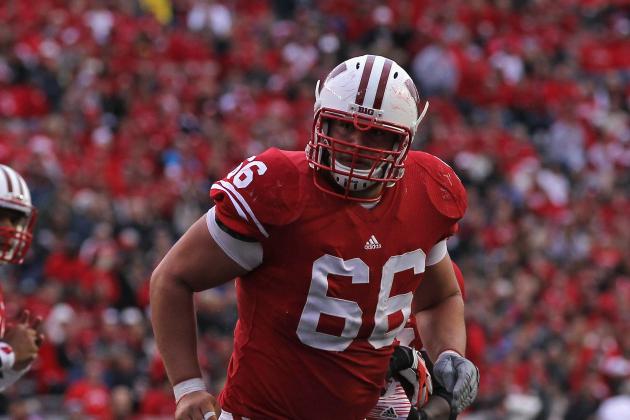 Jonathan Daniel/Getty Images

It would be shocking if Matt Birk didn't retire after this coming season. Once he's gone, the Ravens will be in the market for a center. That is, unless they don't already have a suitable replacement.
Konz is a bit big for a center, but he's extremely smart and even pulled during his time at Wisconsin.
He could also spend his first year at guard as a replacement for Ben Grubbs.
Alternate Pick: Andre Branch, OLB, Clemson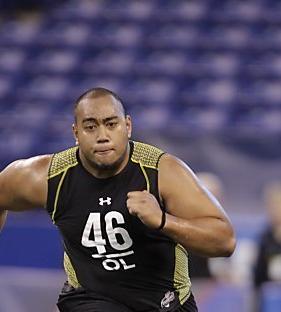 http://imgs.sfgate.com/c/pictures/2012/04/24/sp-49ers25_PH_SFC0110433676.jpg
The 49ers need help at guard, and a nasty, mauling prospect like Silatolu would be able to help right away.
The 49ers would be taking a big risk in converting a small school tackle to guard. But it's worth the risk in this case.
Silatolu would immediately open up holes in the run game and fill one of the guard slots where the 49ers have a major need.
Alternate Picks: Stephen Hill, WR, Georgia Tech; Kevin Zeitler, G, Wisconsin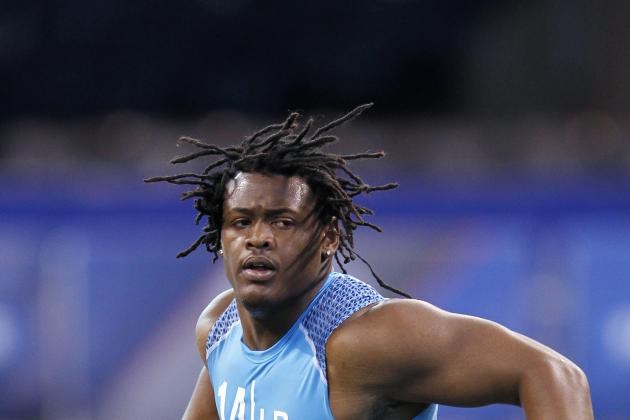 Joe Robbins/Getty Images

If the Patriots don't give up the 27th overall pick, they'll almost certainly give up this one.
If they decide to keep it, they could choose to fill yet another hole on defense with yet another Alabama prospect.
Hightower's main job is as a run-stopping thumper, but he can also blitz perfectly fine.
Selecting an inside linebacker here would mean the Patriots could keep Jerod Mayo on the outside and have Hightower and Brandon Spikes man the middle.
Alternate Picks: Devon Still, DT, Penn State; Harrison Smith, S, Notre Dame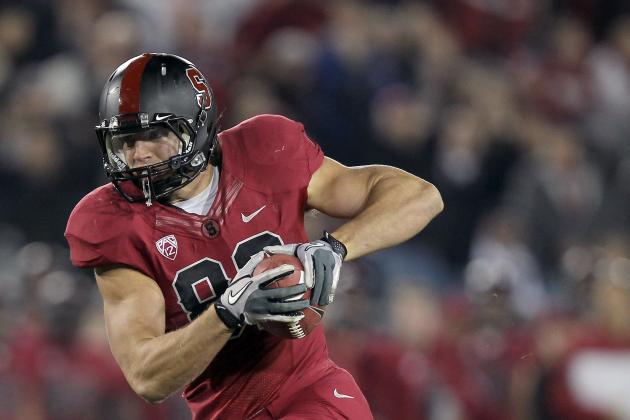 Ezra Shaw/Getty Images

As overrated as he may be, Fleener would fill a big need for the Giants.
With both Jake Ballard and Travis Beckum questionable for the 2012 season, the Giants badly need a tight end.
Though a zero as a blocker, Fleener is in the mold of the big, athletic tight ends who dominate the NFL today.
Still, he really can't block. At all.
Alternate Pick: Jonathan Martin, OT, Stanford