40 Guys Caught Staring at Cheerleaders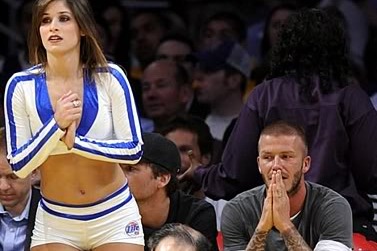 Actually, it's more like 40 slides worth of guys caught staring at cheerleaders, which means there's a lot more than 40 dudes caught in the act. Staring at cheerleaders can be a solo sport, but it works just as well as a group activity—which is one of the many beautiful things about this national pasttime.
Just to clarify—I'm not judging anyone for engaging in this perfectly normal activity. I think we're all aware that men look at women. So naturally they are going to look at gorgeous, scantily clad women who are shaking it in unison to a catchy tune during a break in the action.
Because this is such a routine occurrence, you'd think that your average male would be able to play it cool. That is just not the case. Heck, I've even been known to check out the cheerleader situation on occasion—and that's not even my thing—but I know how to play it cool.
So, what I'm trying to say here is that there's absolutely no shame in checking out cheerleaders—that's kind of what they're there for. But, there's also nothing wrong with laughing at those among us who can't play it cool and act like they've been there before—even if they haven't.
Now let's go laugh at a bunch of hilarious dudes who have been caught in the act.
Begin Slideshow

»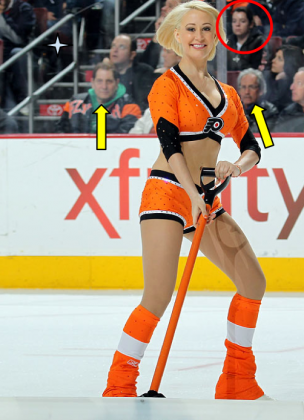 Image via Len Redkoles/NHLI via Getty Images
Judging by the crowd in the wider shot, there's definitely something attention-grabbing being replayed on the Jumbotron at the Well Fargo Arena—though obviously not important enough to supersede the attention-grabbing blonde on the ice.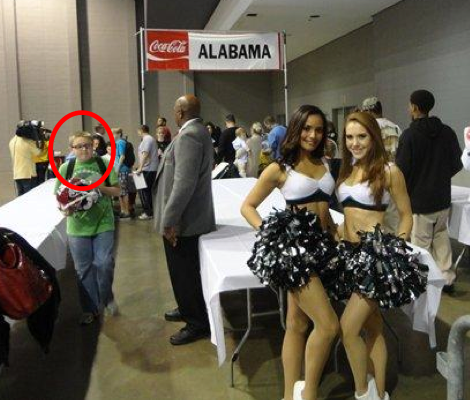 Image via PhiladelphiaEagles.com
I'm not sure of the context behind this photo—perhaps these girls have been there awhile—but I'm having a hard time understanding why that little boy is the only person staring at these cheerleaders.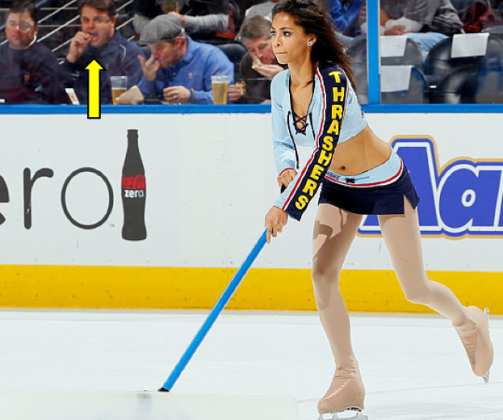 Image via Kevin C. Cox/Getty Images
Only one multi-tasker in that bunch apparently—french fries, beer and broads is a bit much for anyone to handle at one time.
But honestly, these girls were about the only thing to see in the decade the Thrashers called Atlanta home.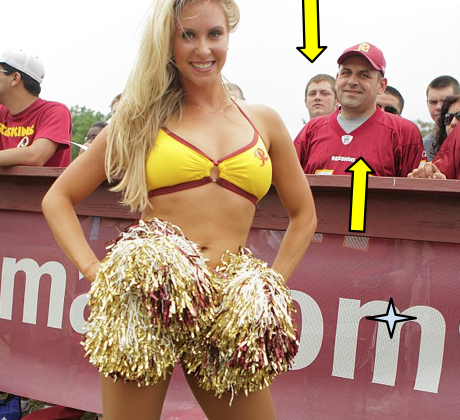 Image via UltimateCheerleaders/James Blakey
Can't blame Redskins fans for coming to training camp just to eye up the new cheerleaders—they haven't had much else to root for over the last decade or so.
That's all about to change though. Everyone is going to be looking at the epically amazing Robert Griffin III this summer! I'm not even a Skins fan, and I'm excited!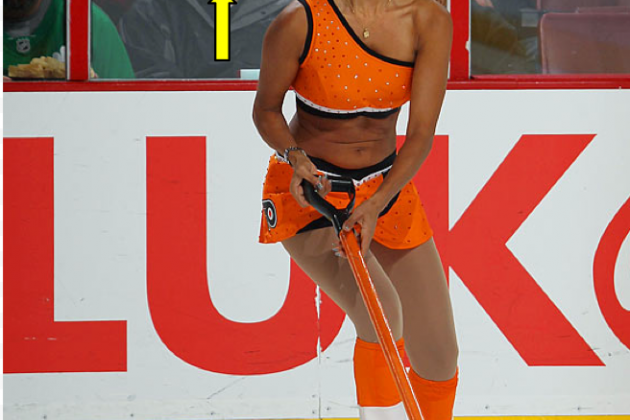 Image via Len Redkoles/NHLI via Getty Images
I'm giving the little boy the benefit of the doubt there because he's able to focus on sipping his beverage, but I suspect he's also transfixed. The guy on the left eating the french fries is hilarious.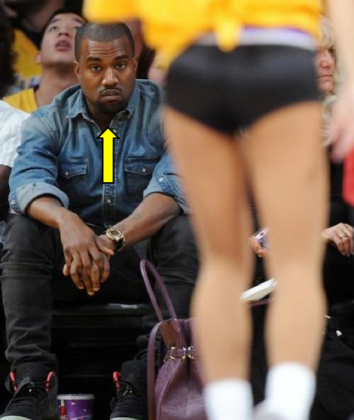 Staring at Laker Girls is pretty much one of the greatest pastimes for Hollywood elite sitting courtside at the Staples Center. Anyone who is anybody has been busted staring looking the lovely Laker Girls up and down at least once.
Kanye West actually looks stunned and completely speechless. That might be the first time that's ever happened—though, after dating Kim Kardashian and Amber Rose, you'd think he'd be better equipped to play it cool.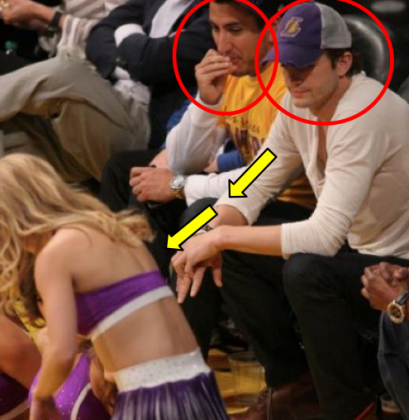 Just to clarify—in no way do I consider the loathsome Ashton Kutcher "Hollywood elite," but apparently plenty of people do because this plague on humanity has been working steadily for over a decade.
Anyway, he stares at cheerleaders too...let's move on.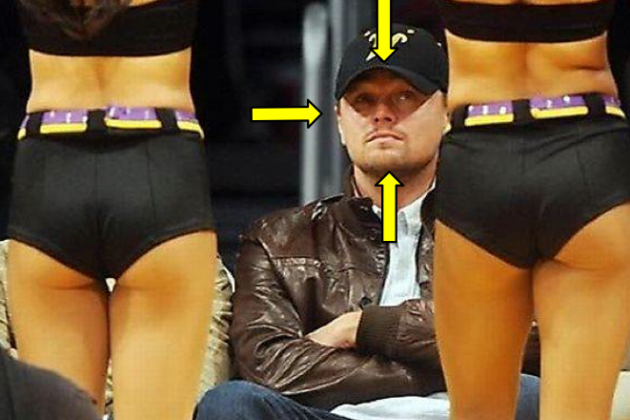 This is more like it! Mega movie star Leonardo DiCaprio is definitely the crowd I was referring to initially. DiCaprio has bedded some of the hottest women in the world, including: Blake Lively, Bar Rafaeli and supermodel Gisele Bundchen.
If he can't resist this kind of obvious and intense stare down, what hope is there for the rest of man kind?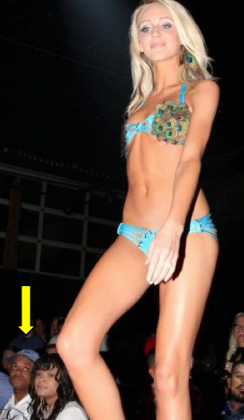 Image via Facebook.com/TennesseeTitansCheerleaders
Certainly can't blame this guy for looking, he is at a bikini fashion show celebrating the release of the Titans cheerleaders calendar.
Although, kinda surprised he's there with the wife—she's either very cool or very oblivious.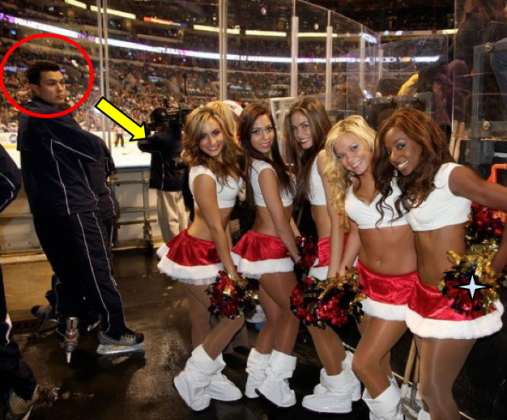 Image via Facebook.com/icedanceralexis
That kid's head is on a swivel! He's got ice skates on, which suggests that he's around these girls on a regular basis—I guess some things just never get old.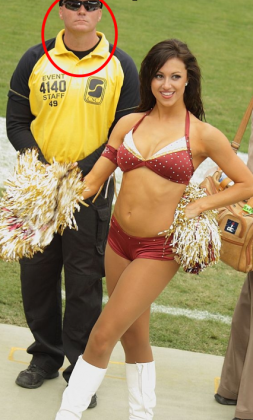 Image via UltimateCheerleaders/James Blakey
That Redskins event staff guy is doing his very best to look without looking like he's looking—but he's totally looking.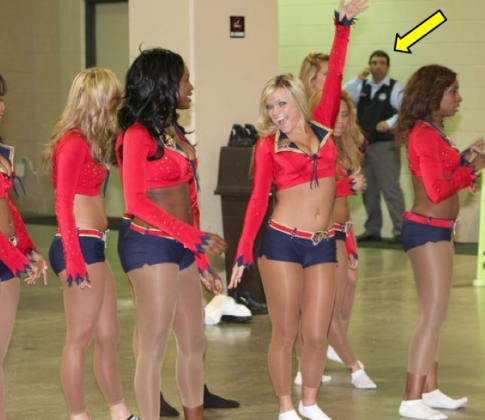 Image via Facebook.com/pages/Panthers-Ice-Dancer
Obviously Lady Panther Karlyn is demanding more than the attention of the photographer in this photo. Wonder what that guy is telling the person he's on the phone with.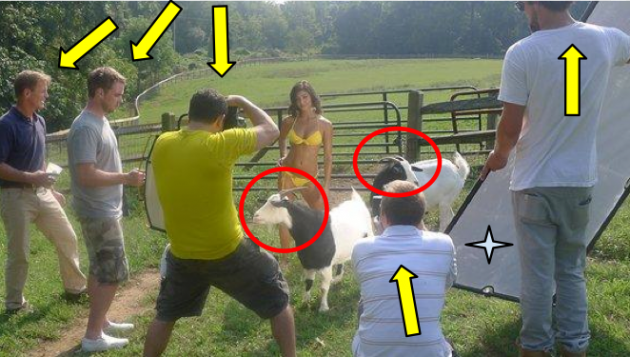 Image via PhiladelphiaEagles.com
Actually, I'm not really sure what the situation is in this photo—the goats are really throwing me off. The guys are all looking at the girl, the goats are both looking at the guys, and the girl is looking at the camera.
The real question here is: Why the hell did anyone think it was a good idea to include goats in a bikini calendar? Perhaps it was the same editor who convinced Tom Brady it was a great idea to do a photo shoot cradling a baby goat.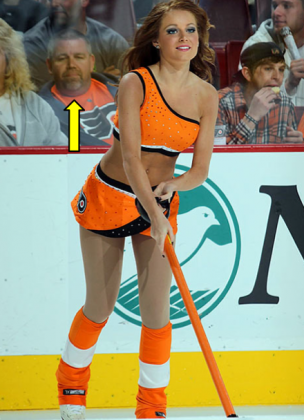 Image via Len Redkoles/NHLI via Getty Images
I'm not sure if the guy staring at the ice girl is there with his wife, but proportionally, they look like a pretty good match.
If he is with his wife, I'm pretty sure he just told her to "shove over" so he could get a better look. And I bet she's too busy eyeing up the flowing ginger locks of Scott Hartnell to even notice.
I made a lot of assumptions there.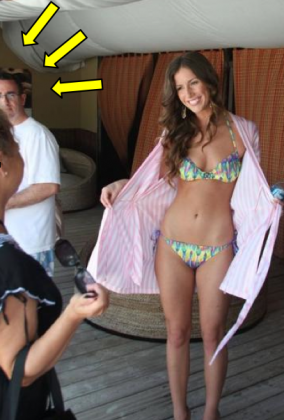 Image via Patriots.com
If this were a cartoon, that guy with the glasses would be walking into a brick wall or off a pier about 10 seconds after this photo was snapped.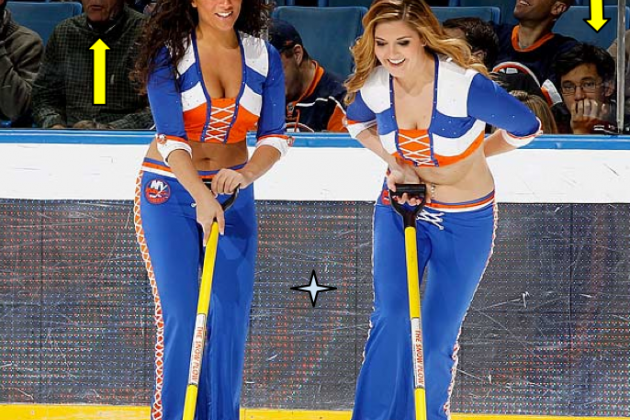 Image via Mike Stobe/NHLI via Getty Images
The Islanders haven't won a playoff series since 1993, and that improbable win was actually a complete fluke—they haven't really been competitive since the 1980s.
Clearly fans are just going through the motions at this point. They can't even manage anything beyond an expressionless stone-cold stare for the ice crew.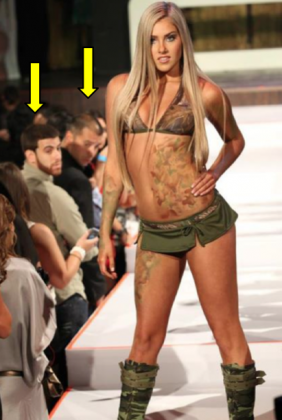 Image via MiamiDolphinsCheerleaders.Net
Early on in a bikini fashion show, you can't blame a couple of guys for taking a double take at one of the hottest cheerleaders in the NFL.
Sometimes it takes awhile to familiarize yourself with your surroundings, particularly when they are such awesome surroundings.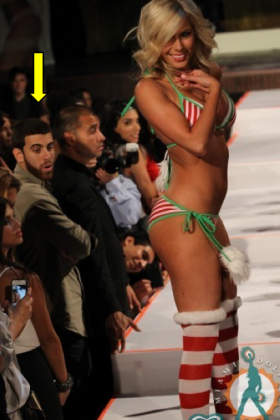 Image via MiamiDolphinsCheerleaders.net
Obviously one of these guys quickly got his act together, while the other still struggled to act like he's? been there before—obviously he hadn't been there before.
Eventually he'd get it together...right?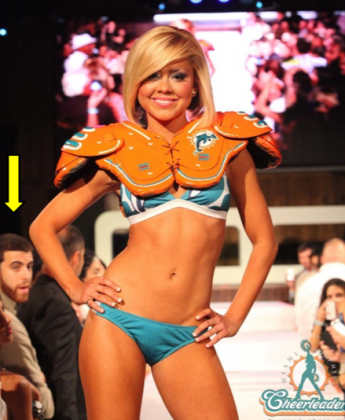 Image via MiamiDolphinsCheerleaders.net
Wrong.
Dude has no game. Sorry, bro.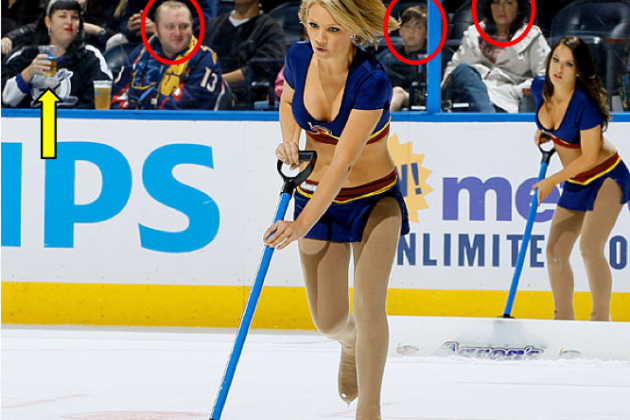 Image via Kevin C. Cox/Getty Images
Except for the Lightning fan eying up the camera man, most everyone in the shot seems to be staring at the Trasher girls—although that little boy's mom doesn't look too happy about it.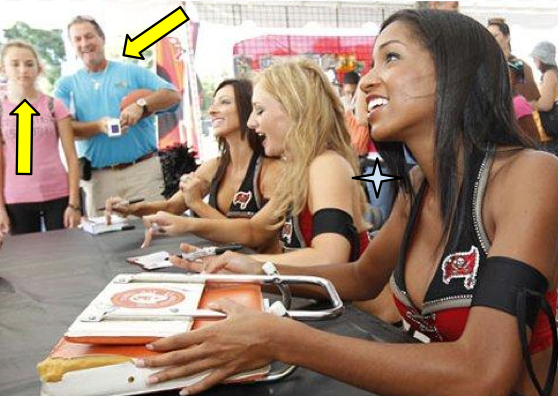 Image via Buccaneers.com
Here's what I see in this photograph: Three lovely Bucs cheerleaders signing autographs and cheerfully meeting fans, one dad who is absolutely beside himself to be in their presence and one daughter who is totally going to tell mom.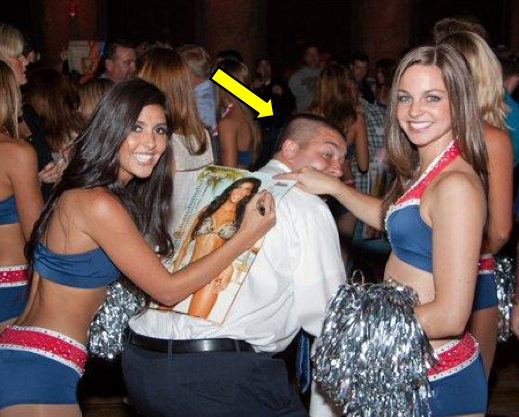 Image via Patriots.com
I can't even explain how much I love the guy in this photo. If there's one thing that really bothers me, it's when people fail to recognize just how lucky they are in life.
This guy clearly recognizes how lucky he is at that very moment and is literally one of the happiest dudes I've ever seen in my life.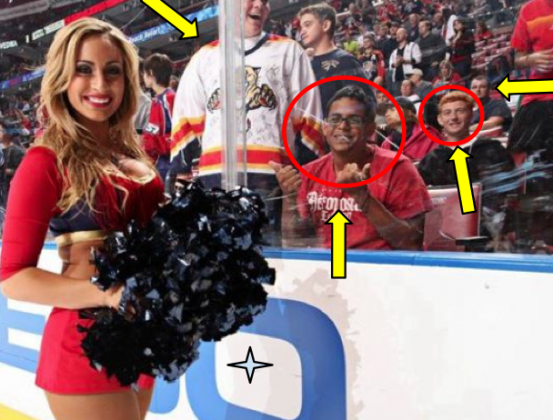 Img: Facebook.com/pages/Florida-Panthers-Ice-Dancer-Danielle
My first instinct was to mock the hell out of these kids for being a bunch of over-excited goobers—they are, after all, a bunch of over-excited goobers.
But...they're young, and it's almost impossible for young guys not to look like that in the presence of inexplicably hot women. And it doesn't get much hotter than the Lady Panthers Ice Dancers.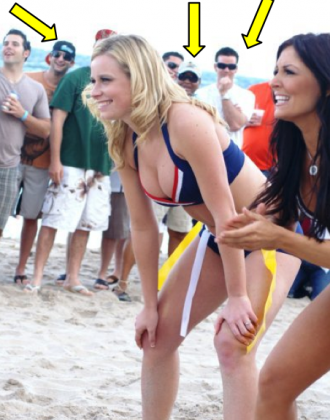 Image via Facebook/BuffaloJills
Ever feel like you're being watched? Can't a couple of scantily clad hot broads play a little volleyball without creating a circus?
No...probably not. That was a stupid question, I know.
But seriously—that one dude is literally biting his hand in response to the scene in front of him. One of his bros needs to step in and tell him to be cool.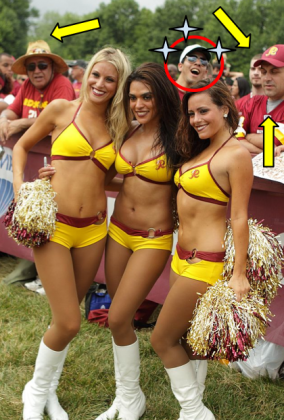 Image via UltimateCheerleaders/James Blakey
I like pretty much everything that's going on in this photo. I like the cheerleaders, I like that they're wearing my favorite uniforms, and I like that they're entertaining the embattled Redskins fans.
But there's one thing I love in this photo—obviously it's the dude completely ignoring the cheerleaders because he's too focused on a photobomb opportunity to mug for the camera.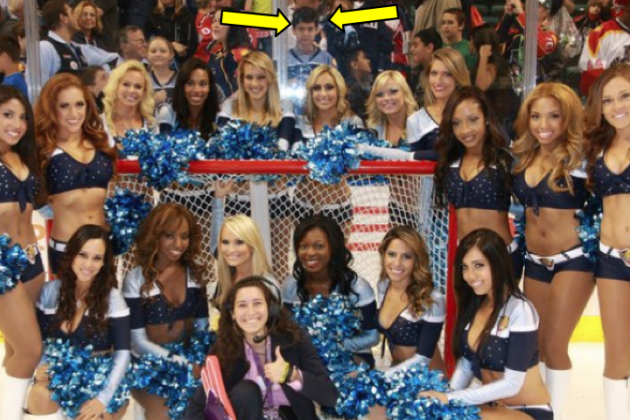 Image via Facebook.com/PanthersIceDancers
It's actually pretty difficult to stand out in the background of a photo like this—there are literally dozens, if not 100+, people watching the girls get their photo taken.
I'm impressed that the creeper kid in the crowd managed to make himself the focal point of the photograph.
Photo via Getty Images
I'm pretty sure that the Auburn cheerleaders didn't pose much of a threat at the 2011 BCS Championship game—especially considering they won.
If there were any shenanigans happening in the stands in front of that guy, he definitely was in no position to spot them.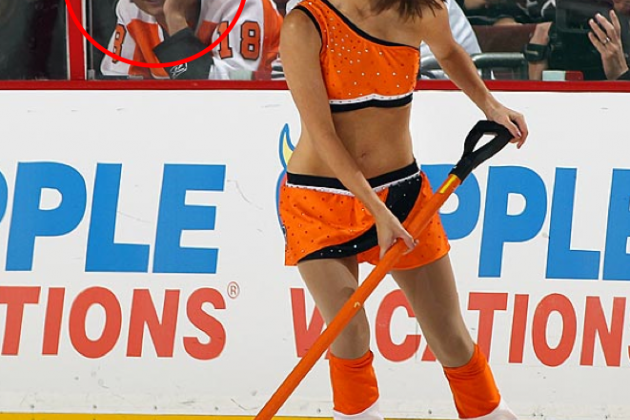 Image via Len Redkoles/NHLI via Getty Images
Ain't no shame in that guy's game. I actually like his style—if you know that dude, tell him to get in touch.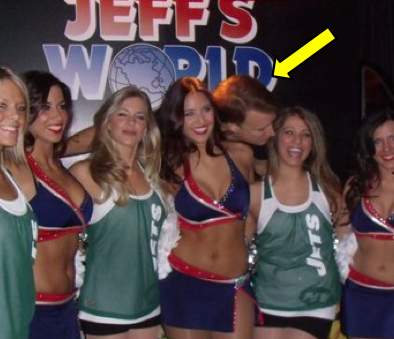 Image via Facebook.com/pages/Buffalo-Jills
Um, this guy had been caught doing a lot more than looking at a cheerleader. Come on dude—keep it together.
He's lucky that girl is being a good sport, because he deserves a smack in the head and most New Yorkers wouldn't be afraid to lay one on him.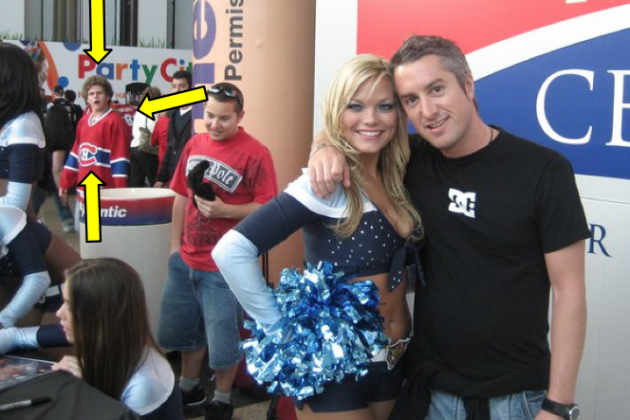 Image via Facebook.com/pages/Panthers-Ice-Dancer-Karlyn
That dumbfounded kid is literally stopped in his tracks by the presence of the Lady Panther Ice Dancers. It's rare to see the open-mouthed-and-stare, but when it happens it's almost always a teenage boy—adult males usually learn a bit a subtlety.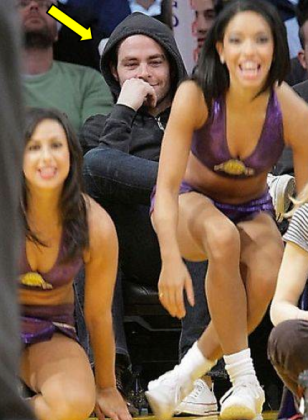 I very rarely judge anyone for eyeballing the ladies, but Chris Pine is weirding me out a little bit in this photo. On their own the hood, the scruffy beard or the laser beam stare wouldn't stand out—but when you combine all three, it starts to feel a bit lecherous.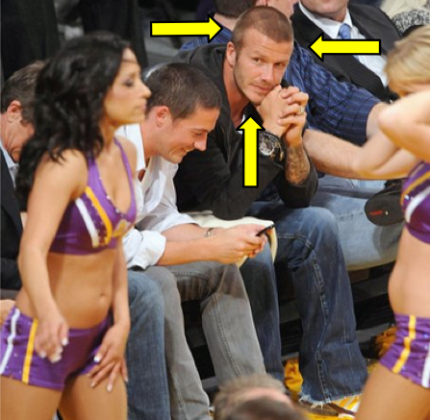 Soccer star David Beckham has been a courtside regular at Lakers games for years and is routinely caught on camera sizing up the Laker Girls. There are dozens of variations of this scene floating around the interwebs.
If you want to see something hilarious—look at the photos of Becks trying desperately not to stare at the Laker Girls on the rare occasions he's accompanied by his wife Victoria. Then it's Victoria doing all the staring and David looking very uncomfortable.
*Click here for more of Beckham's ogling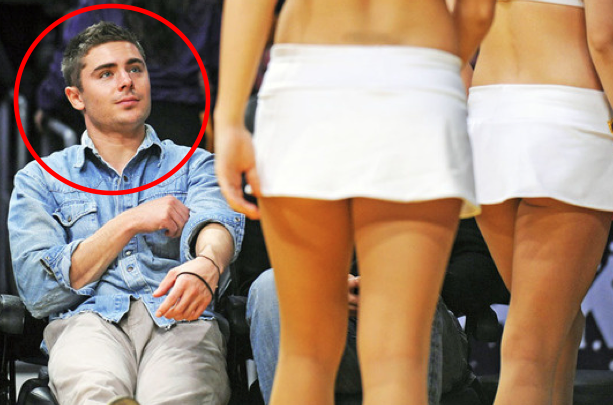 Image via IMF
Even the adorable tween-sensation-turned-heartthrob Zac Efron is no match for the obviously hypnotic moves of the Laker Girls. I still can't believe this kid is 24 years old—that really makes me feel old.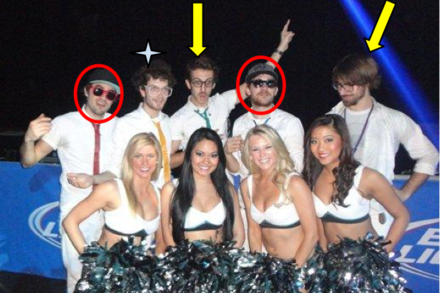 Image via PhiladelphiaEagles.com
Game face bro! Two of the guys in this photo (and I think you can tell which ones) are playing it totally cool and two others are playing it the exact opposite of cool.
I have no idea what the fifth guy is doing or what he's looking at—but I like his style.
Image via Patriots.com
Judging by the unrestrained glee on the face of the guy on the left, I think he's probably looking at that Pats cheerleader for more than just the dance moves.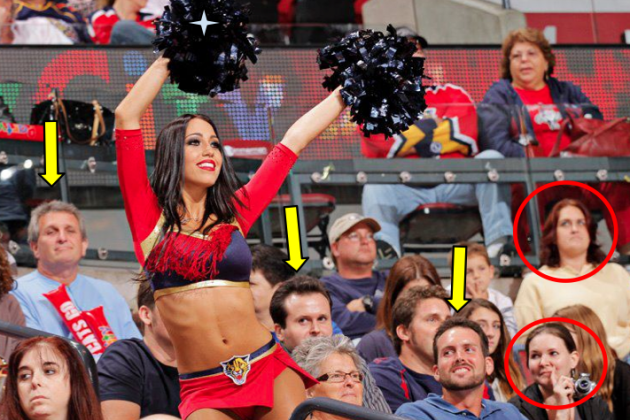 Image via Facebook.com/icedanceralexis
The lovely Alexis dancing in the aisles is attracting quite the range of reactions in this photo. You've got the content smile of the guy to her left and the steely creeper gaze of the guy directly to her right.
Then you've got the jubilation from the guy with the girlfriend and the mildly amused girlfriend. And then you've got what looks like pure disdain from the lady on the far right. Classic polarizing response to a cheerleader.
Image via DallasCowboysCheerleaders.com
I guess they start pretty young! But I must say, never has blatantly and shamelessly ogling a bunch of cheerleaders been so ridiculously adorable.
Photo via Getty Images
Okay, so I realize that this guy is probably just be doing his job and trying not to drop this shapely young lady on her pretty blonde head—but you have to admit that it definitely looks bad at first glance.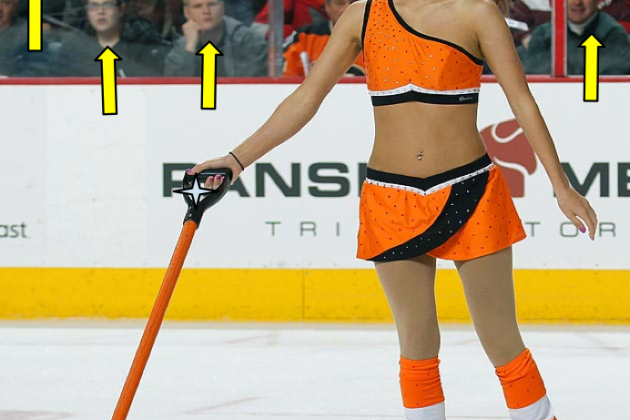 Image via Len Redkoles/NHLI via Getty Images
Wow. That is an awful lot of slack-jawwed, staring Philadelphians. If this girl was holding a cheesesteak instead of a shovel, I'm pretty sure their heads would explode.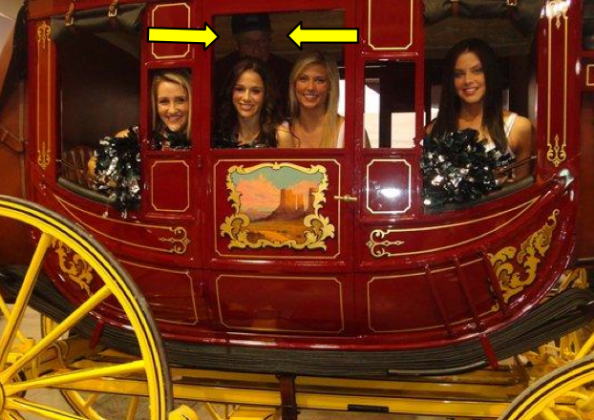 Image via PhiladelphiaEagles.com
Blink and you might miss the creeper in this photo. I'm not sure if he was supposed to be in this photo or just snuck up unexpectedly on these poor unsuspecting girls—it sure doesn't look like he's supposed to be there.