Analyzing MLB's Home Run Leaders Through April 20th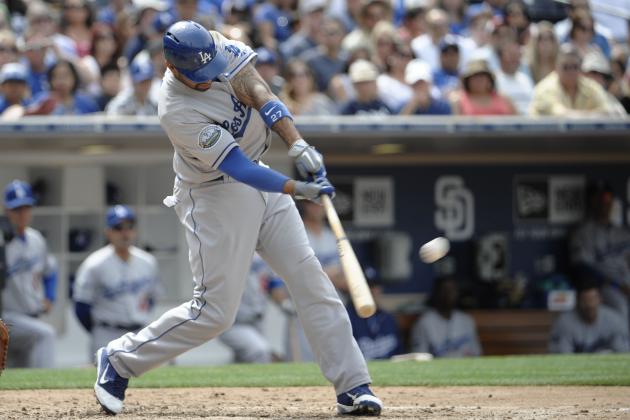 Denis Poroy/Getty Images

Major League Baseball's 2012 campaign is off with a bang—literally, with eight players already clubbing five or more home runs through the season's first two weeks.
2011 was dubbed the "Year of the Pitcher," but with premier aces like Tim Lincecum and CC Sabathia reluctantly facing early-season struggles, perhaps 2012 will see an about-face in identity.
April is a frustratingly beautiful month for baseball. Fresh starts and promising opportunities fill the air, but fans grapple with finding meaning in these first few weeks. Countless teams and players see early success, but differentiating the legitimate contenders from the eventual burnouts? That's a task as tough as waiting for the season itself to start.
Let's take a look at baseball's home run leaderboard, and take a shot at who's for real and who will ultimately fade to mediocrity.
Begin Slideshow

»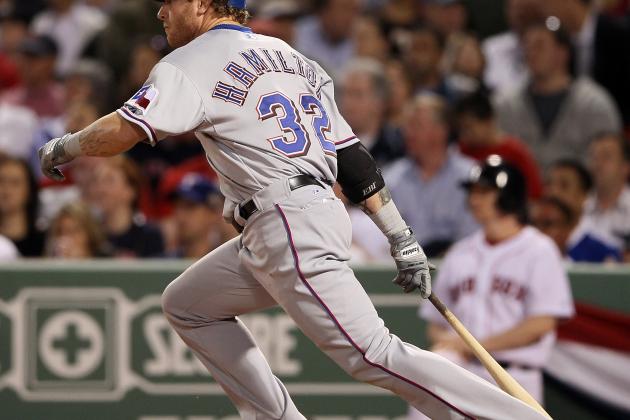 Elsa/Getty Images

While a polarizing personality off the diamond, Josh Hamilton's on-field abilities are unquestionable.
The Texas slugger has hit 25-plus longballs in three of his four seasons as a Ranger. At age 30, he shows no signs of withering in the Arlington heat.
True, Hamilton's health has always been a concern, but with five dingers already in the books, and batting in a lethal Texas lineup, he gets the vote of confidence here.
Final Season Tally: 34 HRs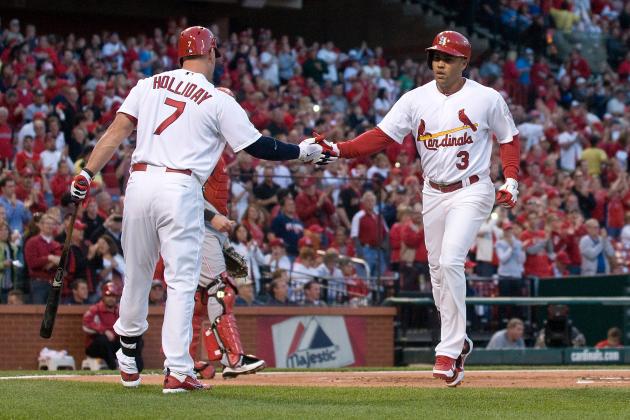 Jeff Curry/Getty Images

Coming off a two-homer series against the Reds, Carlos Beltran is one of the hottest players in baseball.
The veteran outfielder has had a tumultuous career of inconsistency and injury, but he seems to have found his stride thus far as a member of the defending champs: Beltran has also scored twelve runs and is averaging .333 to supplement his five home runs.
But those five homers have yielded just seven RBI, and with Lance Berkman heading to the disabled list, perhaps this is a testament to Beltran's supporting cast. The Cardinals will have no trouble winning games this year, but their offense may falter without Albert Pujols as the season progresses.
Between Berkman's injury, Pujols' absence and Beltran's sporadic nature, this success may be short lived. Still, Beltran has the talent to churn out a decent season from here out.
Final Season Tally: 24 HR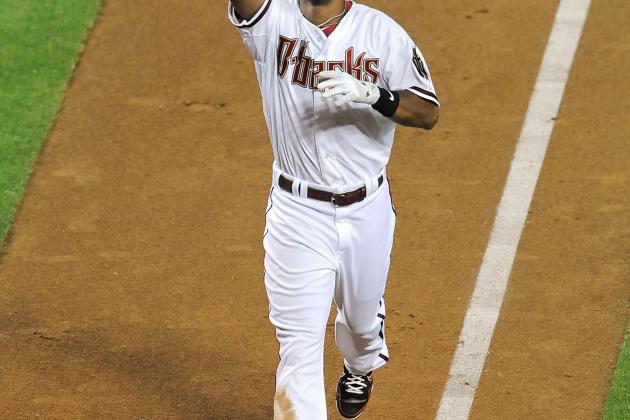 Norm Hall/Getty Images

Chris Young was about as hot as the Arizona desert he calls home. Hitting a torrid .410 and slugging five homers, the D-Back seemed to be on his way to bona fide stardom. Then the injury bug bit.
Young is expected to miss two-to-three weeks due to a torn joint in his right shoulder. The Phoenix faithful will be crossing their fingers in hope that he returns swinging the same hot bat.
A career .242 hitter, Young's promise doesn't extend past June or so. Arizona's lineup is far from dominant, coming in at 26th in the league in team average, and Young's injury may have lingering hindrances.
Final Season Tally: 27 HR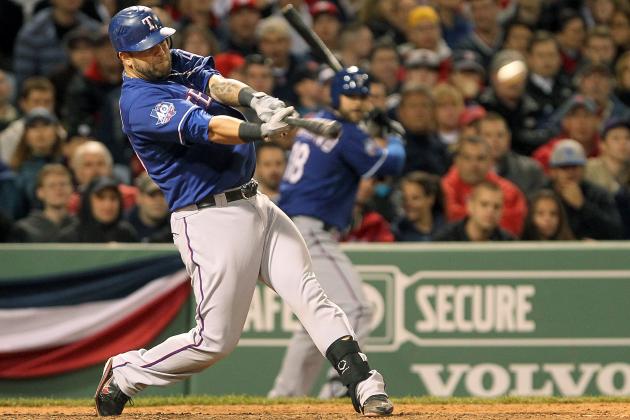 Jim Rogash/Getty Images

Another member of the potent Texas offense, Mike Napoli has propelled the Rangers with five dingers.
Napoli is a bit of a head-scratcher, as he demonstrates immense power at the plate, but has never received undivided playing time in his career. Attribute much of that to the nuances of the catcher position, but with a full season, just think what Napoli can do.
He slugged 30 homers in under 400 at-bats in 2011, and he shows no signs of slowing down this year in a dominant lineup. Aside from the Angels, the AL West is prime for Napoli and company to tear up.
Final Season Tally: 37 HR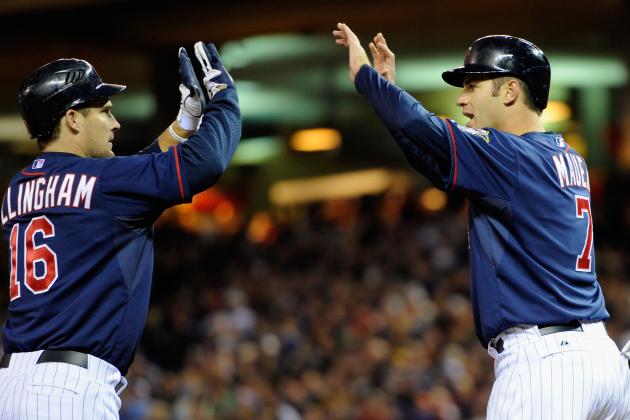 Hannah Foslien/Getty Images

In a stagnant Twins lineup and playing in pitcher-friendly Target Field, Josh Willingham's offensive production has been eye-popping.
Willingham's hitting a mean .340 and has already slammed five homers. Minnesota's biggest offseason addition, Willingham was acquired to bolster the team that ranked 28th in the league in home runs last year.
Yet Willingham doesn't show much personal upside. He's never hit 30 home runs or 100 RBI in a season, and he flaunts a pedestrian .263 career average.
Perhaps Willingham will surprise people in Minnesota, but it's tough to see him atop the league's home run leaderboard past May.
Final Season Tally: 22 HR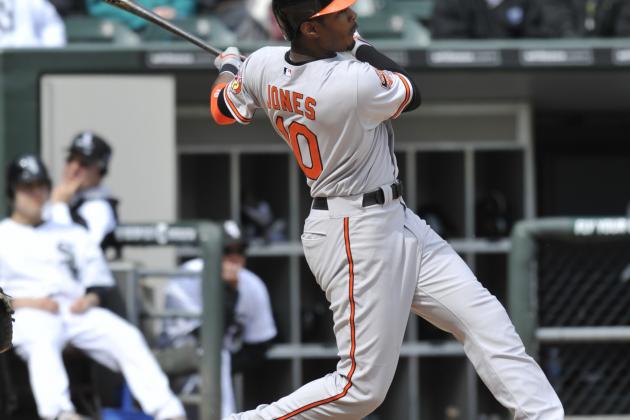 David Banks/Getty Images

Adam Jones is a maddening player to analyze.
He boasts the speed of a dynamic center fielder, but has never stolen more than 12 bases in a season. And he seems to have the pop of a pure power hitter, but his single-season best for home runs maxes out at 25.
Jones is off to a speedy start, but much to his chagrin, Baltimore doesn't quite foster offensive production. Were he in a hitter-friendly park with a sturdy supporting cast, he just might be able to keep up this stellar start.
Unfortunately, Jones is stuck in B-More for now. His lowly .320 career OBP hints at impatience at the plate, which will catch up to him sooner or later.
Final Season Tally: 21 HR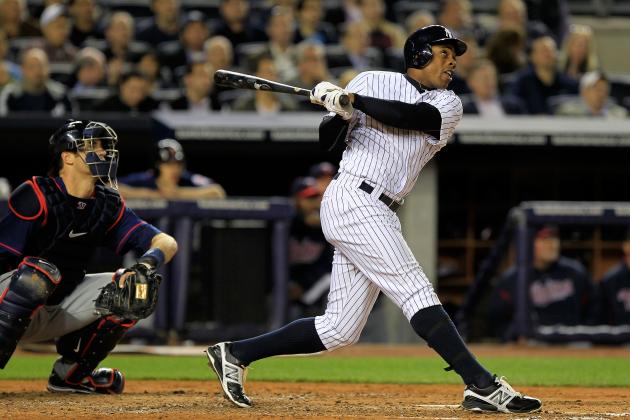 Chris Trotman/Getty Images

Big things are happening in the Big Apple for "the Grandy-Man."
Originally seeking prominence in Detroit as a five-tool player, Granderson's pinstripe play has netted huge power at the plate. He clubbed 41 homers last season, and in a healthy, dangerous Yankees lineup, he seems to be getting even better in 2012.
On Thursday, Granderson smacked three homers in four innings. With Derek Jeter returning to form thus far, and big bats like Alex Rodriguez, Robinson Cano and Mark Teixeira behind him, Granderson is in for a monster 2012 campaign. He may sit second on the board with six homers, but by the end of the year, there's a good chance the eight-year pro reigns supreme.
Final Season Tally: 44 HR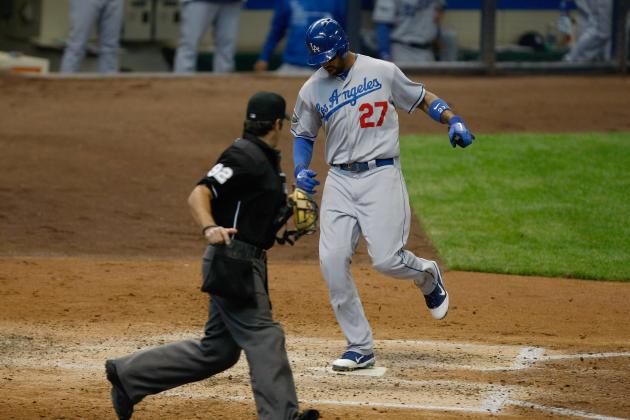 Scott Boehm/Getty Images

Kemp put up a serious fight for the NL MVP last year, and this year, he's taken his game to a whole new level.
Kemp has already slugged seven homers and is averaging an inhuman .451 at the plate. Kemp will undoubtedly cool off, but with his ample talents already proven and his team's financial issues waning, the sky's the limit for this five-tool star in 2012.
Ultimately, Kemp's Dodger comrades don't grant him the same lineup security that Granderson has. Still, he will likely contest Granderson all year for the home run crown.
All in all, with just a handful of games played thus far, it's anyone's crown to take. But with seven of the eight players on this list playing beyond the infield dirt, perhaps "the Year of the Pitcher" is making way for the "Year of the Outfielder" in 2012.
Final Season Tally: 42 HR