Fenway Park 100th Anniversary: Observations of the Celebration
April 20, 2012

Jim Rogash/Getty Images
I'm morbidly inclined, so as I spent the last 45 minutes watching an endless parade of seemingly everyone living ever to play for the Boston Red Sox, I kept thinking of some of the greats who are not there today.
You can't mourn everyone, of course. One hundred years is a long time and there are probably more deceased Red Sox than living. Still, there are some whose absence is notable because it came relatively recently. This includes Dick Williams, manager of the 1967 team (who died in 2011), Mel Parnell, left-handed ace of the 1949 team (2012), and—this is not exactly recent, but you can't have a Fenway celebration without him—Ted Williams.
Otherwise, the celebration was tasteful and the mass toast amusing. The huge American flag draped over the Green Monster should be a permanent fixture. "It's a line drive to left…it's off the flag!" It was a bit sad to see Johnny Pesky and Bobby Doerr confined to wheelchairs, but such is life given that the latter is 94 and the former is 92. However, having Tim Wakefield and Jason Varitek wheel them onto the field was a perfect touch.
For those of us watching from afar, the parade of luminaries and fringe players (as listed by the Providence Journal) was hard to track given the lack of voice-over on the broadcast. Instead, we got Randy Newman's score for "The Natural" and John Williams' for "Jurassic Park," as the old-timers spilled out en masse from the outfield.
Seemingly everyone who ever played for the Red Sox was invited. And they came out in no particular order, so some of the biggest or most important names—players such as Pedro Martinez, Bill Buckner, Dave Henderson, Nomar Garciaparra, Pumpsie Green and Jim Lonborg—were followed by Rick Cerone and Jose Canseco. Not that Cerone and Canseco don't have their moments in baseball history, but Cerone played a couple of part-time seasons for the Sox in the late 1980s, and Canseco gave them fewer than 200 games out of nearly 1,900 in his career.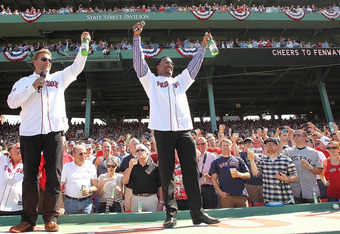 Jim Rogash/Getty Images
It was good to see a busted prospect like Greg Blosser and a Sox hero like Bernie Carbo, but when you lump them all together so that Mike Timlin and Luis Tiant are juxtaposed in some kind of agony-and-ecstasy triptych, it diminishes the gravity of the whole occasion. I'm not saying that Timlin shouldn't have been there—along with LaSchelle Tarver, Marc Sullivan (who was only on the team because his dad was running it) or Izzy Alcantara—because they are all part of the grand parade of Red Sox packaging. 
But a more stately pacing would have been appreciated.
Otherwise, Fenway Park is a grand ballpark, perhaps not the most comfortable of places to sit on our obese American backsides, but it is living history, a way of feeling a connection to the past.
It's something of an illusion. As Glenn Stout shows in his new history of the ballpark, although the footprint of Fenway is roughly the same as it ever was, just about every element within the building has been changed or refined over the years. This is not the Roman Coliseum, silently standing sentinel as history parades by.
Perhaps even the Coliseum isn't the Coliseum; it isn't what it was, or what it will be given the challenges of environmental and human damage, as outlined by The Times (of Malta). Heck, Fenway Park could be under water not long from now.
The world is always changing, whether we like it or not. During the ceremony, there were a couple of references to Fenway's bicentennial. Seems unlikely to me, but then—as I said—I'm morbidly inclined.
Perhaps history will repeat itself and the Yankees will pick up the mortgage on the place so the Red Sox can afford to float the place on balloons—just as they did when they acquired Babe Ruth.
There were no balloons involved in the Ruth trade, but you know what I mean. Besides, there should have been.