Buffalo Sabres All-Star Skills Competition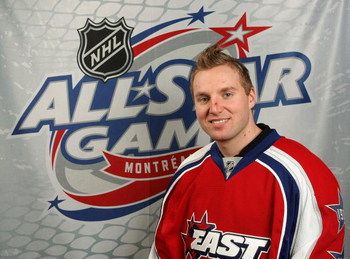 In light of this weekend's NHL All-Star festivities, I was wondering what it would be like if the Buffalo Sabres' brightest were featured in their own All-Star Skills competition. In this slideshow I will discuss who
I think would win events such as the Fastest Skater, Fan-Fave Breakaway Challenge, Accuracy shooting, Hardest Shot and Elimination Shootout.
Feel free to chime in on which Sabre you think would win in each event.
Fastest Skater Competition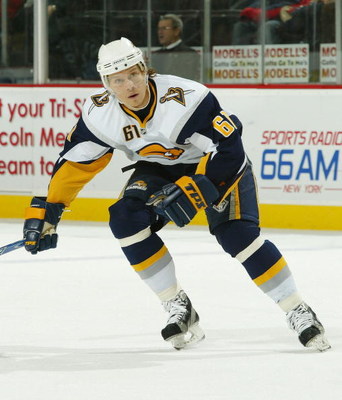 For Sabres fans, this one is too easy. We all know Max Afinogenov can fly. We all remember the days not so long ago when he brought us all to the edge of our seats the second his stick touched the puck.
Referred to some as "Crazy Legs", can dipsie-doodle with the best of them. Some may even argue that Max is one of the fastest skaters in the NHL.
Runner-up to this event would be Tim Connolly. I think he has rather deceptive speed. He is such a natural, smooth skater that takes up a lot of ground with each long stride.
Fan Favorite Breakaway Challenge
Last night, along with OV's hilarious antics, we saw guys like Ryan Getzlaf, Marty St. Louis and Alexei Kovalev perform tricks we have never seen before.
In this competition you either need to have the softest hands or perhaps the most childish personalities to earn votes from the fans.
For the Sabres, I think Tim Connolly would leave us in awe in this event. Connolly would likely show us moves similar to what we saw last night. Lacrosse-style cradling and spin-o-ramas.
Overall, Connolly probably has the best hands on the team. But I'm sure guys like Derek Roy, and Drew Stafford would also have some nifty tricks up their sleeve.
I could also see Andrew Peters throwing on a nice pair of shades and Gilligan hat to treat us to some quality entertainment.
Accuracy Shooting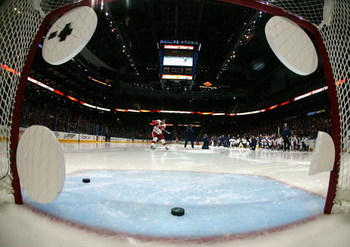 In past NHL All-Star Skills Competitions, we have seen the likes of Ray Bourque, Mark Messier and Jeremy Roenick go four for four in the Accuracy shooting competition.
You might ask yourself, "Why doesn't an NHL super star hit four targets on four shots more often?" Well, when the spotlight is on you and you're trying to settle a pass from one of your peers, its not as easy as you might think. Add a 30-second timer and now it is even harder.
For the Sabres, I think Thomas Vanek could win this event. Not only does he rank third among the leagues top goal scorers with 28, but he has shown us numerous times this year he has tremendous patience and accuracy.
To say he would go four for four would be a bit of a stretch, seeing that only a few players have done it in the 19 years since the birth of the competition. But I think four for five or four for six is a safe bet with Vanek.
Other notables that may have a chance to win this event would be Jason Pominville, Derek Roy and Ales Kotalik.
Hardest Shot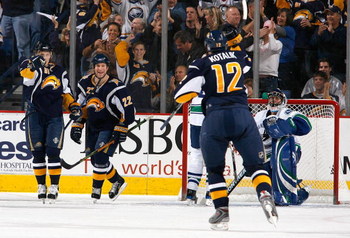 Like the fastest skater competition, I think this is another event that is too easy to decide among Sabres fans.
We have all witnessed Ales Kotalik's massive slap shot. Most, if not all of Kotalik's goals are scored with his hard slap shot. And in most cases his shot is used as a weapon on the power play. You normally see Kotalik set up at the top of the circle or at the point waiting to be fed a one-timer.
His shot has the ability to beat the opposing goaltenders because in most cases that goaltender didn't see it. It's that fast.
I think it is safe to say Kotalik would not only win this event, but his shot would likely exceed 100.00 MPH.
Jason Pominville and Jaroslav Spacek would also put up some pretty stiff competition in this event.
Elimination Shootout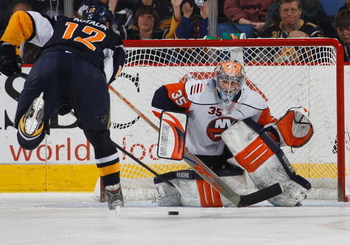 The Elimination Shootout event is an event that each skater will take place in. This is an event a little harder to predict due to the fact that not all of the Sabres players have participated in a shootout or penalty shot.
Unlike the Fan-Fave Breakaway challenge, it doesn't matter how you score, but you have to score to move on.
To be fair, I think Ales Kotalik would win this event also. How can you bet against him when he is five of eight this year in the shootout? He has also tallied a league-leading 10 game deciding goals since the shootout was introduced.
The fact that he has a quick and accurate shot and a great forehand to backhand deke keep the goaltenders guessing every time.
Other Sabres who have a chance to win this event would be Drew Stafford, Derek Roy and Thomas Vanek.
Keep Reading