Bo Ryan Has Done Nothing Wrong in His Handling of Jarrod Uthoff's Transfer
April 20, 2012

Jonathan Daniel/Getty Images
Wisconsin head basketball coach Bo Ryan has been the target of several negative columns over the past week due to his decision to block redshirt freshman Jarrod Uthoff's request to transfer to another school in the Big Ten, ACC, Marquette, Florida and Iowa State.  
Much of this criticism of Ryan, who has had a very successful tenure as Wisconsin's head coach and run a squeaky-clean program, is completely unfair.  
All of the controversy surrounding Ryan began last week when Uthoff, who was a Rivals150 recruit and Iowa's Mr. Basketball in 2011, decided to transfer from Wisconsin. It was previously reported that Uthoff met with Ryan to discuss the transfer, however Ryan was on vacation with his wife at the time.
 "He never met with me," Ryan said Thursday on ESPN's Mike and Mike in the Morning. "He contacted me when me and my wife were on vacation. I said I would fly back." 
Uthoff, though, had already decided that he was not a good fit for Ryan's scheme at Wisconsin and told the Wisconsin State Journal last Saturday he had "pondered the idea for several months." 
"I have a much better understanding of the system and what it entails," Uthoff went on to say. "That's what led to this decision. 
"I see myself being a versatile 3 (or) 4 that can play inside and out, and I think I'll benefit more from another system. I have the utmost respect for Coach and he's proven to be successful for many years. It's a great fan base and I like the campus...(But) I think I'd benefit the most in my basketball career going to a different program."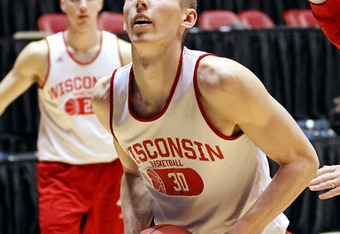 Uthoff came up with a list of schools he wished to transfer to and Ryan, who has only dealt with one transfer during his time in Madison, called a number of his colleagues for advice on how to handle the situation.
The coaches Ryan contacted told him that it was standard procedure to block the conference and future opponents as well as power conference schools in bordering states in some instances.  
These opinions ultimately led Ryan to his decision to block Uthoff from transferring to another Big Ten or ACC school because Wisconsin won't know their opponent in the annual Big Ten/ACC challenge until the season begins. The Badgers play in-state rival Marquette every year, Florida due to a recently scheduled home-and-home series starting next season and Iowa State because of their membership in the Big 12. 
Ryan spoke with members of the media in his office Thursday afternoon and explained that the block was simply to make Uthoff give either Ryan or members of the university's administration a reason for his departure and desire to transfer to one of the blocked schools. 
"If somebody knows a better way, for the University of Wisconsin to at least have the opportunity to talk to a young man," Ryan explained to reporters, "whether it's the coach, which wasn't going to happen which wasn't my choice, or the administration...throw it out here.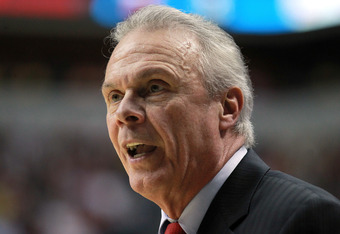 Andy Lyons/Getty Images
"Did you know the only way to get a kid to talk is to make him appeal? That's not my rule." 
The number blocked schools did not sit well with Uthoff, so he decided to appeal Ryan's decision. He was completely within his rights to do so and Ryan expected the move. After that, the only input Ryan had in Uthoff's transfer was when the administrators asked him for his thoughts. 
"What I told the administration was that the (Big Ten) conference is not a viable option to me," Ryan said. "I don't have the final say, but at least I have an administration that gave me a say." 
"They talked to an administrator. They don't talk to me," Ryan reiterated on Mike and Mike. "So, a coach is totally out of the process once the transfer begins and I am totally fine with the transfer." 
The controversy came to an end on Thursday after Uthoff's appeal was heard by Wisconsin athletic director Barry Alvarez and associate athletic director Justin Doherty. The university opted to allow Uthoff to transfer to any school outside of the Big Ten. 
"He always had the opportunity to do that," Ryan said. "The block was not, and never was, to say you cannot go to that school...I have not been able to get that point across."  
The university's release also stated that Uthoff may decide to appeal "permission to contact" denial to any Big Ten school as well. This must be done within eight days and would result in a hearing with the Chair of the Athletic Board. 
So, after hearing all of the ins and outs of the situation there is no reason to criticize Ryan for his original blocking of Uthoff's transfer to selected schools. 
Many have labeled Ryan as a hypocrite for blocking the transfer, because of Wisconsin's acquisition of sophomore guard Ben Brust two years ago from Big Ten foe Iowa after Todd Lickliter was fired as coach of the Hawkeyes. 
Brust's initial transfer request was denied by Iowa, but the 6'2" guard went through the proper appeal process just like Uthoff did and eventually won his appeal. Brust is currently on the Badgers roster. 
Others have pointed to Evan Smotrycz's recent transfer from Michigan to Maryland as another reason why Ryan should not be blocking the entire ACC when another coach from within his conference did not do the same. 
However, according to an report by Sports Illustrated on Friday afternoon, Michigan head coach John Beilein only told Smotrycz he could not transfer to any team on the Wolverines' schedule for the next two seasons.
Since the Big Ten/ACC challenge games are not announced until closer to the beginning of the season, Maryland is not technically on Michigan's schedule, which allowed Smotrycz to transfer there. Ryan is trying to avoid playing against Uthoff altogether, though, so he ruled out the entire conference.
This has since been refuted by Chris Balas, of TheWolverine.com, who spoke with "people close to the program" and discovered Beilein has no such policy and that his "preference would be that a kid not transfer to another school on the schedule." 
There have been blocked transfers by other schools recently. Tulsa fired its head coach, Doug Wojick, in March and sophomore guard Jordan Clarkston requested a transfer to eight schools. Five of those, none of which were members of Conference USA, were denied. 
Another example came just weeks ago when South Carolina fired their head coach, Darrin Horn, and their starting center, Damontre Harris, requested a transfer to N.C. State. The university denied his request, because former Gamecocks assistant Orlando Early is currently on N.C. State's staff. 
"There's a reason for [not releasing in] conferences, there's a reason for opponents you're going to play, there's a reason for geography," Ryan told SI. "The kids have been abused by third parties trying to get them to do things, and if they go to a certain area it's not a good situation for all parties involved." 
SI's Seth Davis also asked Ryan if he regretted anything about blocking Uthoff's initial attempt to transfer.  
"Absolutely not," Ryan responded. "I've heard from a lot of coaches. What I did is very common. You guys must have a slow news day." 
All Ryan did was follow the rules and made Uthoff give the university a reason for his decision to transfer, so if someone, or something, is going to be criticized in this case it should be the NCAA and their policies on players transferring.  
Ryan is even open to completely eliminating the need for a player to get permission from his/her current school to transfer to another institution. 
"If people are going to push for that, then we have to re-evaluate everything," Ryan said. "So if that's what you're talking about, then everything should be revisited. But certainly the way to do that is not by taking one school and making statements before people are educated about the process." 
Bo Ryan is not the villain in the case of Jarrod Uthoff, but once people begin making uneducated statements and hundreds of others hop on the bandwagon, it is tough to stop the critics from protesting. 
"If you know you're right in something," Ryan said at one point in his office Thursday, "stand for your rights." 
I couldn't have said it any better myself. Ryan should be commended for not backing down from the media pressure, not chastised for simply following the rules.
Zach Dirlam is the Lead Editor of the College Basketball section as well as Big Ten columnist for the FOX Sports/MSN/YardBarker affiliate website Sports at Work. Check out his blog, Dirlam's Dirty Dugout Sports Blog, which features this story, along with other articles and video reports on major sports.
Follow Zach on Twitter.