NFL Draft 2012: Teams Who Would Be Smart to Deal on Day 1
April 20, 2012
Mike Ehrmann/Getty Images
The 2012 NFL Draft will begin six days from now and there are several teams who could greatly benefit by trading up to grab a specific player or by trading down to load up on picks.
The Washington Redskins already surprised everybody when they gave up their 2012, 2013 and 2014 first-rounders, as well as their 2012 second-rounder—an arm and a leg, basically—to the St. Louis Rams in exchange for the second overall pick.
In other words, the Redskins gave up half of a baseball team for Robert Griffin III.
Now here are some teams that might (and should) move around on day one to help themselves out:
The Eagles have two legitimate options here. They could trade up and get Riley Reiff to fill the hole left at tackle by the injured Jason Peters or they could trade down from their current position at No. 15 to add another second rounder or two.
Philly is current projected by Mel Kiper to take defensive tackle Fletcher Cox, who would be a great fit for Juan Castillo's defense and would certainly be a smart pick.
But there are a lot of great defensive tackles waiting right behind him in Jerel Worthy, Devon Still and Michael Brockers.
The Eagles could add a few picks without losing much talent, which would allow them to better address their linebacker and safety situations.
Miami has been searching for a quarterback to replace Dan Marino for far too long and they may finally have a chance to get a good one in Ryan Tannehill. Unfortunately, they may need to trade up to the No. 3 pick to avoid the risk of seeing the Cleveland Browns take him at No. 4.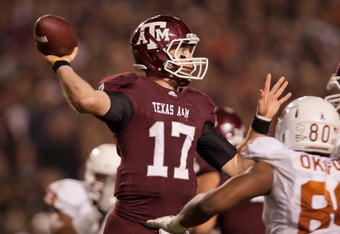 Darren Carroll/Getty Images
Tannehill's upside would be worth the price, but his inexperience and low floor certainly wouldn't be. If Tannehill is gone by the time the Dolphins come up with the No. 8 pick, Miami should try trade down and get a good supporting cast for its 2013 first-rounder: Matt Barkley. 
3. St. Louis Rams
The Rams have already collected one of the biggest draft pick loots in NFL history, but that may not stop them from trading down again and adding to that collection. The Rams currentlyy sit at No.6, where they would likely take Justin Blackmon if they decide to stay put.
What they should do is trade picks with any team willing to move up and take Stephen Hill at the end of the first round instead. Hill isn't a sure of a thing as Blackmon, but he showed impressive speed for his size at the combine and has the potential to end up as someone similar to Calvin Johnson.
If I'm the Rams, I take that risk and stockpile picks once again, setting myself up even better for the long haul.
It is almost guaranteed that there will be moves on Day One of the NFL Draft. The only surprise bigger than there being none would be the Indianapolis Colts taking someone other than Andrew Luck.
Excitement over the draft is reaching its peak as we enter our final week of speculation. We will soon have answers, and when we do, we can then start asking more questions and start rolling out our mock drafts for 2013 and 2014. We just can't forget about the trades that will happen then too.