Arsenal vs. Chelsea: Live Score, Analysis and Recap in Race for Champions League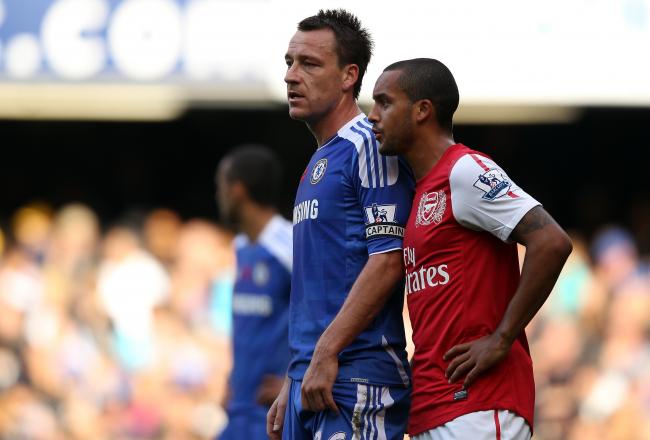 Ian Walton/Getty Images
Live football blog from the Premier League at the Emirates Stadium
Arsenal: Szczesny, Sagna, Koscielny, Vermaelen, Gibbs, Ramsey, Song, Walcott, Rosicky, Oxlade-Chamberlain, van Persie. Subs: Fabianski, Diaby, Andre Santos, Djourou, Gervinho, Chamakh, Coquelin.
Chelsea: Cech, Bosingwa, Cahill, Terry, Bertrand, Essien, Romeu, Malouda, Sturridge, Torres, Kalou. Subs: Turnbull, Cole, Lampard, Mata, Mikel, Meireles, Ferreira.
Stay right here for all the best build-up, in-game action and post-match reaction from one of the most eagerly anticipated fixtures on the English Premier League calender.
Don't forget to get involved by leaving your comments below, and I will reply in-blog.
Well it might not have been the top-of-the-table clash we were hoping for, but it was certainly an intriguing encounter in parts and takes us one step closer to finding out who the eventual top four teams in the league will be.
We'll wrap up the live text here, so thanks for joining me as always.
There will be more live commentary next week with me, Karl Matchett, so stay tuned to my Bleacher Report timeline for more information on that—as well as all the best reaction from today's game over the next couple of hours.
Bye for now!
Arsenal came close to scoring a couple of times with Robin van Persie and Laurent Koscielny both striking Petr Cech's woodwork from set pieces, while Chelsea had presentable chances for Daniel Sturridge in particular, who was off-colour today.
The point apiece means that the Gunners stay seven points clear of the Blues, with just three matches left to play for Arsenal and four for Chelsea.
Chelsea themselves remain a point behind Newcastle and Tottenham, having played more games, and may now have to accept that their best hope of being back in the Champions League next season is to win the competition outright this year.
Chelsea's corner came to zero as Cahill tried to play the ball back into the box, but Mike Dean decides enough is enough and blows the final whistle.
Not a thriller by any stretch of the imagination as perhaps the fear of losing overcame the desire to win on this occasion.
Full time at the Emirates
Arsenal 0 Chelsea 0
94 mins
Gervinho sees his shot blocked by two blue shirts, then loses the ball.
Chelsea break quickly and Bosingwa wins a corner with a deflected shot.
Mata to take it, this is the final chance of the match.
93 mins
One minute left now.
Chelsea had numbers forward but Torres' pass was aimless and Szczesny gathered.
Arsenal come forward for a final launch.
91 mins
Last 200 seconds.
Koscielny moves into midfield and links with Diaby, but his pass is well over-hit and under-aimed, and goes for a goal kick.
Four minutes of added time to be played
We have a corner for Arsenal, in injury time. Cech punches it clear...and then van Persie is offside as the ball comes back to him.
89 mins
Well there could have been, at either end.
van Persie feints to shoot then slides a pass for Gervinho, but before he collects the ball to be one-on-one with Cech it is cut out by Mikel.
Up the other end Szczesny chases down the ball out his box and clears but the ball comes to Sturridge who shoots from long range, but the ball flies well wide.
87 mins
Nearly, nearly another chance for Sturridge but he takes too long again and Koscielny makes a good challenge, inside the six yard box.
Is there a late winner in the match?
85 mins
Probably the best chance of the half.
Gervinho slides in van Persie and he beats Cahill on the turn but turns back into men again and his shot from close range is smothered by Cech.
The ball goes for a corner which finds an Arsenal shirt this time, but the ball is easily gathered by the Chelsea keeper again.
84 mins
Laurent Koscielny sums up today's game by launching a 60 yard pass from his own half, straight to Petr Cech.
82 mins
Lucky escape for Chelsea and John Terry, who fails to cut out a pass and lets van Persie run in behind him, but the Dutchman has been off-form today and wildly slices his shot wide of the near post.
81 mins
Daniel Sturridge dances into the box and then delays his pass, delays his pass and delays his pass...before losing the ball.
Torres was waiting and moving in the box, but the ball never came.
80 mins
Another name for the book.
Ashley Cole is shown a yellow card and receives a fine round of jeers from the Arsenal crowd.
79 mins
van Persie throws himself to ground in the area after the merest of touches from Gary Cahill as they await a cross.
Mike Dean waves his head and we carry on.
78 mins
A little over 10 minutes left at the Emirates, can either side find a bit of inspiration and quality for a winner?
Gibbs tries to thread a pass to van Persie inside the area but overhits it and the ball runs through for a goal kick.
Final Chelsea substitution
Ashley Cole comes on for Ryan Bertrand
About Diaby also gets a yellow card for a late tackle.
Cards and subs is the story of the second half.
74 mins
Chelsea have a free kick, which is played short to Essien, but his shot is blocked.
The ball falls to Juan Mata who tucks it home, but the whistle has long gone for offside and Szczesny didn't make too much effort to save it.
Chelsea substitution:
Juan Mata on for Salomon Kalou
Ryan Bertrand is also getting a bit of treatment.
Chelsea have one sub left.
72 mins
Jose Bosingwa becomes the latest player to be yellow carded, for a foul of Andre Santos.
Far more yellow cards than good chances in this game, sad to say.
70 mins
Arsenal try to pick their way through the Chelsea defence with van Persie, Diaby and Gervinho all involved, but there are enough blue shirts back to block and clear.
69 mins
Not much joy for Oxlade-Chamberlain today, let's see if the more direct, less technical Andre Santos can have an impact.
Kalou pushes Sagna near the corner flag and, after a few moments internal debate, Sagna predictably decides to tumble to ground.
The referee gives a free kick, also predictably.
Final Arsenal sub:
Andre Santos on for Alex Oxlade-Chamberlain.
68 mins
Again Sturridge has the chance to shoot from the right edge of the area on his preferred left foot, but again Szczesny makes the save, seeming to hurt his shoulder in the process.
This article is
What is the duplicate article?
Why is this article offensive?
Where is this article plagiarized from?
Why is this article poorly edited?