Predicting the New York Yankees Rotation for the Stretch Run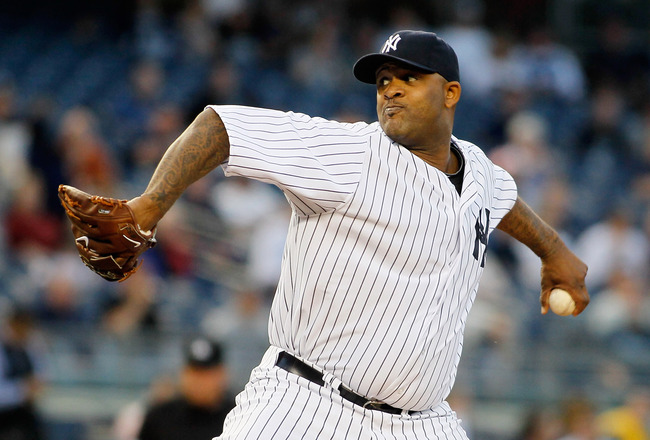 In spite of a few rough early season starts C.C. Sabathia will anchor the Yankee rotation in 2012.
Mike Stobe/Getty Images
The 2012 Yankees are off to a decent start. At 8-6 they've had some good games and some not-so-good games.
Of primary concern? The starting pitching. It's not a "red alert" situation, but the Yankees aren't aiming to just win the division. The Yanks start every season with the intention of winning the World Series.
They already have the ace in C.C. Sabathia, and while his initial starts this season haven't been up to his lofty standards the odds are that he'll end the season with the same type of impressive numbers he usually does.
The number two spot seems quite safe in the hands of Ivan Nova. The third-year pitcher who won 16 games last season has started out 2012 in the same manner he ended 2011. He's solid. Nova doesn't look like a Cy-Young-award winner but he does have the looks of a dependable, solid top-of-the-rotation starter for years to come. With the potent Yankee offense behind him, he'll accumulate wins at a decent pace.
The other three spots all have some questions.
Currently the other three starters are veterans Hiroki Kuroda and Freddy Garcia, along with former top prospect Phil Hughes.
Kuroda has had three starts and only one of them would be considered up to standard. Garcia has had two starts and both have been bad.
Then there's Phil Hughes who aside from an impressive first half of the 2010 season has yet to fulfill the promise he arrived with when he was a highly-touted rookie in 2007.
While it's not encouraging to see starters struggle like this, Yankee fans can remain optimistic for a few reasons.
First, it's still very early in the season. No one has more than three starts. These pitchers don't have super-long leashes, but they're longer than just three or four starts.
If they do continue to struggle, then the better news for Yankee fans is that there are reinforcements on the way. Andy Pettitte is in the minors working his way back from temporary retirement. Michael Pineda a highly touted 6'7" left-hander is going to return from injury.
Then there's the farm system that has two highly touted Yankee prospects at the triple A level. Both Dellin Betances and Manny Banuelos will eventually get a shot at the major league level.
With all these options what will the Yankee five-man rotation look like by the time the team is in September, where they hope to be preparing for postseason baseball?
Number One Starter: C.C. Sabathia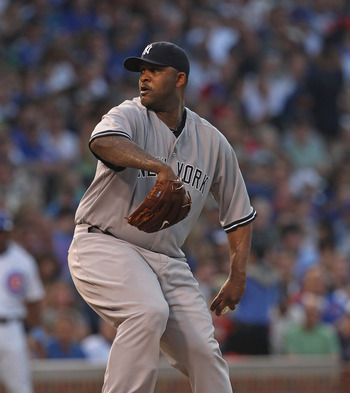 C.C. Sabathia is the "ace" of the Yankee pitching staff.
Jonathan Daniel/Getty Images
This is a no-brainer. Barring an unforeseen terrible injury or a collapse of cataclysmic proportions the number one starter for this season, and many future ones will be C.C. Sabathia.
Sabathia is durable, he strikes guys out, he has big game experience and he's left handed. There are questions in the Yankee rotation but not at the very top of it.
Number Two Starter: Ivan Nova
Ivan Nova has proven himself to be reliable, durable and, most importantly, pretty good.
Nick Laham/Getty Images
One year ago very few would have predicted that Ivan Nova would be the Yankees' number two starter, but that's what is going to end up happening.
He doesn't throw 100 miles per hour, and he's not in possession of one of those signature type of pitches, but Nova mixes his speeds well and has good movement on his breaking balls. Most importantly, he doesn't walk a ton of guys.
It's tough to score a lot without men on base. Nova can get into jams at times; when his pitches aren't moving enough, they will get hit. That's okay though. Nova has been everything the Yankees could have hoped for and then some.
Number Three Starter: Andy Pettitte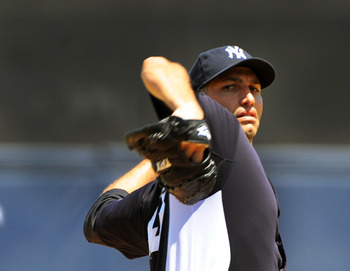 Andy Pettitte is working his way back towards the majors.
Al Messerschmidt/Getty Images
There's nothing wrong with having a 39-year-old pitcher who will turn 40 in June in your rotation.
Not if it's Andy Pettitte.
Pettitte, who has been a mainstay of the Yankees organization since his arrival in 1995, with the exception of a three-year stint in Houston, is back after a one year hiatus.
He was going to retire, but apparently it just wasn't working out for him.
Pettitte, who has always relied more on location than velocity, will probably be less impacted by his advanced age and the year off than many of his peers would be.
Once he gets back into the rhythm of the game and is up to par physically, he would fit in nicely at the number three spot. Sabathia, like Pettitte, is left-handed. Ivan Nova throws from the right side. Pettitte is also a veteran who has tons of postseason experience. If he's as good as many think he'll be he'd be a prime candidate for postseason starts.
Number Four Starter: Hiroki Kuroda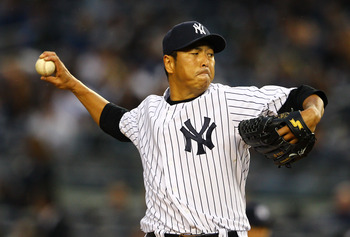 It's been a tough adjustment to the American League for Hiroki Kuroda so far.
Al Bello/Getty Images
Hiroki Kuroda is experiencing some of the difficulties in adjusting to the American League that one would expect.
He's been knocked around for a bunch of hits so far and has given up three home runs in only three starts. Not a great start, but as a veteran it's likely that he'll settle down and adjust to his newfound home.
It's not likely that he'll match the numbers he put up as a member of the Los Angeles Dodgers last year, but with the Yankee bats hitting behind him he'll be able to accumulate wins even if he's allowing more earned runs per start.
Adding to the odds that Kuroda will remain in the rotation is that he's only signed to a two-year contract, and he's never come out of the bullpen in his entire major league career. Unless he's absolutely awful, then he's got a spot in the rotation.
Number Five Starter: Michael Pineda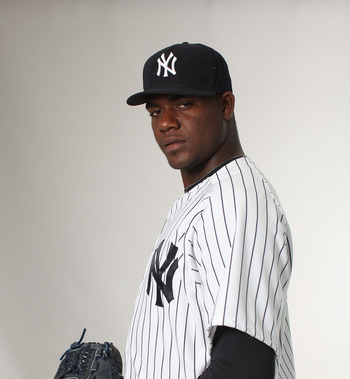 Michael Pineda is trying to comeback from a shoulder injury.
Nick Laham/Getty Images
When you deal one of the most highly-touted offensive prospects in your franchise's recent history, the player you receive in return holds a fair amount of value.
The Yankees dealt top prospect Jesus Montero for Michael Pineda in a multi-player deal that took place on January 23, 2012. The logic was that the offense was already loaded but a team can never have too many talented young pitchers.
That's exactly what Pineda is. He's a talented big right-hander who is only 23 years old. He stands 6'7" and weighs 265 pounds. If you're thinking "right-handed C.C. Sabathia," well, that's exactly what the Yankees are probably hoping he develops into.
Pineda was brought to the majors last year and had a great first half but seemed to fade in the second half of the season. He still finished fifth in the American League Rookie of The Year Voting.
He entered spring training with high hopes but has been on the shelf nursing shoulder tendinitis and will start an extended spring training game this weekend.
The Yankees have invested a lot in Michael Pineda. Unless this shoulder injury turns out to be far worse than originally diagnosed, he will get an ample opportunity to prove his worth to the team.
Missing the Cut: Phil Hughes, Freddy Garcia and the Young Guns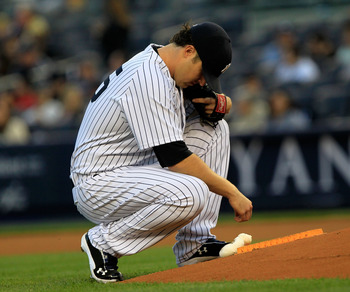 It's already been a rough 2012 for former top prospect Phil Hughes.
Chris Trotman/Getty Images
Phil Hughes has already pitched effectively out of the bullpen. That works to his advantage if he's fighting to stay in the majors. It works against him if he's fighting to stay in the starting rotation.
With Hughes struggling as a starter and other options on the way, he may find himself back in the bullpen in the not-to-distant future.
Freddy Garcia could easily be released if he doesn't turn things around. He's only 35, but he's been very ineffective as a starter and even the Yankee bullpen has only so many spots. Garcia is only under contract through the end of the season so the Yanks wouldn't have to eat too much of the contract. If Garcia were to put together a few decent outings the Yanks may find offers for him on the trade market as well.
Both Manny Banuleos and Dellin Betances are still pretty green. Unless there is another spate of injuries, both will likely remain in the minors until big league rosters expand on September first.
Once they're up either one of them could receive a spot start in September in an effort to rest the full-time starters. They won't start this season with regularity, but in the future they'll both have plenty of chances.
Keep Reading

New York Yankees: Like this team?