2012 NFL Mock Draft: Prospects Who Will Be Booed Most by New York City Crowd
April 22, 2012

Joe Robbins/Getty Images
There are busts in every first round of the NFL draft and it's also not surprising to see a player get booed when they walk on stage.
And being that the draft takes place in New York City, you can bet on the Jets' and Giants' rivals taking the majority of the heat; with the exception of other fan bases that heavily attend. Here, let's take a look at who may get booed the most in Round 1.
1. Indianapolis Colts: Andrew Luck, QB (Stanford)
Andrew Luck will likely get booed solely because he's taking over for Eli Manning's older brother Peyton in Indianapolis. It's a good thing the Colts and Jets don't reside in the same division anymore, right?
2. Washington Redskins (via STL): Robert Griffin III, QB (Baylor)
Washington is the only team needing a franchise quarterback in the NFC East. Ironically, Robert Griffin III will get cheered by Giants fans because Big Blue got swept by Rex Grossman in 2011.
3. Minnesota Vikings: Matt Kalil, OT (USC)
Any NFL fan that respects the ability of Adrian Peterson will be happy with Matt Kalil to Minnesota. The next step is getting Christian Ponder to develop quicker.
4. Cleveland Browns: Trent Richardson, RB (Alabama)
The Cleveland Browns haven't won anything in, well, forever. Cheer for Trent Richardson to Cleveland because the Browns need a guy to build the offense around.
5. Tampa Bay Buccaneers: Morris Claiborne, CB (LSU)
Depending on how many Alabama Crimson Tide fans reside in the Big Apple determines how much Morris Claiborne gets booed. The Buccaneers get a shutdown corner though, as Tampa needs to improve virtually everywhere on defense.
6. St. Louis Rams (via WAS): Justin Blackmon, WR (Oklahoma State)
If Luck gets booed by New Yorkers then Justin Blackmon will get praise. For one, the Rams need a true No. 1 receiver and Blackmon shined over Luck in the Fiesta Bowl.
7. Jacksonville Jaguars: Michael Floyd, WR (Notre Dame)
Michael Floyd leaves Notre Dame as arguably the best receiver in school history. Jacksonville needs one more receiver to complete the offense, but there won't be much fan reaction as the Jags are a small-market team.
8. Miami Dolphins: Ryan Tannehill, QB (Texas A&M)
For one, Ryan Tannehill gets booed as the Miami Dolphins are rivals to the Jets, Patriots and Bills. And chances are, there are way more fans from those teams at the draft than Miami.
That said, Tannehill also enters the NFL with roughly 1.5 years at quarterback and durability concerns. So, for a player who has those red flags and didn't come from a pro-style system, NFL fans in general won't be pleased seeing a guy like that get drafted so high.
Now, Tannehill can help the Dolphins as he is mobile, possesses great size and a strong arm. Not to mention, Mike Sherman—his former college head coach—is Miami's offensive coordinator. So, Tannehill does have the chemistry with Sherman to develop a little quicker.
Unfortunately, we know he's a steep drop at the quarterback position after Luck and RG3. This enhances the risk of Tannehill as a top-10 pick and the Dolphins do have other areas to address. The main concern is whether Matt Moore is the future under center.
9. Carolina Panthers: Melvin Ingram, LB/DE (South Carolina)
Anyone who loves defense will enjoy Melvin Ingram to Carolina. The Panthers desperately need defense and Ingram is the most versatile player in the draft. He's an exciting playmaker, as well.
10. Buffalo Bills: Riley Reiff, OT (Iowa)
With the Bills' impressively upgraded defense, it's quite possible we see Jets and Pats fans team up to boo Riley Reiff at No. 10. Buffalo is rising quickly and Reiff provides a significant boost to the pass offense and running game.
11. Kansas City Chiefs: Fletcher Cox, DT/DE (Mississippi State)
Fletcher Cox is the perfect addition to complete Kansas City's defense for 2012. Don't expect any boos here though because the Chiefs don't play the Jets, Giants or Pats this season.
12. Seattle Seahawks: Luke Kuechly, LB (Boston College)
Luke Kuechly is the draft's best linebacker and put on a three-year show at Boston College. With 532 tackles during his career, cheers will occur for Kuechly to Seattle. The Seahawks need a complete defender in the interior front seven and his dominance as a player is nothing but impressive.
13. Arizona Cardinals: David DeCastro, OG (Stanford)
David DeCastro is the perfect solution to getting Arizona a consistent ground game an improved pocket protection. But, since he played for Stanford out west and the Cardinals reside in Arizona, we may here crickets for this one.
14. Dallas Cowboys: Quinton Coples, DE (North Carolina)
Much closer to New York City than Dallas are Giants, Redskins and Eagles fans. So, regardless of who the Cowboys select at No. 14 overall (barring a trade), that prospect will get heavily booed.
Well, North Carolina's Quinton Coples is the selection, but the man does help Big D quite a bit. DeMarcus Ware is arguably the league's best pass rusher and he needs a trusty sidekick. Coples has raw talent and with Ware generating more attention from blocking schemes, Coples will have opportunities.
The main issue lies in Coples' inconsistency off the snap, which then cause him to lack against the run. His potential explosiveness and body control will work one-on-one situations, but reacting better to the developing play needs to improve.
His bust potential will draw in more boos, so the pressure will be on from the beginning. Considering that Dallas upgraded its defense though, Coples has a bit more leeway to develop.
15. Philadelphia Eagles: Dontari Poe, DT (Memphis)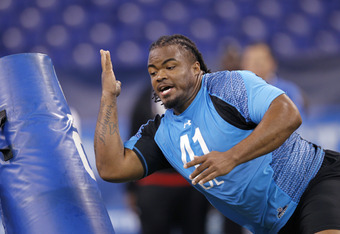 Joe Robbins/Getty Images
You can easily expect boos from the New York crowd when the Eagles just get mentioned. But, Dontari Poe's skill set is needed to improve Philly's rush defense and now Giants fans can welcome improved competition.
16. New York Jets: Nick Perry, DE (USC)
Nothing but cheers for Nick Perry to the Jets as Gang Green need to upgrade the pass rush and defend better against the run. If anyone boos, it will be whichever Pats and Giants fans are in attendance.
17. Cincinnati Bengals (via OAK): Stephon Gilmore, CB (South Carolina)
Unless there are any Steelers or Raiders fans in attendance, Stephon Gilmore to the Bengals won't generate much noise from the crowd. He is, however, a great fit to Cincy as Gilmore can contribute at safety and/or corner with his elite field awareness.
18. San Diego Chargers: Courtney Upshaw, LB (Alabama)
A good move by the Chargers as they need a better pass rush and more reliable run defense. Courtney Upshaw certainly addresses both areas, but not too many boos or cheers from the crowd here.
19. Chicago Bears: Whitney Mercilus, DE (Illinois)
Whitney Mercilus played college ball only a few hours from the Bears. His impressive one-year production deserves much recognition and a positive reaction will happen to the selection.
20. Tennessee Titans: Dont'a Hightower, LB (Alabama)
Lacking against the run in 2011, Dont'a Hightower joins Tennessee to help shutdown the running games of Houston and Jacksonville in the AFC South. As the second Alabama defender taken, he'll get a little more roar from the crowd than Upshaw.
21. Cincinnati Bengals: Michael Brockers, DT (LSU)
It's imperative that Cincinnati upgrades against the run because that area lacked against stout rushing offenses in 2011. Michael Brockers can make plays everywhere along the line, but there won't be much crowd reaction as fans are more interested in scoring playmakers.
22. Cleveland Browns (via ATL): Dre Kirkpatrick, CB (Alabama)
The third Alabama defender to go in Round 1, Dre Kirkpatrick lands in Cleveland and the crowd makes some noise. Playing opposite of Joe Haden, Cleveland has hope and one of the league's better cornerback tandems.
23. Detroit Lions: Mark Barron, Safety (Alabama)
Everyone loves Calvin Johnson, but in order for the Lions to have a shot at the NFC title, improving the defense is needed. Mark Barron fills the need to play in the box and back deep for Detroit; and the crowd displays a reaction of being impressed with four 'Bama defenders in Round 1.
24. Pittsburgh Steelers: Jonathan Martin, OT (Stanford)
The Steelers desperately need to spruce up the offensive line for Ben Roethlisberger. Jonathan Martin is a great pass protector to improve the pocket and we'll here a good response as Steeler fans are everywhere.
25. Denver Broncos: Jerel Worthy, DT (Michigan State)
Denver finds the final piece to its front seven with Jerel Worthy. He'll make plays in the backfield and draw double-teams to free up the linebackers. The crowd, however, provides a mixed reaction for Denver because of Peyton Manning joining the Broncos and Tim Tebow moving to the Big Apple.
26. Houston Texans: Kendall Wright, WR (Baylor)
Arguably the most explosive receiver in the draft, Kendall Wright completes Houston's offense as it needed a threatening No. 2 target opposite Andre Johnson. Here, we get a positive cheers, but mostly subtle as the Texans have only been around since 2002.
27. New England Patriots (via NO): Shea McClellin, DE (Boise State)
Once all the Jets and Giants fans first here that the Patriots are on the clock, that's what will create a stronger uproar of boos.
Boise State's Shea McClellin just happens to be the selection, but he is filling a void for the Pats front seven. New England needs to get a solid pass-rusher and McClellin did account for 20.5 sacks during his career (16.5 past two seasons).
McClellin also force five fumbles and recorded four interceptions at Boise, so his knack for being around the rock will create numerous turnover opportunities.
Now, he still needs to improve as a run defender and at adjusting his pass rush to the developing play. With Vince Wilfork drawing a constant double-team though, McClellin will mostly see single-block situations.
And, depending on how legit New Yorkers felt Boise State was the past few seasons will determine just how much more McClellin gets booed as well.
28. Green Bay Packers: Vinny Curry, DE (Marshall)
Last season, the Packers fielded an atrocious defense that couldn't stop anyone. Vinny Curry comes aboard to help with the pass rush and rush defense with Clay Matthews in the front seven. But, we get boos as the Giants met Green Bay last postseason (despite winning) and are still Super Bowl contenders.
29. Baltimore Ravens: Cordy Glenn, OG/OT (Georgia)
A more versatile lineman than given credit for, Cordy Glenn upgrades the Ravens' offensive line for Ray Rice. This, in turn, sets up play-action so Joe Flacco can connect with Torrey Smith down field. Pats fans though aren't too fond of Baltimore and Giants fans still remember getting the beatdown in Super Bowl XXXV.
30. San Francisco 49ers: Stephen Hill, WR (Georgia Tech)
The San Francisco 49ers and New York Giants are slowly getting their rivalry back in motion. The 2011-12 NFC Championship Game was evidence of that, but the offseason only enhanced it.
For one, Mario Manningham and Brandon Jacobs are 'Niners as is receiver Randy Moss. So, the mere mentioning of San Francisco will draw boos from Giants and Pats fans all over.
Stephen Hill is the answer to the 49ers' offensive issues though, because he's a run-blocking specialist that can make plays down field. One concern, however, is that Hill comes from a triple-option offense and he caught just 28 passes in 2011.
Despite averaging almost 30 yards per catch, Hill isn't as experienced of a playmaker and had a year left to continue his development. So, there is some bust potential which will draw more boos. The good news though, Hill's size, speed and leaping ability combo will complement the rest of San Francisco's solid receiving targets.
31. New England Patriots: Lavonte David, LB (Nebraska)
We'll obviously here boos from all the non-Pats fans at the draft, but not too excessive because they lost the Super Bowl. Lavonte David, however, can get New England back to the show as he's a great pass defender, rusher and possesses the speed to shut down the run. A complete player, David could also contribute at safety if he were to lose 10-12 pounds.
32. New York Giants: Doug Martin, RB (Boise State)
It's New York City and after winning another Super Bowl, Doug Martin will get booed, but it will be overrun by the cheers of Giants fans. Not to mention, Martin dominated at Boise State, is the complete package and will make an immediate impact as the No. 2 ball-carrier behind Ahmad Bradshaw.
John Rozum on Twitter.