2012 NFL Mock Draft: Grading Peter King's Latest Mock
April 20, 2012

Christian Petersen/Getty Images
Nobody truly knows what is going to happen once the clock starts ticking at the 2012 NFL draft—not even the teams involved.
OK, well, we do know that Andrew Luck is going to go No. 1 and Robert Griffin III No. 2, but other than that, all bets are off.
Some are more in the know than others, and one of those people is Sports Illustrated's Peter King. The longtime NFL writer does a phenomenal job with his column and his mock drafts always offer up some interesting intel. 
Here's a look at King's latest update and what it all means.
Picks 1-11: The "These Picks All Make Sense" Group
1. Indianapolis Colts (2-14): Andrew Luck, QB, Stanford
2. *Washington Redskins (5-11): Robert Griffin III, QB, Baylor
3. Minnesota Vikings (3-13): Matt Kalil, OT, USC
4. Cleveland Browns (4-12): Trent Richardson, RB, Alabama
5. Tampa Bay Buccaneers (4-12): Morris Claiborne, CB, LSU
6. *St. Louis Rams (2-14): Justin Blackmon, WR, Oklahoma State
7. Jacksonville Jaguars (5-11): Stephon Gilmore, CB, South Carolina
8. Miami Dolphins (6-10): Ryan Tannehill, QB, Texas A&M
9. Carolina Panthers (6-10): Fletcher Cox, DL, Mississippi State
10. Buffalo Bills (6-10): Michael Floyd, WR, Notre Dame
11. Kansas City Chiefs (7-9): Luke Kuechly, LB, Boston College
Picks Nos. 1-5 are complete home runs. The Colts made the right call in selecting Luck and the Redskins, Mike Shanahan and Bruce Allen, primarily, made the only move they could make in trying to save their jobs.
The Vikes get better on the entire left side of the line with the addition of Kalil, and the Browns would be foolish not to select the best player in the draft not named Andrew Luck.
Tampa, who is a threat to trade down and acquire more picks, wants Richardson but don't lose by much in landing the best defensive player in the draft.
There has been a lot of talk of Blackmon sliding down the board and the Rams opting for a defensive tackle here, but their need for a wide receiver is truly dire.
One of the draft's hottest players, it wouldn't be surprising at all to see the Jags reach for Stephon Gilmore here.
If Tannehill isn't drafted by his former college coach, who is now the Dolphins' OC, then something is wrong.
Cox rose up the draft board relatively quick and has become a trendy top 10 pick, and the Panthers have a need for defensive talent all over the field. His versatility is a great fit.
Floyd could go anywhere from No. 7 through No., 11 so going No. 10 makes sense for a team that needs another weapon.
And finally, Luke Kuechly is a star in waiting with better-than-expected athleticism. He'll come into KC and immediately make an impact.
Picks 12-18: The "We Grade Out Here But Could Easily Fall Down the Board" Group
12. Seattle Seahawks (7-9): Melvin Ingram, DE, South Carolina
13. Arizona Cardinals (8-8): David DeCastro, OG, Stanford
14. Dallas Cowboys (8-7): Mark Barron, S, Alabama
15. Philadelphia Eagles (8-8): Quinton Coples, DE, UNC
16. New York Jets (8-8): Dontari Poe, NT, Memphis
17. Cincinnati Bengals (via OAK 8-8): Courtney Upshaw, DE/OLB, Alabama
18. San Diego Chargers (8-8): Riley Reiff, OT, Iowa
Ingram is far from a sure thing and has seen his stock cool of late. The debate rages on about which defense he fits in better, but the Seahawks are a complete wild card at No. 12. They could use him, but they could go another way, too, sending Ingram down the board.
DeCastro is one of the best players in the draft, but it is not easy to select a guard so high in the draft. He's a special player, which is why it makes sense that the Cardinals nab him here, but it wouldn't be surprising if he falls.
The Cowboys' need at safety is great, and Barron is as hot a prospect as there is right now, but his upside is limited. 
Falling down to No. 15 may actually be the best thing for Coples, especially if he winds up in Philadelphia. King couldn't be more right in what he says about the fit, and we know the Eagles love their D-linemen.
King says the Jets "should" draft Upshaw at No. 16, and I couldn't agree more. His decision to go with Poe is a bit surprising, as the Memphis big man continues to fall down the board to where the Steelers are hungrily waiting.
If Ingram is on the board, he's a great pick for the Bengals. He's a better football player than athlete and grades out in this area.
Picks 19-22: The "We've Got Tremendous Potential" Group

19. Chicago Bears (8-8): Kendall Wright, WR, Baylor
20. Tennessee Titans (9-7): Whitney Mercilus, DE/OLB, Illinois
21. Cincinnati Bengals (9-7): Dre Kirkpatrick, CB, Alabama
22. Cleveland Browns (via ATL 10-6): Jonathan Martin, OT, Stanford
Some people actually consider Kendall Wright the best wide receiver in the draft. They're wrong about that, and King actually says he thinks the Bears should take a lineman—Jonny Martin, in particular—with this pick. Wright would give QB Jay Cutler a potential playmaker opposite Brandon Marshall, but it all depends on how he develops.
The Titans are going to wind up with a defensive lineman one way or another, but which one is heavily up for debate. Mercilus is a tremendously talented player, but there is no guarantee he'll succeed or even be remotely successful.
Dre Kirkpatrick is as talented as they come, but he needs to put it all together if he's going to be an elite cornerback.
And finally, Jonny Martin of Stanford has as much potential as any linemen in the draft, but he needs to get considerably stronger. The Browns, meanwhile, could do a lot of interesting things with this pick—including adding Oklahoma State QB Brandon Weeden.
Picks 23-26: The "We're Great Fits" Group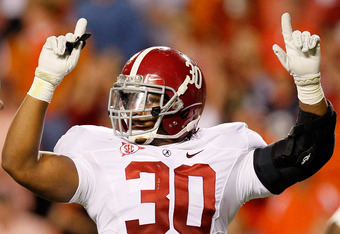 Kevin C. Cox/Getty Images
23. Baltimore Ravens (Trade with Lions): Dont'a Hightower, ILB, Alabama
24. Pittsburgh Steelers (12-4): Kevin Zeitler, OG, Wisconsin
25. Denver Broncos (8-8): Michael Brockers, DT, LSU
26. Houston Texans (10-6): Reuben Randle, WR, LSU
King projects the Ravens trading with the Lions in an effort to stop the Steelers from landing the perfect inside linebacker. It goes without saying that he fits perfectly in Baltimore, too.
With Baltimore hijacking their guy, the Steelers do themselves a favor and find a way to protect QB Ben Roethlisberger better immediately.
Brockers could go higher than this, but the redshirt sophomore will need time to develop. He's a great fit with Denver, who needs talent along the defensive front.
King gives the Texans Randle but says they should take Stephen Hill. That makes sense considering Hill's upside, but Randle gives them a guy who is ready to contribute now.
Picks 27-29: The "Let's Get Crazy" Group
27. Cleveland Browns (Trade with Patriots): Brandon Weeden, QB, Oklahoma State
28. Green Bay Packers (15-1): Jerel Worthy, DT, Michigan State
29. Detroit Lions (Trade with Ravens): Amini Silatolu, OL, Midwestern State
After discussing the possibility at No. 22, the Browns make good on the option and trade back into the first round to land Weeden. He could immediately step in and take over, and it wouldn't at all be surprising if he wins the job. 
Worthy isn't worthy of a first-round grade, but he has a ton of talent and comes with huge upside. The Packers have needs up front and he fits.
And the Lions, who moved down, make a surprise pick of Silatolu, with a number of other big names on the board. It's not surprising to see King have them pick a guy they like more than the remaining bigger prospects.
Picks 30-32: The "True Value" Group 
30. San Francisco 49ers (13-3): Coby Fleener, TE, Stanford
31. New England Patriots (13-3): Nick Perry, DE/OLB, USC
32. New York Giants (9-7): Harrison Smith, S, Notre Dame
All three players could come in and make an impact immediately, and they all fill needs.
Fleener joins his former coach, Perry gives the Pats another threat off the edge and Smith gives the Giants a younger option in their three-safety set.
All three teams could go in different directions, but it is hard to argue with the picks made here.
*Rams trade No. 2 overall pick to Redskins for 2012, 2013, 2014 first-round picks and 2012 second-round pick.