Top 10 MLB Under-25 Starting Pitching Duos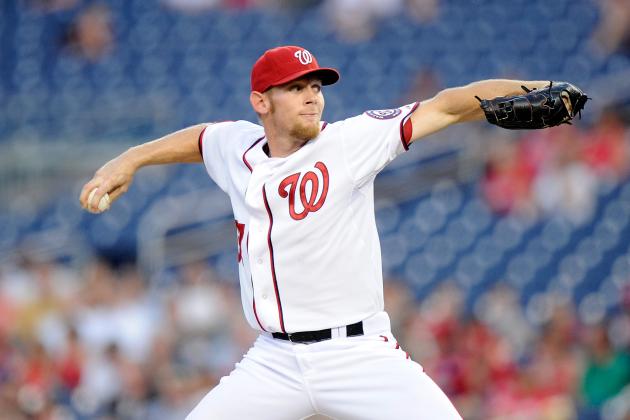 Greg Fiume/Getty Images

While the season is still young, it's hard to ignore the success of the Washington Nationals—namely their starting rotation. In a staff loaded with talented veterans such as Edwin Jackson and Gio Gonzalez, it's been their young guns—Stephen Strasburg and Jordan Zimmermann—who have turned the most heads.
This begs the question: Are Strasburg and Zimmermann the best young pitching tandem (age-25 season or younger) in all of baseball? Perhaps. But the Nationals aren't the only team with two young pitchers off to a fast start in 2012.
Therefore, here is a look at the Top 10 young pitching duos in all of baseball.
Begin Slideshow

»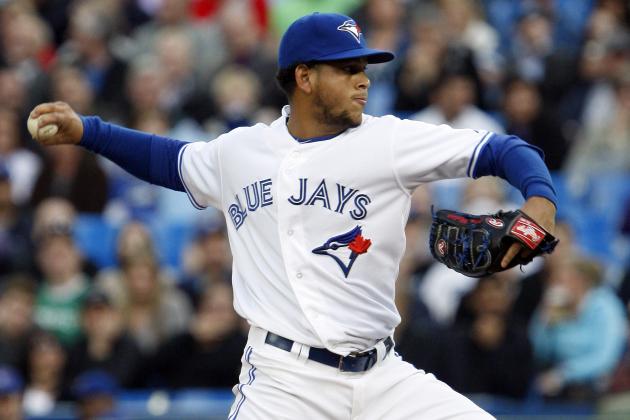 Abelimages/Getty Images

Kyle Drabek, RHP (24): After a dreadful rookie season in which he recorded a 6.06 ERA and 51/55—K/BB rate over 78.2 innings, Drabek appears to be back on track this season.
He's won both of his starts, and owns a 1.42 ERA and 3.36 FIP through 12.2 innings. His command has noticeably improved, as well, as he's walked four batters while striking out 10. I doubt he'll continue to stymie offenses as he has to open the season, but early results suggest last season's struggles may be behind him.
Henderson Alvarez, RHP (22): Like Drabek, Alvarez won't "wow" you with his stuff, but he's consistent and throws a lot of strikes. He's thrown at least six innings in each of his first three starts this season, but was touched up a bit recently against the Rays.
Overall, the right-hander has a .466 ERA and 5.92 FIP thus far, and has struck out eight batters while walking four.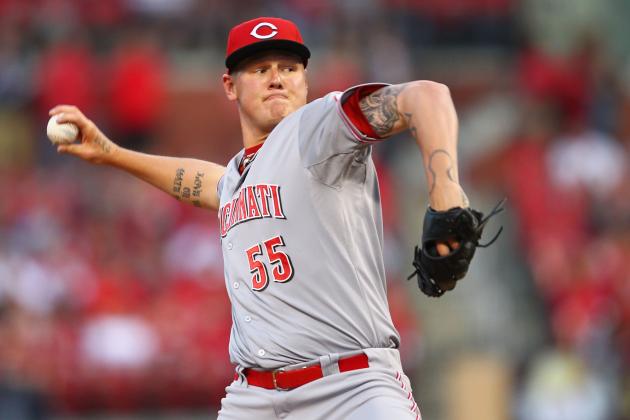 Dilip Vishwanat/Getty Images

Mat Latos, RHP (24): Acquired this offseason for a bevy of top-notch prospects, Latos was desperately in need of a change of scenery. However, whether the homer-friendly Great American Ball Park is the right fit for the 24-year-old is still yet to be determined.
Early results are less-than-spectacular, to say the least, as the right-hander's 0-2 with an 8.22 ERA with a 4.79 FIP over 15.2 innings. He's stuck out 11 batters while walking eight, and has already surrendered two home runs.
Mike Leake, RHP (24): Take it for what it's worth, but Leake is usually a pretty tolerable fifth starter. While he lacks consistency, he'll pull a quality start out of his pocket here and there, and possibly even string a few together over the course of a season.
To begin the 2012 season though, he's 0-1 with a 5.84 ERA and FIP over 12.1 innings. In classic Mike Leake fashion, he's currently sporting a 5/4 K/BB rate.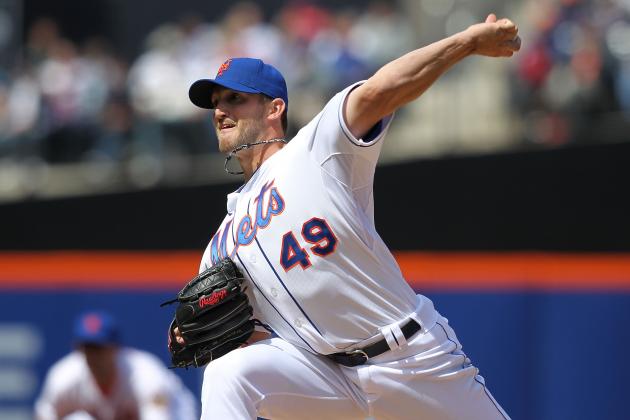 Nick Laham/Getty Images

Jon Niese, LHP (25): Fresh off signing a five-year, $25.27 million extension, Niese has exceeded expectations to open the 2012 season. He's won both of his starts, and has registered a 2.13 ERA and 2.26 FIP over 12.2 innings. He's also been missing more bats this season, as he's amassed 12 strikeouts while walking only five.
Dillon Gee, RHP (25): Like Niese, Gee has also enjoyed a strong start to the season, as the right-hander is 1-1 with a 2.92 ERA and 2.97 FIP in his two starts. He's tossed 12.1 innings thus far, and has posted a 11/2—K/BB rate.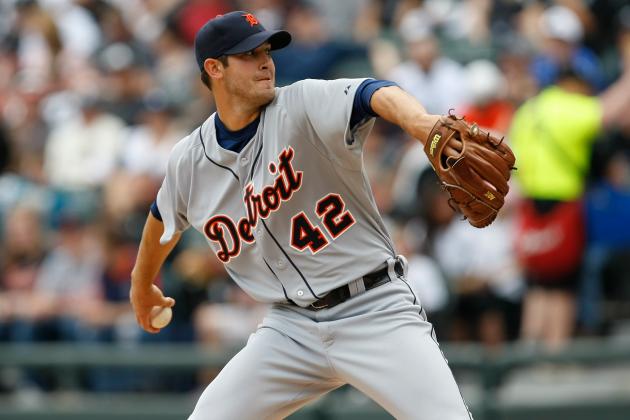 Scott Boehm/Getty Images

Rick Porcello, RHP (23): A fixture in the Tigers' rotation since 2009, it's crazy to think that Porcello is still only 23. Although he's had mixed results over the course of his young career, the right-hander has thrown exceptionally well to begin the 2012 season.
After two starts, he's 1-0 with a 1.84 ERA and 3.17 FIP over 14.2 innings. Porcello has averaged 4.8 K/9 since 2009, but he's fanned eight already this season while walking just one batter.
Drew Smyly, LHP (22): Except for the first inning in his big-league debut, Smyly has been impressive in his first two career starts. He's thrown 10 innings and allowed only one run (0.90 ERA), and has fanned eight batters while walking four. He's a bulldog on the mound who attacks hitters with all pitches, and his arm action adds deception to his offspeed pitches. While it's a small sample, Smyly seems like he can stick in the Tigers' loaded rotation.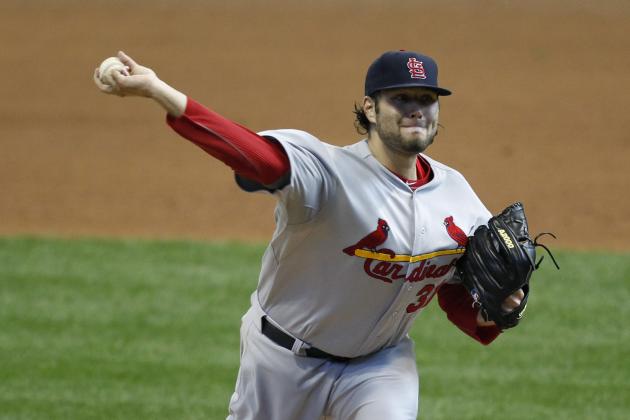 Jeffrey Phelps/Getty Images

Jaime Garcia, LHP (25): Outside of Kyle Lohse, Garcia has anchored the Cardinals' rotation to open the season. The left-hander is 2-0 after three starts, with a 3.06 ERA and 2.86 FIP, and has fanned 10 while walking six over 17.2 innings.
Lance Lynn, RHP (24): Lynn has been extraordinary filling in for the injured Chris Carpenter this season, arguably even one of the best in all of baseball. The burly right-hander is 2-0 with a 1.50 ERA and 2.64 FIP over 12 innings, and currently owns an impressive 0.750 WHIP. Furthermore, he's fanned 13 compared to only three walks.
However, it's hard to imagine that such dominance will be sustainable over the course of the season. Still, Cardinals fans have every right to be excited about Lance Lynn.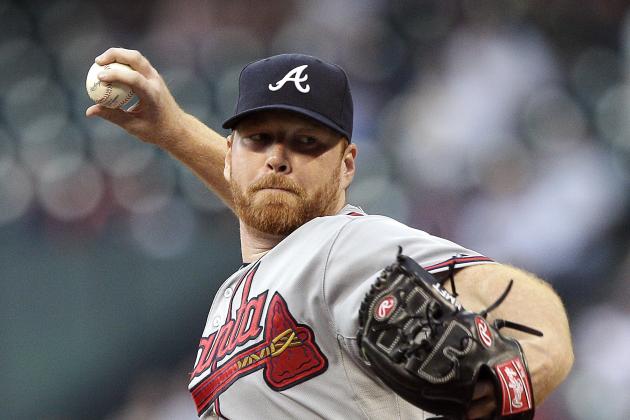 Bob Levey/Getty Images

Tommy Hanson, RHP (25): After an injury sidelined him down the stretch of the 2011 season, Hanson is finally healthy and has tweaked his mechanics to hopefully prevent any future injuries. He's 1-2 to begin the season, mostly because the Braves offense was anemic over the first week of the season. In 17 innings, the right-hander has registered a 3.71 ERA and 3.26 FIP, while striking out 16 and walking eight.
Mike Minor, LHP (24): Minor has without a doubt been the Braves' best starting pitcher this season, as he's 2-1 with a 3.10 ERA and 1.99 FIP after three starts. In 20.1 innings, the left-hander has recorded 19 strikeouts while walking only five batters.
He's been especially good as of late, as Minor has logged more than seven innings in each of his last two starts.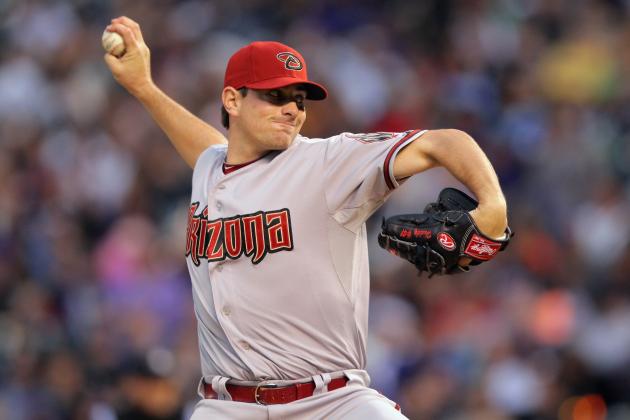 Doug Pensinger/Getty Images

Daniel Hudson, RHP (25): One of my favorite pitchers in all of baseball, Hudson has the makings of a genuine No. 1 starter, but is yet to have a truly dominant season.
He's gotten off to a shaky start to open the season, as indicated by his 6.00 ERA and 6.58 FIP over 18 innings. As someone who normally relies on location and downward movement, the right-hander struggles stem from eight walks and five home runs allowed, though he has struck out 12 batters.
Trevor Cahill, RHP (24): Acquired this past offseson from the A's, Cahill has been the most consistent of the Diamondbacks' starters thus far. Although he's walked 11 batters, the right-hander sports a 1.35 ERA and 3.12 FIP over 13.1 innings. He's negated the high walk total by allowing only two hits and tallying 11 strikeouts.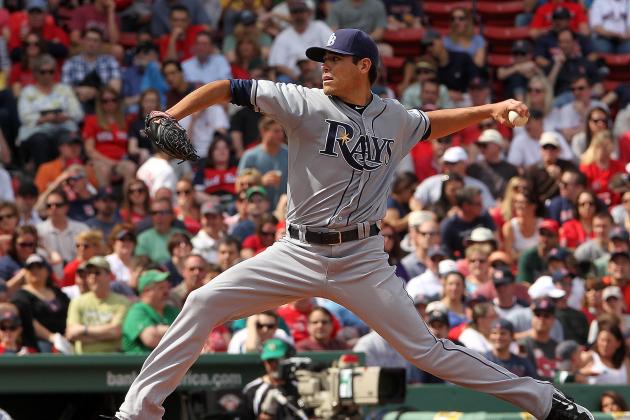 Jim Rogash/Getty Images

Matt Moore, LHP (22): Prospect Pipeline's No. 1 prospect in all of baseball, Moore has been shaky at times to begin the season, but his stuff is still the same. The southpaw is 0-1 with a 5.56 ERA and 6.66 FIP over his first 13 innings.
Although he's fanned nine, Moore has also issued nine walks (three of which were intentional) and allowed three home runs—all on fastballs. Don't worry, though, he'll be fine.
Jeremy Hellickson, RHP (25): The 2011 American League Rookie of the Year is no longer the swing-and-miss, strikeout pitcher as he was in the minor leagues and during his brief big-league debut in 2010. Rather, he's emerged as a pitcher who relies on changing speeds and generating weak contact, all while trying to minimize his walks.
This season, the 25-year-old has made three starts for the Rays, and has a 2-0 record, 3.26 ERA, and 5.61 FIP to show for it. Logging 19.1 innings, Hellickson has posted an ugly 9/10—K/BB rate.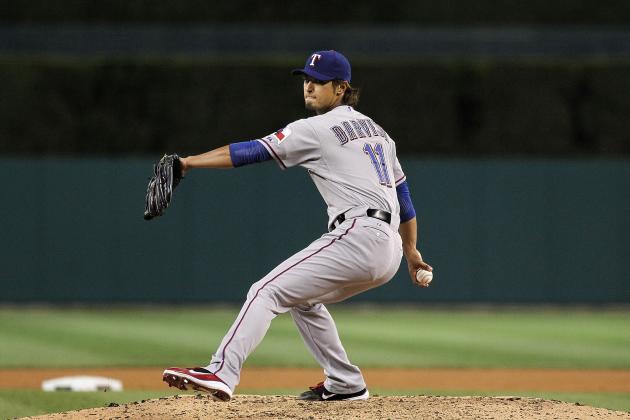 Leon Halip/Getty Images

Yu Darvish, RHP (25): Although I remain skeptical that Darvish will be a star-caliber player in his first season, he has looked a little better with each start. After last night's win, the 25-year-old is 2-0 with a 3.57 ERA with a 3.93 FIP over 17.2 starts.
He has struggled with his control in each of his three starts, which has led to 13 walks—the most in the American League. At the same time, Darvish has fanned 14 batters and generating lots of swing-and-misses.
Derek Holland, LHP (25): The star of the Rangers' talented rotation in 2011, the eccentric southpaw is off to a strong start this season. Like Darvish, he's 2-0 after three starts, and has registered a 3.10 ERA and 3.17 FIP. Through 20.1 innings, Holland sports a 0.885 WHIP and has scattered only 12 hits, while posting a 20/8—K/BB. He could be in store for an even better season than 2011, which says a lot.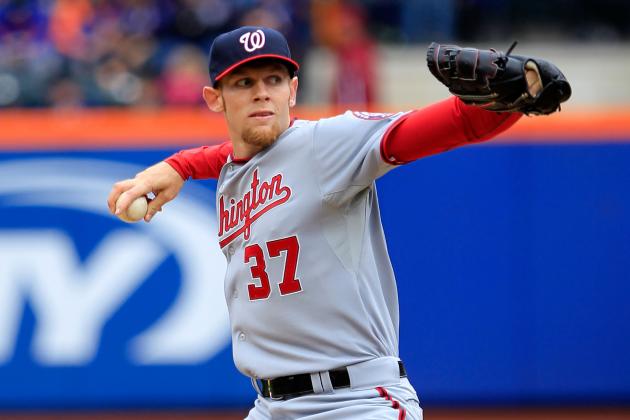 Chris Trotman/Getty Images

Stephen Strasburg, RHP (23): Strasburg seems as though he could throw a no-hitter in any given start, and has utterly dominated opposing hitters this season. After three starts, the right-hander is 2-0 with a 1.42 ERA and 1.92 FIP over 19 innings. He's notched 19 strikeouts compared to only five walks and is yet to give up a home run.
Jordan Zimmermann, RHP (25): Although he doesn't have the gaudy stats of his teammate, Zimmermann has been incredibly successful thus far. In his three starts this season, Zimmermann (who I have a ridiculous amount of respect for considering that he, like myself, was a Division-III ballplayer) has an 0-1 record, but has registered a 1.29 ERA and 2.44 FIP while posting a 10/2—K/BB rate.