WWE WrestleMania 28: Top 5 Moments Between the Rock and John Cena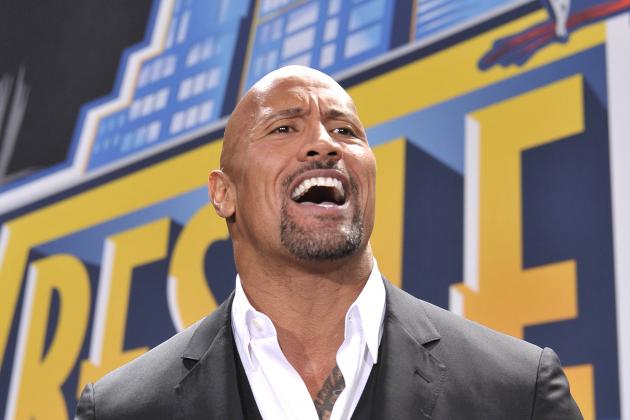 Michael N. Todaro/Getty Images

It was a long year. While having a main event for WrestleMania announced 12 months in advance was a risky move, WWE made the right move.

If any match was worth the hype, it was The Rock vs. John Cena.

As history will tell us, the decision worked out great for the company. A record breaking pay-per-view was held with over 1.3 million buys and $67 million in gross sales.

While the event was a team effort, the focal point was Rocky vs. Cena. Throughout their year-long feud, there were tons of amazing moments.
What were the best?

Let's find out!
Begin Slideshow

»
On April 4th, 2011, The Rock and John Cena made it official.

WrestleMania XXVIII would be headlined by a "Once in a Lifetime" match between the two icons. It was a huge announcement, and many fans were interested.

Would WWE really wait a year?

How would the next year go?

Where did the WWE Championship settle into this, if at all?

What would be the next step for these two?

It was a monumental moment. I don't think the Atlanta crowd was very intrigued, but that was understood. After Cena and Rock took out The Corre, the count down was on...
I believe the notes written on The Rock's wrist were planned. Others will swear up and down that it was not planned, and that is fine.

My only question is this: In the ten years of excellent promos from The Rock, have you ever once seen promo notes written on his wrist?

Just once.

Show me another time in the past 10 years...

It was a part of the story, and I loved it. Rocky spoke for his usual 20 minutes on February 27th, 2012. Cena walked down the aisle and nailed a perfect two minute promo.

Just like that, after a few months off, the buzz was back on for this feud.
The Rock's first match back in WWE since 2004 was held at Survivor Series in a tag-team match against The Miz and R-Truth.

His tag-team partner was John Cena.

"Never Before. Never Again."

It was an interesting choice by Rock and WWE to "test" him out before the big Mania match. Months later, nobody can argue with the move.

WrestleMania did record numbers. Survivor Series received a nice boost, and The Rock showed the world he was ready to go.

The Awesome Truth broke up shortly after losing here, and the Road to Wrestle Mania continued.
On the afternoon of February 14th, 2011, it was reported that the WrestleMania XXVII guest host was likely Bob Barker. Yes, this was hours before the big reveal on Raw.

Just a few hours later, a report stated that WWE and Justin Bieber have reached a deal for WrestleMania. Honestly, I remember just laughing at these stories all day long.

It really was embarrassing.

The Rock was the only choice to bring in. There never was any other option, and to think otherwise was just ridiculous.

Of course, all those lovely "reports" got out there, and everybody reacted just as WWE hoped. Fans were upset, whining, crying, and were ready to scream! It works every single time...

Then Raw came on the air, and none of it mattered.

All night, the announcement was teased. All night, you could feel it getting closer and closer. All night, you knew it had to be something special.

It certainly was.

The Rock was back in WWE, and John Cena was his target.
No more talking.

No more fancy videos.

No more long promos.

No more waiting.

On April 1st, 2012, it was time for The Rock and John Cena to have their match. In front of over 70,000 fans in Miami, nothing was going to stop them from having a match for the ages.

At nearly 30 minutes, both men put on a performance worthy of a WrestleMania main event. The two delivered a top notch effort, and as impossible as it seemed, the match lived up to the hype.

While The Rock pinned John Cena in the end, nobody lost. Both men are still at the top of their games, and it would not shock me one bit to see these two lock up one more time.

Follow Justin Watry on Twitter!