What Derek Jeter's Resurgence Means for the Bronx Bombers
April 20, 2012

Chris Trotman/Getty Images
"Age is just a number, and people need to get over it," proclaims actress Betty White.
Derek Jeter certainly got the memo.
The Yankees' shortstop has begun the nascent 2012 season on a tear, averaging .373 and tallying four home runs in a mere 13 games.
At 37 years old, the inevitable mumblings of decline and retirement have encircled Jeter over the past few months. After hitting .334 and swiping 30 bases in the 2009 campaign, Jeter saw back-to-back seasons of sub-.300 production and waning fielding abilities.
Yet the future Hall of Famer seems set on dispelling notions of being "too old." Jeter has been the spark plug in an otherwise slow-starting offense, driving in 11 runs from the leadoff spot.
What does his high level of performance mean for the Yanks going forward?
It's safe to assume that Jeter's power surge will die down (he hasn't hit more than 20 homers in a season since 2004), and chances are his average will dip at least 60 points as May and June come around. Still, there's no reason to believe that the Pequannock, New Jersey native can't continue to be a viable leadoff hitter.
Jeter's success means the world to Curtis Granderson, who slugged three homers on Thursday. Even with Jeter's ups and downs in 2011, Granderson was still able to deliver 119 RBI. With a more consistent Jeter in front of him, the sky's the limit in 2012.
A dominant Jeter means just as much to Alex Rodriguez, who's statistics are seeing a free fall at age 36. A-Rod has been slated in the third or fourth spot for most of the year, and like Granderson, his offensive production will skyrocket with additional possibilities to drive runs home.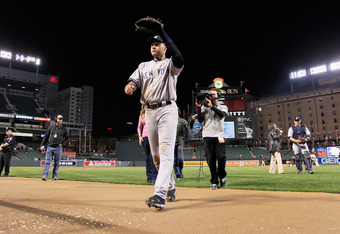 Rob Carr/Getty Images
But perhaps Jeter serves as an intangible assurance to the third baseman as well. The two sluggers are just one year apart, and Jeter's resurgence should ameliorate Rodriguez' mounting concerns.
Most of all, Jeter's hot start allows the Yankees to, quite simply, keep being the Yankees. Jeter epitomizes the Bronx Bombers' organizational style, and his return to form sends a message to the rest of Major League Baseball: the Yankees are just as good as they've always been.
Manager Joe Girardi will likely appreciate such invaluable clubhouse confidence.
Jeter has allowed the Yankees to start above the .500 mark despite inconsistent pitching and a shaky offense. Rodriguez, Mark Teixeira and Robinson Cano have all hit just one home run thus far, and without Jeter playing the way he's been playing, the Yanks' 7-6 record would be far worse.
Will Jeter continue to push at a .400 batting average? Unlikely. But will Jeter re-instill some of the magic and respect that his name holds? We haven't seen anything yet to convince us otherwise.