Yankees vs. Red Sox: Why Bronx Bombers Will Ruin Fenway's Centennial Celebration
April 20, 2012

Elsa/Getty Images
The New York Yankees vs. the Boston Red Sox—arguably the greatest rivalry in all of sports—will resume today at Fenway Park, where the Yanks will be sure to put a damper on any good feelings surrounding the ballpark's 100-year birthday.
Exactly 100 years ago today, on April 20, 1912, the Boston Red Sox defeated the New York Highlanders 7-6 in 11 innings. It was the inauguration of a historically one-sided rivalry that would take place in two legendary ballparks and produce some of the greatest highlights and stories of all time.
On April 20, 2012, the Yankees come in having recovered from an 0-3 start, while the Red Sox are still reeling from their season-opening sweep and are currently at 4-8. Now that 2011 American League MVP runner-up Jacoby Ellsbury is sidelined with a dislocated shoulder, things are hardly looking up for Bobby Valentine's squad.
The Yankees have all of the momentum and and all of the talent as well.
On the mound for New York will be the highly-touted Dominican, Ivan Nova. He is the only Yankee to have recorded two wins so far, and he will be facing an inconsistent Red Sox offense. The Sox scored a total of 25 runs on the Tampa Bay Rays in two games, but have only scored 12 in the last four games since then and were shut out by James Shields to end that Tampa series.
Clay Buchholz will be starting for the Red Sox. It's safe to say that he hasn't found his groove yet; he has given up 12 earned runs in 11 innings—good for a 9.82 ERA. He has somehow avoided taking a loss, however, as he enters with a 1-0 record.
The goose egg in the loss column will become a "one" soon enough, though.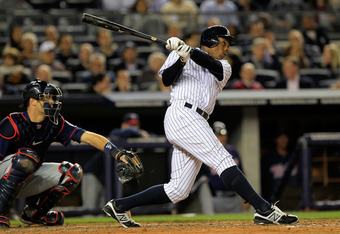 Chris Trotman/Getty Images
Buchholz will be going up against the always-potent Bronx Bombers lineup. Derek Jeter has been on fire, Curtis Granderson is coming off of a three-homer game and Nick Swisher is among the league leaders with 13 RBI. If Buchholz can't get through at least six innings, Boston may have some major issues.
The Sox have a league-worst 6.20 ERA, and a good portion of that is that of their bullpen's. Mark Melancon, who was once thought to be in competition for the close role, was just optioned to Triple-A Pawtucket after starting off the season by giving up 11 earned runs in just two innings. That earned him a 49.50 ERA, and Boston fans should consider themselves lucky that he won't even be at the ballpark when the Red Sox take the field at 3:05 ET today.
The rest of the bullpen hasn't been great either, though.
Alfredo Aceves, who is technically the closer, has an ERA of 9.00. Franklin Morales and Justin Thomas have each thrown in at least four games and have ERAs over 5.00. The bullpen is a mess, so if Buchholz can't recapture any of his former self, it will be a long day and a long series for the Red Sox.
Fenway Park may be turning 100 today, but that will be the only thing providing happiness for Red Sox Nation this afternoon. Look for the Bronx Bombers to light up the scoreboard and handily defeat the Sox in the rivalry's opening game of the season.