Penn State: Division-I Hockey Programs a Long Time in the Making
April 26, 2012

Penn State University has dealt with a lot of issues lately. Friday was a historic day for the university. It took place on campus with Beaver Stadium and the Bryce Jordan Center only as backdrops this time.
The long awaited groundbreaking ceremony for the Pegula Ice Arena took place on a day where a cloud could not be seen and the warm weather made it more than ideal. 
The Penn State Field Hockey Complex saw more than 300 people attend the ceremony. Among the speakers at the podium were Penn State President Rodney Erickson, Acting Athletic Director Dr. Dave Joyner, the two head hockey coaches Guy Gadowsky (men's) and Josh Brandwene (women's), former coach and current Associate Athletic Director Joe Battista and donor Terry Pegula.
Pegula, a Penn State graduate, founded the natural gas drilling company East Resources and sold it to Royal Dutch Shell for $4.3 billion.
Battista dreamed of varsity hockey at Penn State when he came to Happy Valley in 1978. There was a plan for Division-I hockey but the program ran out of money. The planned 4000-seat arena was reduced to a 900-seat arena (1,000 total capacity with standing room) for a club program.
One day Battista and Pegula were talking and Pegula asked why Penn State did not have a NCAA hockey program.
Battista said that 13 formal proposals were made for Division-I hockey but there just wasn't enough money to get it done.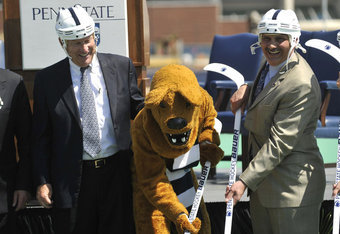 Pegula then asked how much money would be needed. Battista said about $50 million would be needed to fund an adequate arena.
"I think I'm going to be able to do that," Pegula told Battista.
Discussions began and in August 2010, Pegula signed a deal that would give Penn State a men's and women's hockey program. A month later, Penn State announced that varsity hockey would be coming to Penn State.
The Pegula Ice Arena will be a state of the art facility that some say resembles the old Hersheypark Arena -- the former home of the American Hockey League's Hershey Bears (Washington Capitals).
The goal was to make the arena a difficult place to play for opposing teams.
"The student section is as steep as code will allow, and the student section will make this a whole new feel," Gadowsky said.
Gadowsky said that it reminded him of his playing days at the Hersheypark Arena on a virtual tour of the new building.
Pegula is a lifelong hockey fan and dreamed of varsity hockey at his alma matter. He also is the owner of the Buffalo Sabres. Prior to purchasing the Sabres, Pegula and his wife Kim gave the university an $88 million gift. In the end, the grand total of Pegula's donation is $102 million, just ahead of Facebook founder Mark Zuckerberg on Forbes Top 400 Biggest Gifts.
Penn State's two Division I programs will begin playing this upcoming season and will play in the current facility. The Greenberg Ice Pavilion hosted games for the former ACHA club programs since 1981.
For more on the Pegula Ice Arena visit the Daily Collegian.
Rob Greissinger is an intern for Bleacher Report and a sports candidate for Penn State's independently student run newspaper, The Daily Collegian. Unless otherwise noted, all quotes were obtained first-hand or from official interview materials.