Buy One Get Four Free: AFC East Week in Review, April 16-20
April 20, 2012

Jim Rogash/Getty Images
Enjoy the upcoming week of NFL news: After the 2012 NFL draft, it's going to be a long wait before there's another wave of news.
But you can't know where you're going until you know where you've been. With that, let's take a look at the week that was in the AFC East, with news abound from the schedule release as well as some draft news, potential and resolved contract disputes.
On Schedule
The new Nike NFL jerseys. Twenty-one extra seconds of Indiana Jones. The NFL schedule.
These are three things that present very little "news," but excite the lives of the fanatical among their following.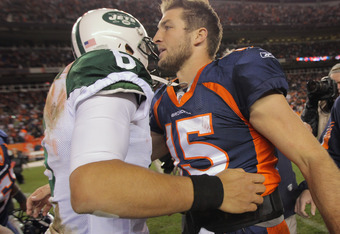 Doug Pensinger/Getty Images
Jets fans are among the most upset over the schedule, which seemingly sets up Jets quarterback Mark Sanchez for early struggles against some of the league's top defensive units (vs. Bills, at Steelers, at Dolphins, vs. 49ers, vs. Texans).
Colin Cowherd of ESPN Radio points out that while this sets up Sanchez for struggles, the latter part of the schedule features plenty of prime time contests in the event of a figurative "happy coincidence" that Tebow supplants Sanchez as the starter.
The Bills and Dolphins, on the other hand, ended up with just one prime-time game apiece. No coincidence, they face each other in said game on NFL Network's Thursday Night Football. A division game is an easy way to get two subpar teams each onto a prime-time game, with the NFL's goal to give each team at least one prime-time game.
Other than a three-week stretch that has the Patriots traveling from Seattle to New England to London, not much worth mentioning from the schedule-makers in terms of the AFC East.
Matt Light Reported to Retire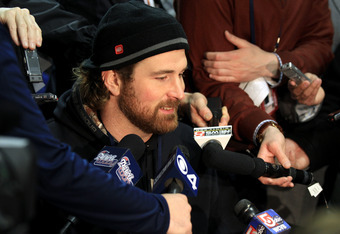 Scott Halleran/Getty Images
Although nothing is official yet, it has been reported by Mike Florio of Pro Football Talk that Patriots left tackle Matt Light, an 11-year NFL veteran, will hang up the pads in 2012. This news came the day after Light declined to give any real insight on his future in the NFL, according to Karen Guregian of the Boston Herald.
The Patriots were wise to cover their bases at the left tackle position by drafting Nate Solder with the 17th overall selection in last year's draft. The left tackle of the future already has solid NFL experience under his belt, and can now slide into that role more easily and with less of a dropoff than he would have had he been thrown to the wolves last year.
That being said, Light is the only left tackle Tom Brady has ever known. The two were constantly on the same page. That chemistry may be tough to replicate right off the bat, but Solder certainly has the talent to play left tackle in the NFL.
Darrelle Revis' Contract Problems Could Resurface
Just over a week ago, Rich Cimini of ESPN New York wrote an enlightening piece on Darrelle Revis' contract situation. Two years ago, the best cornerback in the league held out for a bigger contract. He was given what Cimini called a "Band-Aid contract" that was more of a temporary quick fix than a long-term solution. Cimini warned that the problems could resurface.
And now, general manager Mike Tannenbaum has been met with those problems face to face.
When asked by reporters about Revis' contract on Thursday, Tannenbaum was mum on the situation and said simply, "Darrelle is under contract," according to Jenny Vrentas of the Newark (N.J.) Star-Ledger. "Darrelle is obviously a really important part of our team, and we look forward to the 2012 season and hopefully accomplishing a lot of great things together."
When pressed further, Tannenbaum shut the door on the conversation and said, "I said all I'm going to say about his contract."
Hard Knocks or not, this is a developing story that will be worth watching once again.
Dolphins GM Jeff Ireland Is Like the Honeybadger
He doesn't care. He just takes what he wants. From Ben Volin of the Palm Beach Post:
Many draft experts expect the Dolphins to draft Tannehill in part to rehab the team's image after not landing Peyton Manning and letting Matt Flynn sign with Seattle. But Ireland said he won't take a quarterback just because the Dolphins have been getting criticized locally and nationally. ...

'Certainly I'm not going to get into the quarterback discussion here today from the strategy standpoint,' he said Thursday at a pre-draft press conference. 'But I certainly don't feel like you should be pressured into doing that either.'
So, basically, the Dolphins could still draft a quarterback, and could still even trade up or down to do so, but if they do, it won't be because anyone told them to do so.
The Dolphins may be under some pressure to get it right this year in the draft, but they won't let that pressure dictate their decisions.
Certainly, Tannehill could be the man for the job, but most draft prognosticators are in agreement that it will take some development before Tannehill is ready to start. And if he's thrown to the wolves too early to prove a point, it could be highly detrimental to his growth.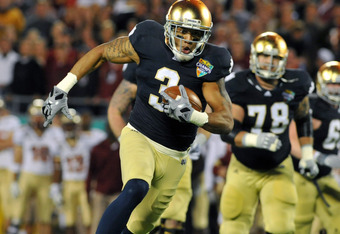 Al Messerschmidt/Getty Images
Wide Range of Wide Receivers
The Bills lacked playmakers at wide receiver down the stretch last year, and as a result they have long been connected to Notre Dame wide receiver Michael Floyd in April's draft. GM Buddy Nix joined the Howard Simon Show on WGR 550 in Buffalo to talk about the depth at wide receiver in this year's draft class (hat tip to BuffaloBills.com).
You look at the number of wide receivers that have played great in this league and when they were drafted, Steve Johnson for example, drafted in the seventh round. Victor Cruz was undrafted. We think you can get a good sized speed receiver in the third or fourth round.
Wes Bunting of National Football Post said long ago that wide receiver was one of the deepest positions in the draft. With needs in the secondary and at offensive tackle, where there will be far less top-end talent available, the Bills would be wise to wait on their wideout until a later round.
Adding a player like Floyd, however, would immediately open up the offense a bit more. The Bills need someone who can stretch the field vertically on a consistent basis, and although wide receiver is currently one of the deepest positions on their roster, they lack big-time playmaking threats, averaging just 10.8 yards per completion and ranking 28th in the NFL.
That being said, there's plenty of dynamite available in the draft that could help to make the offense a bit more explosive.