NHL Free Agency: Each Team's Most Likely Candidate to Be on the Move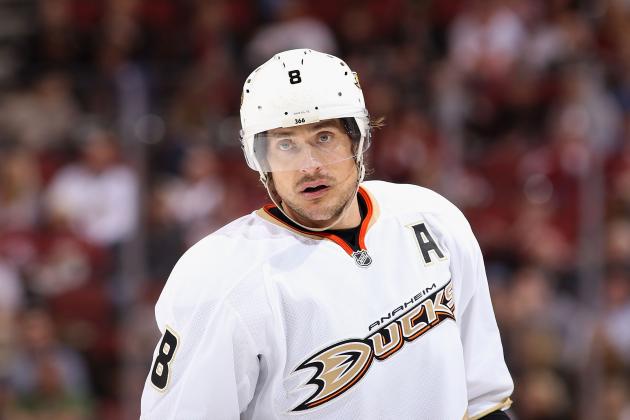 Christian Petersen/Getty Images
As a Free Agent this summer Selanne is considering retiring
With the regular season done and the first round of the playoffs underway, speculation has begun for the 2012 free agent market. Who will stay where they are and who will move has been scrutinized by analysts for the last month.
I will be taking a look at each team's unrestricted free agents who will most likely move, excluding those who will probably not play next year due to retirement or no longer having the ability to compete at the NHL level.
There are some big names on the list this year, but a number of them have expressed the desire to remain where they are until they retire, such as Ryan Smyth and Olli Jokinen.
In the slides that follow are one player for each team that will be playing elsewhere next season. This is evaluated according to the assets they possess that would make them a desirable addition to a new team.
Begin Slideshow

»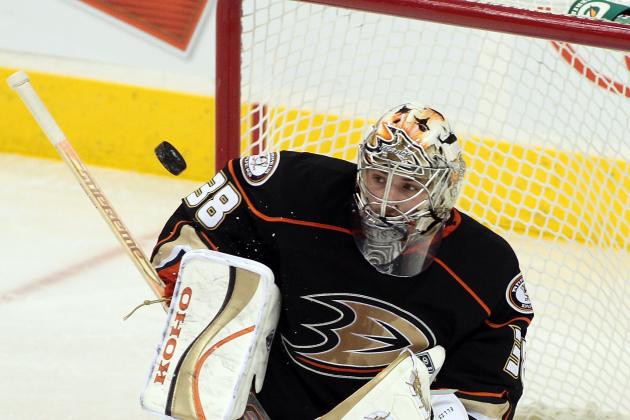 Marianne Helm/Getty Images

The goalie situation in Anaheim is far from perfect, yet with two other goalies signed for next season, Dan Ellis is the odd man out.
Much like Jeff Deslauriers, Ellis is not ready to be a starting goalie in the NHL. And at 31, there is very little hope he will be one.
With Anaheim still having around $4.7 million in cap space, it will most likely be more inclined to try and re-sign some of its more productive free agents, should they decide to keep playing, as in the case with Teemu Selanne.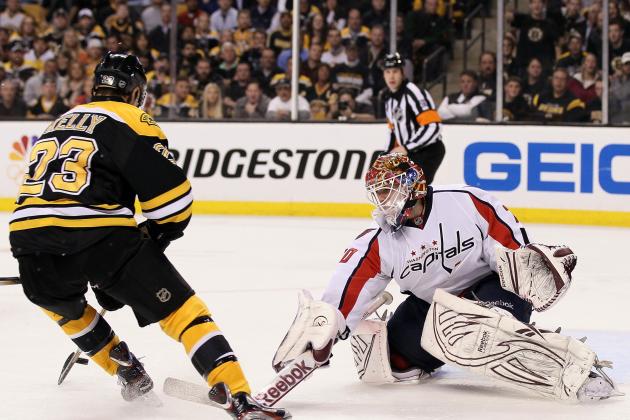 Elsa/Getty Images

Kelly is a solid forward with plenty of skills, and he would be an asset for any team looking for a decent power forward.
In a support role, he could potentially be a top six, but he is more consistent on the third or fourth line.
With a cap hit of $2.1 million, he is making a lot of money for a player that Boston may try to send elsewhere.
Any team looking for a hard-working player who isn't afraid to be physical would like to have Kelly. He will most likely sign with a team that is on the verge of playoff contention.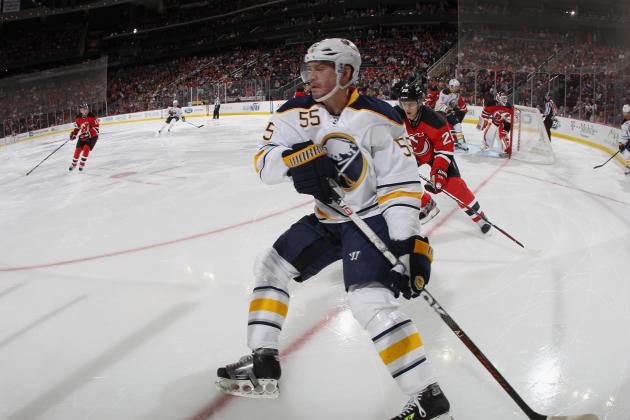 Bruce Bennett/Getty Images

At 34, the centerman for the Sabres may have seen his best days behind him. His eight points are a far cry from the 20-plus points per season we had seen him reach before the lockout.
He has become injury prone, and with Buffalo missing the playoffs, it will be looking to make a number of changes to its roster.
Keep in mind that Hecht only played 22 games this season, and it was only last year that he had 29 points. He may not be with Buffalo next season, but I do not doubt that a team looking for a talented veteran will try to pick him up.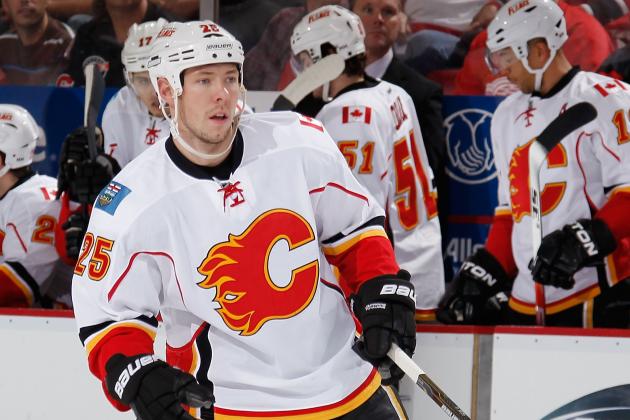 Gregory Shamus/Getty Images

Most speculation has been around Olli Jokinen leaving town, but at the end of the season, he made a strong case for the Flames to keep him.
That leaves another injury riddled player in David Moss, who will probably be looking for another home. At 30 years old, he still has a few more years left in him, as long as he stays healthy.
Calgary needs to look at infusing some youth into its lineup, meaning it will more than likely let Moss walk away.
He has great defensive awareness and tends to place his large frame in between himself and the puck. He also has the ability to score, but it seems to come in spurts.
Moss will most likely find a home on a defensively weaker team.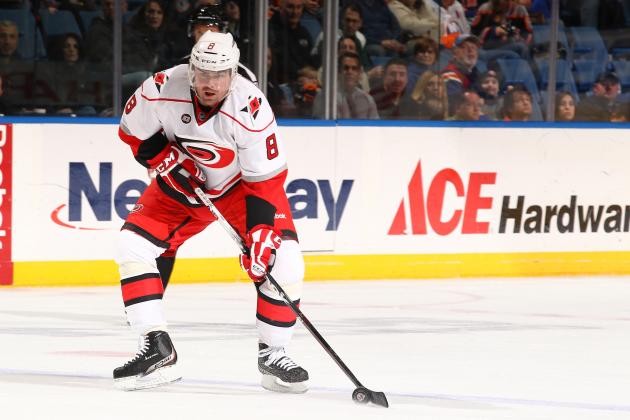 Al Bello/Getty Images

Spacek is still a very solid defenseman; however, age and injuries have started to catch up with him.
Since the trade that brought him to Carolina from Montreal, he has been sidelined six times this season alone.
Carolina has its core in place that it wants to build around, and Spacek has played the veteran defenseman well for them. The Canes are starting to become an older team, with only eight men on their roster 25 years old or younger.
Spacek is well liked and well respected; don't be surprised when another team offers the veteran a short-term contract while Carolina sits by.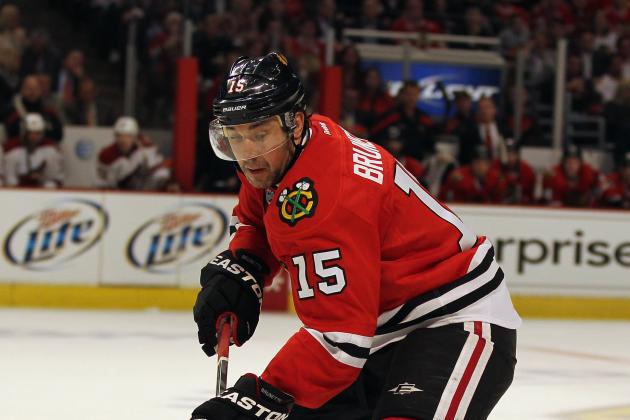 Jonathan Daniel/Getty Images

The easy answer would have been Cristobal Huet, seeing as he has been playing for some time now in the Swiss League. Andrew Brunette on the other hand, is a talented player. However, he is not a strong skater and has been declining in his offense.
The Blackhawks will more likely than not try to put his $2 million contract to better use in other areas that are suffering.
He does possess great playmaking ability, and while he is not a top six player, he adds depth to any team's bottom six.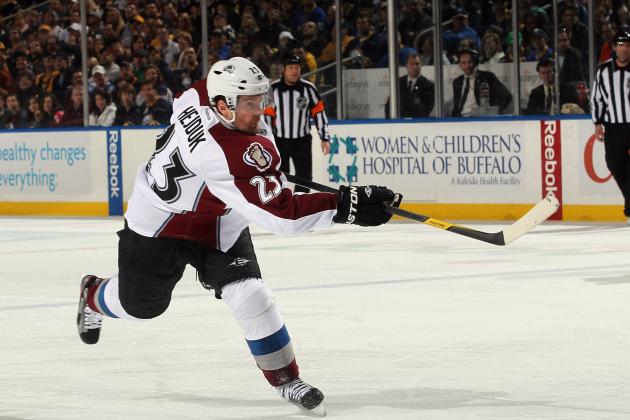 Bruce Bennett/Getty Images

Retirement rumours have been surrounding Hejduk, as reported by The Denver Post. The retirement statement has been used before when an older player is considering a change.
At 36, Hejduk will most likely be a sought-after veteran addition to many teams. This season's 37 points have been the lowest of his career; last season he managed 56 points.
He can make himself unseen and has a quick shot that still makes goaltenders nervous. Both are qualities that any team would love to have.
While the rumours may be true and Hejduk might have played his last game in the NHL, don't be surprised if he receives an offer and plays a few more season.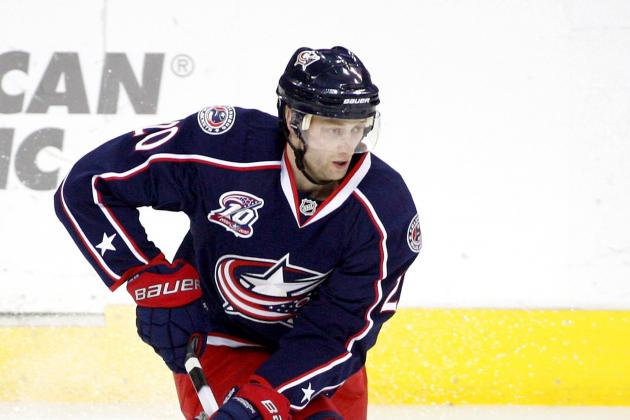 John Grieshop/Getty Images

Columbus had such a bad season that it will be looking to offload dead weight and hefty contracts, so really we can take our pick.
Kristian Huselius in the past has been able to put up the numbers, having no less than 40 points a season since the lockout.
The last two seasons have been plagued with injury, though. He only played two games this season due to a groin injury. With a salary cap hit of $4.7 million, don't expect him to return to Columbus.
Injuries aside, if Huselius can get healthy, he is a great playmaker and can find the net when needed. These talents should be able to find him a decent contract with a new team.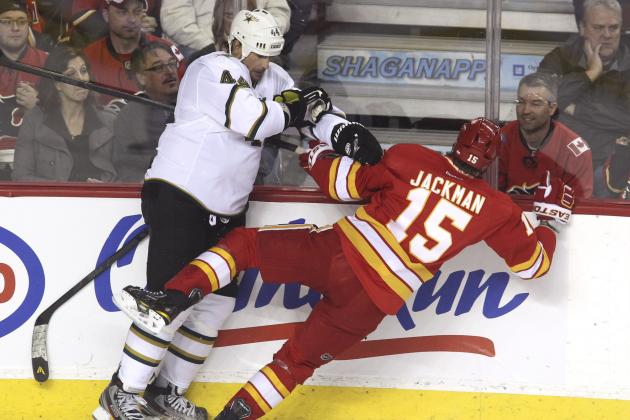 Mike Ridewood/Getty Images

Sheldon Souray is a very talented defenseman, and he will probably be one of the more sought-after defenders in the offseason.
At 35, Souray had 21 points on the season, proving that he can still be an offensive threat. On the blue line, he has good instincts and is still one of the league's better defenders.
Dallas may make an offer, but expect that Souray will sign with a Stanley Cup contender, as he is getting up there in age and doesn't have long to left to win a Cup.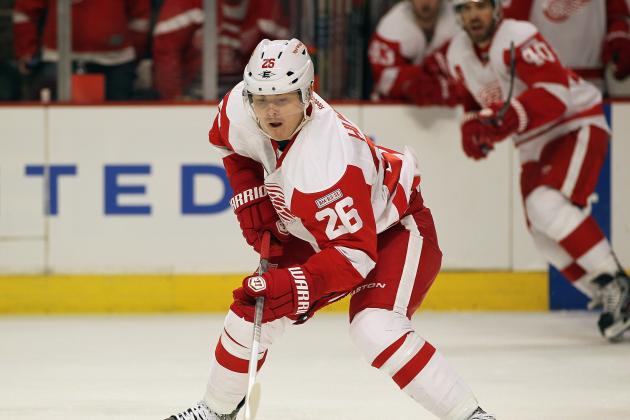 Jonathan Daniel/Getty Images

Detroit is an older team that needs to bring in some youth before the situation becomes dire.
Jiri Hudler is a talented winger who can play either side. He is 28 years old but is still an offensive threat, having 50 points on the season.
The Red Wings may try to re-sign him, but Hudler will be another of the coveted scoring wingers in the offseason. Detroit may not be able to match an offer from a team with a smaller payroll.
Any team looking for more offense will try to land Hudler, as he still has a number of years left to play and is still a talented sharpshooter.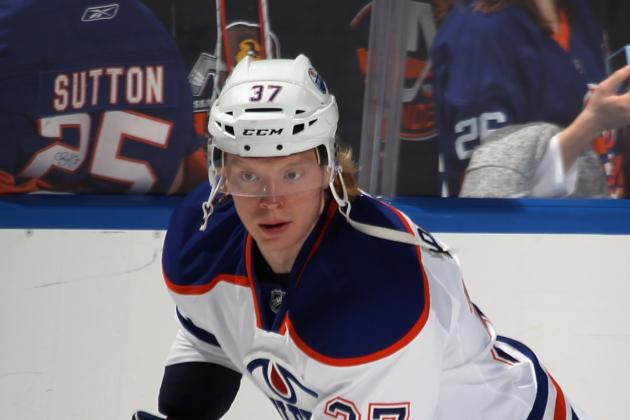 Bruce Bennett/Getty Images

Edmonton managed to avoid being dead last in the league this season, but only by one place. For that reason, expect Edmonton to be active in the offseason.
Lennart Petrell is a solid bottom-six winger who can work on a shut-down line. He does not possess a wealth of offensive skills.
On a team like Edmonton, Petrell's skills are needed, but he could do better elsewhere. Expect a couple teams to try to pick him up during the offseason.
He would be a much better piece on a team with looking to fill a gap and not a team that is rebuilding.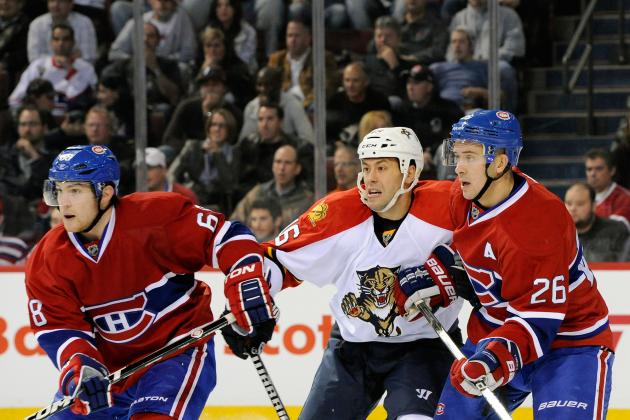 Richard Wolowicz/Getty Images

Since Sturm left Boston, he has failed to recapture the ability to put up the points, in part because of his tendency for injury. Since being traded to Florida in October, Sturm has been injured five times.
He does have good playmaking ability and is a playoff veteran, having been in the postseason with every team he has played for, save mid-season trades, since he was drafted.
He has speed that teams looking to improve their special teams may be looking at.
While his time in Florida may be up, as the Panthers will likely try to improve using the extra $2.2 million his contract will free up, he should find a home with a team needing a veteran presence and improvement on the special teams.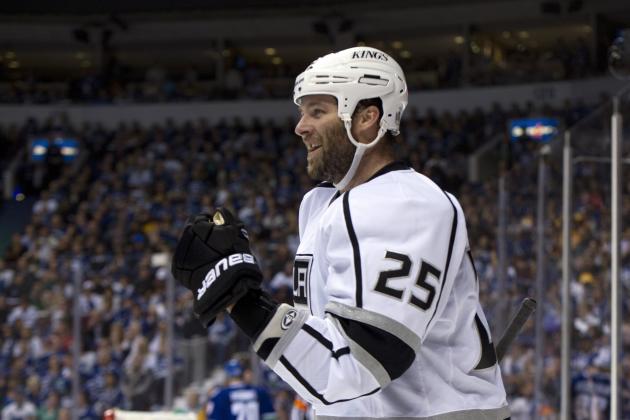 Rich Lam/Getty Images

Since being traded to the Kings, Penner has yet to recapture his scoring edge. His season was lacklustre to say the least, as he scored less than he had since the first partial season he played in Anaheim.
Penner is talented, however, and it could be as simple as new teammates around him to bring back the scoring threat Penner had been for both the Ducks and Oilers.
Simply based on his output this season, and at a cap hit of $4.2 million, the Kings organization will most likely try to lure another free agent to fill his role.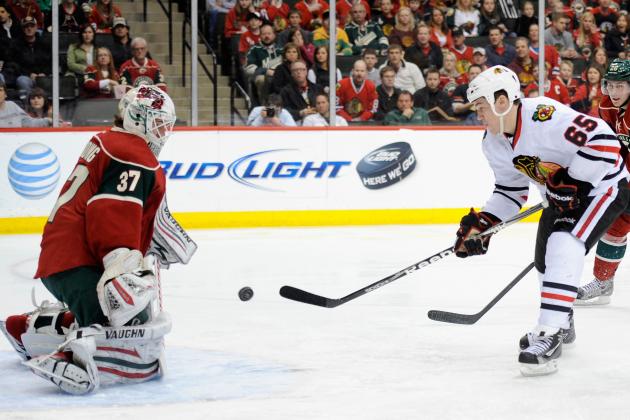 Hannah Foslien/Getty Images

Josh Harding is a great backup goalie waiting to take over as a starter. He may still have a bit of work to do with consistency, but it appears that he is ready to move on.
Minnesota's starting goaltender Niklas Backstrom still has another two seasons on his contract, and the Wild front office seems to be happy with him.
This leaves Harding in a position to either stay with the Wild until Backstrom begins to decline or move on to greener pastures.
With many teams hungry for a solid starting goalie, Harding would do best to test the waters in the market before making his decision.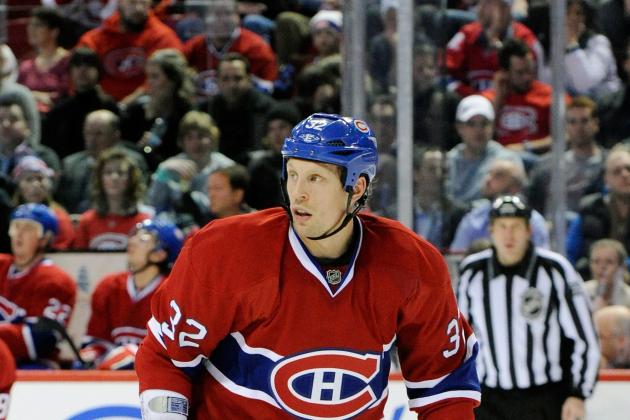 Richard Wolowicz/Getty Images

There will likely be a number of changes in the Canadiens dressing room during this offseason, after falling to the cellar of the Eastern Conference.
One such change will likely be Travis Moen. He has size and is a good penalty killer, which many teams will find enticing as a third- or fourth-line player.
His lack of offensive skills will be enough for the Canadiens to allow Moen to try his luck with another team.
His stats don't scream bidding war, but he has talent that can fill some needs that various teams will be looking to address during the offseason.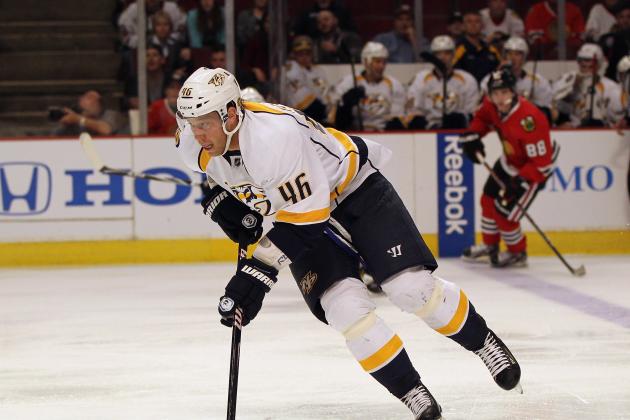 Jonathan Daniel/Getty Images

Nashville is one of the many teams that are sitting well under the cap. Yet even with all the space they have, it is doubtful the Predators will pursue Andrei Kostitsyn in the offseason.
As a pickup from Montreal on the trade deadline, Kostitsyn's numbers haven't been bad. But taking into account some of the other players up for free agency this summer, such as Paul Gustad, Kostitsyn seems merely average.
He tends to make high-risk passes that can result in turnovers and seems to have issues in the defensive zone.
He does have a great wrist shot and is tough to knock off the puck, which is something any team looking for a player to get into the zone could appreciate.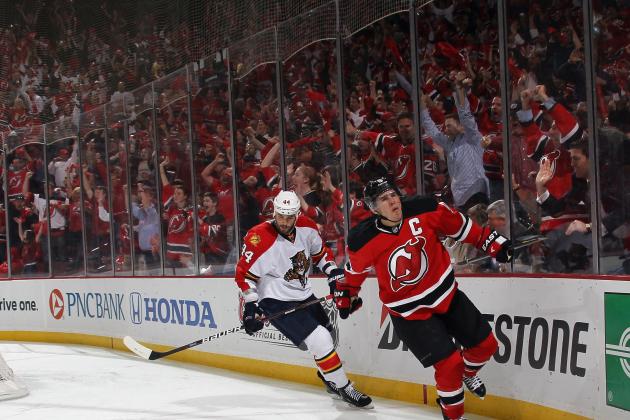 Bruce Bennett/Getty Images

It will not be from lack of trying on New Jersey's part, but there are numerous rumours about the financial issues surrounding the Devils.
Much like what we saw with Brad Richards last year, Zach Parise will be highly coveted by many teams. He notched 69 points this season, a commodity every team wants.
The only thing that would hold Parise in New Jersey is loyalty. It may be a tough decision for the 27 year old, but in the end don't be shocked when he leaves Jersey for a more financially stable environment.
He will most likely be playing in a new jersey next season.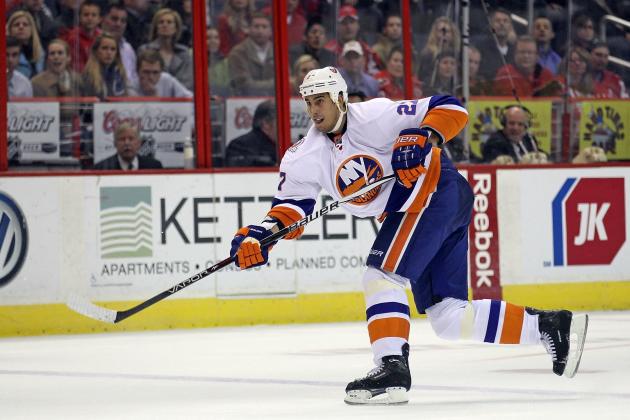 Bruce Bennett/Getty Images

The Islanders are starting to build a team that has a passion to play in Long Island. With forward P.A. Parenteau also becoming a free agent this summer, he has repeatedly stated he wants to remain in Long Island.
Milan Jurcina is a big defenseman and has the ability to play a solid all-around game, yet he tends to leave many questioning his passion. This leaves fans to wonder if he is the right fit for the Islanders.
Jurcina is talented and does have a hard shot—Zach Parise felt it late this season, forcing him to get X-rays before returning to the game.
Jurcina's ability to play the game and use his size to his advantage, when he decides to, is a selling point for a team needing to add depth to its defensive core.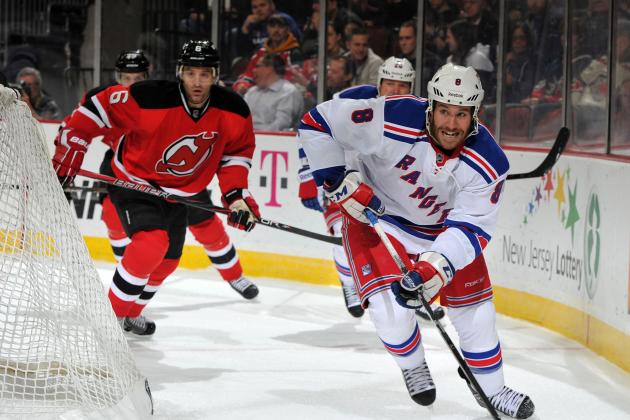 Christopher Pasatieri/Getty Images

Brandon Prust is not a top-six player that teams will be looking for; however, any team wanting grit probably already has been watching Prust.
He's an aggressive player who will not back down from anyone. There are a few teams that have already stated that they are looking for the type of player Prust is.
Expect teams struggling on the penalty kill to be looking at Prust as well; when he's not in the box himself, he is great killing one.
He may never rack up the goals, but it's more his hockey sense and defensive-minded play that teams will find attractive.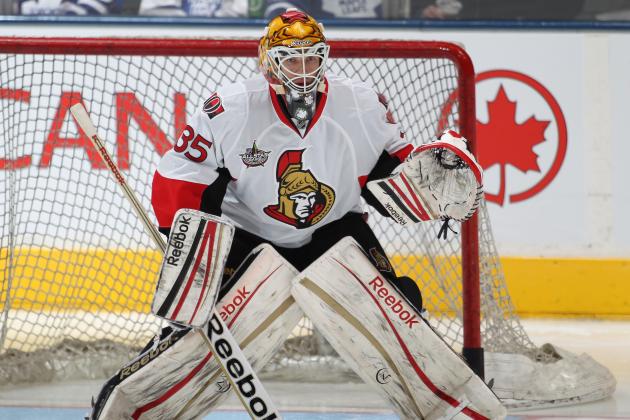 Claus Andersen/Getty Images

The Senators played well throughout a good portion of the season, and they will be looking to build on their team during the offseason.
This season when Craig Anderson went down with a hand injury, rather than look to Auld, Ottawa went with the rookie Ben Bishop. Auld is a decent backup goalie and can play well in small stretches. He turned 30 during this season, which means he is as good as he will ever get.
Bishop, on the other hand, is young and played pretty well for the Senators. Because of that, look for Auld to be wearing a new jersey next season.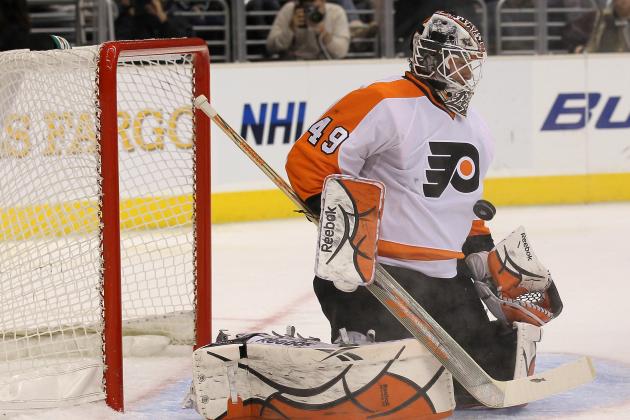 Stephen Dunn/Getty Images

Michael Leighton played this season with Philly's AHL affiliate, where he did quite well. He is the same goalie who, two years ago, helped the Flyers reach the Finals.
He may have played his last game with the Flyers, but don't doubt that there will be a couple teams looking at him, especially teams that have the need for a veteran goalie to be able to stand in for their starter from time to time.
He is a decent veteran goalie, which a lot of young teams are looking for, even if it's in the backup capacity.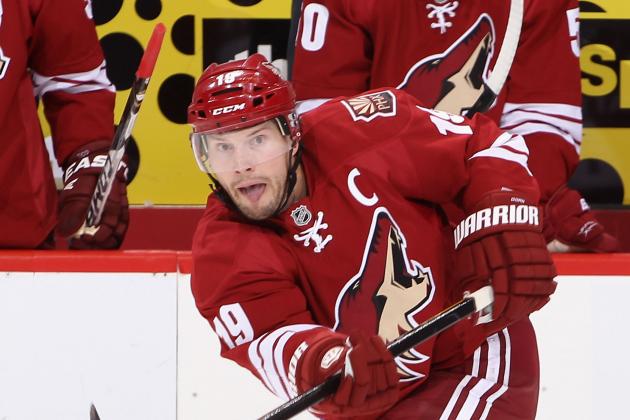 Christian Petersen/Getty Images

A large part of this will depend on the Coyotes' performance in the playoffs. However, much like Dallas last year, there is a lot of uncertainty surrounding the Phoenix club.
Shane Doan is a solid veteran forward who tallied 50 points this season. He may not be as gritty as he once was, but he is still not afraid to play a physical game.
He is one of the Stars in this year's free agent class, and he will more likely than not be sought after by a number of teams looking for an experienced top-six forward.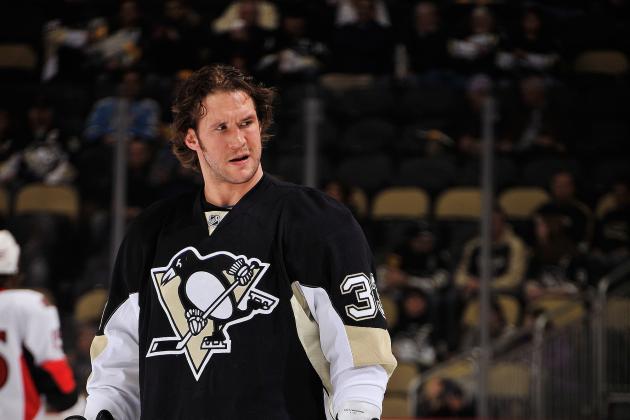 Jamie Sabau/Getty Images

MacIntyre is an enforcer; he isn't a great skater and tends to play short shifts. His time in Pittsburgh has seen him float between the minors and the NHL.
With another gritty player also coming up for free agency, there is a good chance that the 31-year-old will be playing elsewhere next season.
A few teams may consider picking him up next season to help their team become more physical. Look for him to appear on one of the bottom teams next season.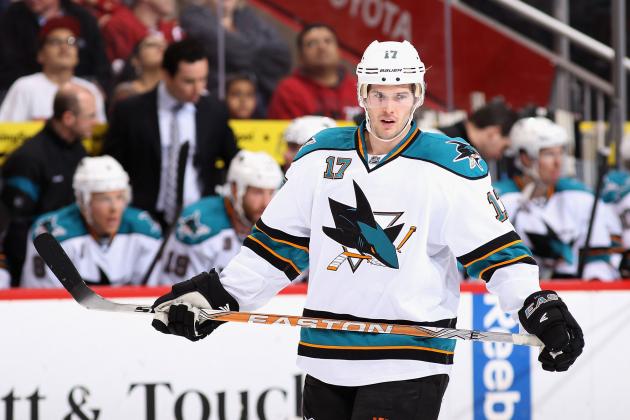 Christian Petersen/Getty Images

Torrey Mitchell is the most likely candidate to move during the offseason. He is a versatile forward and a solid checker.
He put up 19 points this season in 76 games and would make a great addition to a third or fourth line.
The Sharks already possess a solid checker who can score much better than Mitchell, which is why there is a good chance he will be picked up by another team.
There are quite a few teams looking to strengthen their bottom six with which Mitchell would fit well.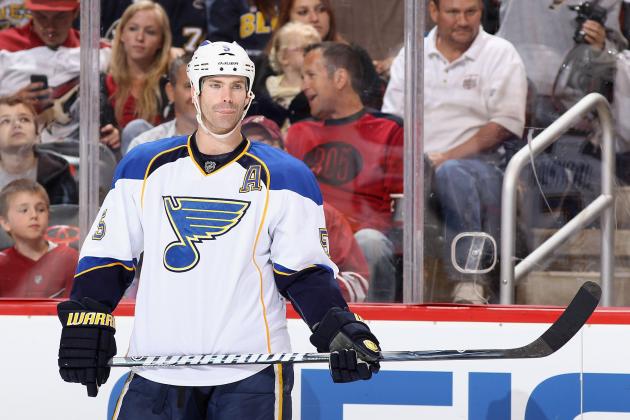 Christian Petersen/Getty Images

A veteran defenseman, Jackman has a lot of upside. He isn't going to be an offensive threat at 31, but he can add depth to a team's struggling blue line.
The Blues would be okay without him, as they have a number of defensemen who could fill his role. And at a cap hit of $3.6 million, they would be better served letting him go.
Any team looking to shore up its blue line would do well picking up Jackman during the summer.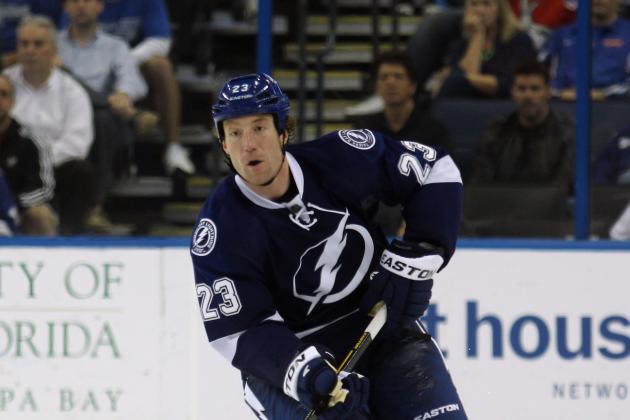 Bruce Bennett/Getty Images

The 32-year-old defenseman was picked up at the trade deadline this season from Detroit. He seems to get better with age, which would be attractive to a team looking for a solid veteran defender.
His age has slowed him down and he can be beaten by the faster players, but he is still a talented player.
He will probably be sought after by a number of teams during the offseason, and there is a high likelihood that an offer will be given that Tampa can't match.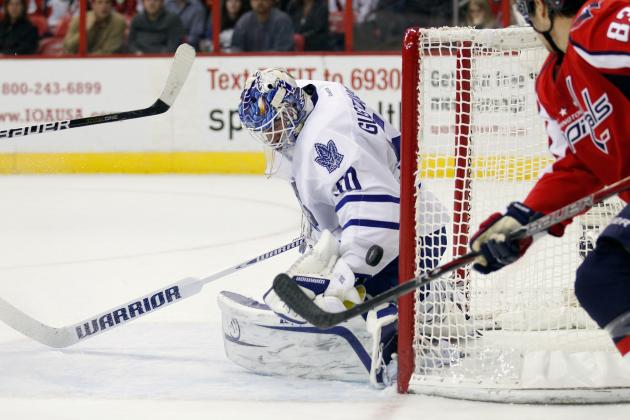 Rob Carr/Getty Images

The goalie situation in Toronto this season showed a number of cracks. The tandem of James Reimer and Jonas Gustavsson did not play as well as expected.
Whatever the reasons—some blame a lack of confidence in The Monster by the Leafs front office—Gustavsson has played his last game in Toronto.
He is a very talented goalie who needs work on his confidence to be a true starting netminder.
A lot of teams will look at Gustavsson to start as a backup, but he has the potential to be a starter as well.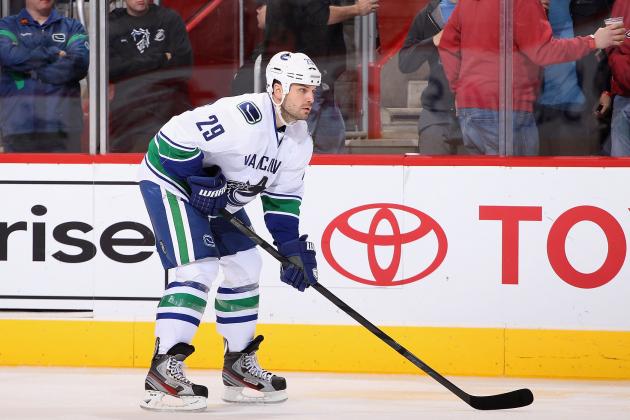 Christian Petersen/Getty Images

The Canucks are a great regular season team, and depending on what happens to them in this year's playoffs, there will likely be a number of changes to the aging team.
Aaron Rome is a solid defender who could have a lot of teams interested in him. His team-first attitude is attractive, as well as his size and toughness.
Like a number of the defensemen hitting free agency this summer, Rome would make a great addition to any team looking to add skill and experience to its roster.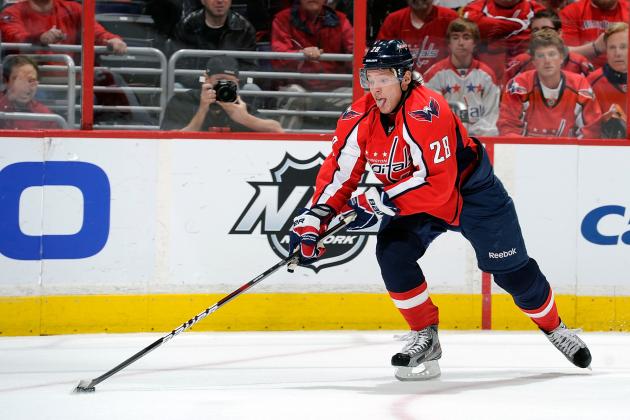 Greg Fiume/Getty Images

The Capitals on paper were considered to be one of the league's best teams, yet they struggled to make the playoffs. Expect some changes to the roster, but on whole they will keep a number of their players.
Alexander Semin is a player they will try to keep. He posted 54 points this season, and at 28 he still has a number of years left.
Other teams will probably make an offer, and it would not be surprising if he took one rather than stay in the shadow of Alex Ovechkin.
A talented player, he could lead any teams in points, and as an offensive weapon he will be one of this year's best commodities.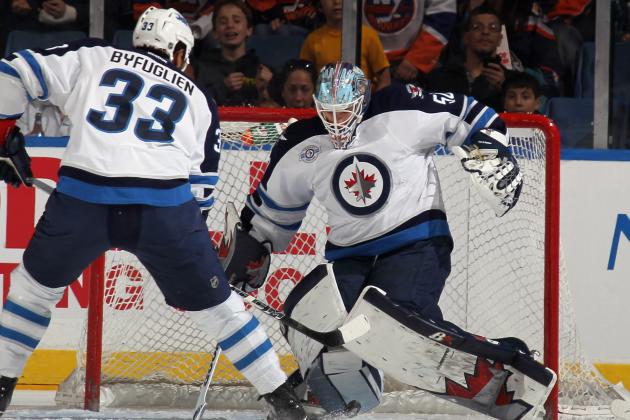 Bruce Bennett/Getty Images

The Jets seem to favour Ondrej Pavelec in net, though Chris Mason hasn't been bad. He struggles with consistency still, however.
The Jets will either promote or pick up another backup in the offseason, as their first season back in Winnipeg ended earlier than they wanted. They will also try to address some issues up front as well during the offseason.
Mason would make a decent backup goalie for teams like Winnipeg that are on the cusp, ready to make the push for the playoffs and needing only a few pieces to do so.
With a solid starter already in place, Mason would make a difference on a few teams.