NBA Playoffs 2012: Predicting Postseason Surprises
April 20, 2012

Chris Trotman/Getty Images
It's just about time to dispatch with that meaningless regular season and delve into the all important marathon known as the NBA playoffs. 
The grace and grandeur of the postseason is back—well, almost. TNT will feature their 40 games in 15 months, or whatever catchy programming gimmick they run, and we as fans will be entranced. 
It may still be early, but we have some indications of likely matchups to hit us in the first round. From there we extrapolate the brilliance of the next few weeks. 
Here is a breakdown of some surprises that we can expect to see if things hold up as is according to the most recent NBA playoff bracket.
1. Knicks will take Heat to seven games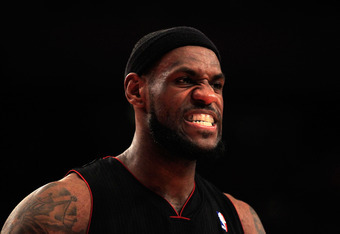 Chris Trotman/Getty Images
The Miami Heat are rolling and are arguably the best team in the league, but there is reason to like a hard-fought battle going into a likely first-round matchup. 
The Heat have owned the season series, but the Knicks have been banged-up in nearly every minute of those games. 
Since Mike Woodson took over, the Knicks have been a far better team on both ends of the court and Carmelo Anthony is back to his old self. When you consider Tyson Chandler knows the formula to crack the Heat in a seven-game series, you can sense danger.
2. Clippers will fall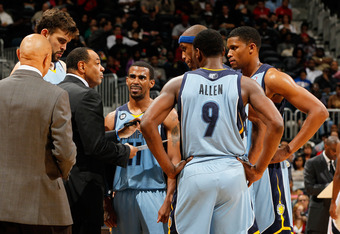 Kevin C. Cox/Getty Images
I know, I was shocked too. 
The Memphis Grizzlies are the scariest team in the playoffs and would be the Clippers' opponents as of right now. 
As you saw in the Suns victory over the Clippers on Thursday night, Blake Griffin can be negated, but you need some bigs that are willing to get physical. 
The Grizzlies have the front line to give the Clippers a series of misery, and one they will inevitably lose. 
3. Lakers will go deep into postseason
It's funny. With all the talk of being embroiled in inconsistency and malaise, you would think that the Lakers would be on the borderline of making the playoffs. 
Instead, they are the No. 3 seed and face a beatable team in the first round in the Dallas Mavericks. Forget about exacting revenge, this series will be more about building momentum to take on a more stout team. 
Kobe Bryant will come back to a whole new team, one that has a great deal more promise after winning some marquee games in his absence. Somehow, they look far deeper after being without the Black Mamba, and are far more scary. I see a run to the finals.