Floyd Mayweather vs. Miguel Cotto: Bold Predictions for Early Rounds
April 20, 2012

Jeff Gross/Getty Images
Floyd Mayweather Jr. will bring his 42-0 record into the MGM Grand Garden Arena in Las Vegas on May 5, 2012, looking to continue his dominance of the sport against Miguel Cotto.
Not many people are giving "Junito,"  who will go in as a heavy underdog, much of a chance.
While many fans would love to see an upset that could change a boxing landscape that has become all too predictable thanks to Mayweather's dominance, it seems very unlikely.
Still, Cotto is saying all of the right things heading into the bout to give those fans hope.
"I'm training really hard for this fight. I am motivated and focused to have a great performance on May 5. I know his style and his game and what he is capable to do for the win, but my trainer, Pedro L. Díaz, has the perfect game plan to defeat Floyd...I know how to make my opponent open to body shots. I'm an aggressive fighter. That's my style, and that's what puts me in a good position."
But hearing that type of talk from a Mayweather opponent is nothing new. Countless times we have heard an underdog vowing to give "Money May" something he hasn't seen before, only to come up short just like all the others.
Cotto is no slouch—far from it—but Mayweather is simply a class above.
Here are some of the reasons why "Pretty Boy" will dominate the early rounds, en route to recording his 43rd career victory.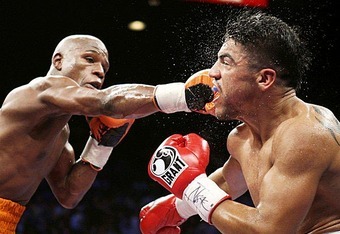 Mayweather's Defense Will Frustrate Cotto
"Pretty Boy" is one of the most elusive fighters we have ever seen, and his impeccable defensive technique will make it extremely difficult for "Junito" to land many damaging blows.
The opening round may very likely be a feeling out process for the two fighters, but Cotto is known to be an aggressive boxer who likes to instigate every chance he gets, and that could spell trouble for the 31-year-old Puerto Rican.
Despite his best efforts in training, Cotto will most likely not be able to match the stamina of Mayweather, who never stops coming at you with incredible tenacity.
Cotto will know this as well as anyone, which is why he may be tempted to be overly aggressive early in the bout, trying to do damage before he runs out of gas later on.
But that would allow "Money May" to utilize his solid defense and agility, frustrating Cotto to the point where he could become vulnerable to Mayweather's straight right earlier than expected.
Cotto Will Struggle With Mayweather's Speed
This should be more of a problem for the Puerto Rican in the later rounds, but that doesn't mean that Cotto will be able to handle Mayweather's speed any better early on in the fight.
The most polarizing boxer on the planet is moving up to fight at 154 pounds for only the second time in his career—his first light middleweight fight was a split decision victory against Oscar De La Hoya back in 2007.
Regardless, the undefeated 35-year-old will still have an advantage in terms of quickness, one that will be evident very early on in the contest.
In discussing the fight earlier in the year, the speed factor is something WBO Super Bantamweight champion Nonito "The Filipino Flash" Donaire was quick to point out:
"Mayweather is the smarter guy, the faster guy. I think he's going to take advantage of that," he said. "We've seen in the past that Cotto has had problems with fast guys."

 
Cotto Will Hit the Canvas Early
Ultimately, the fight will most likely go the distance, but expect Mayweather to send his opponent down to the canvas—and look for it to happen early.
His vaunted straight right hand, along with the sharp uppercut that he possesses will overwhelm Cotto, who will be flustered in the early rounds due to his inability to connect on any damaging shots.
A flurry of rights to Cotto's jaw will be a fixture of this bout in the early rounds—and the late ones too.
As Gabe Zaldivar writes, a Cotto victory is probably the best thing for boxing. Unfortunately (or fortunately, depending on who you support), it probably won't happen.