2012 NFL Draft: Is Bears General Manager Phil Emery Showing His Hand?
April 20, 2012

Jonathan Daniel/Getty Images
Chicago Bears general manager Phil Emery has done a pretty good job since replacing Jerry Angelo.
He traded for Brandon Marshall, giving Jay Cutler a true No. 1 target. He also has signed key backups in Michael Bush and Jason Campbell, as well as improving the overall depth of the roster.
However, a few positions have not been shored up.
Besides the re-signing of Israel Idonije, there hasn't been much done to improve the defensive end position. Actually overall, you have to admit the defensive line is not as strong today as it was at the end of the season.
After the release of Anthony Adams, they also lost Amobi Okoye when he signed with the Tampa Bay Buccaneers. That leaves Henry Melton, Stephen Paea and Matt Toeaina as the only defensive tackles on the roster.
Emery has added wide receivers, linebackers, cornerbacks, an offensive lineman, but not a single defensive lineman or safety.
Could he really be planning on going into the season with the safety trio of Chris Conte, Major Wright and Craig Steltz?
It would seem like the Bears have made it very clear what positions they plan to upgrade through the draft next weekend. It is just a question of which they address first with the 19th overall pick in the draft.
Michael Brockers from LSU would look great rushing up the middle and creating havoc in the Bears defense. So would Whitney Mercilus from the University of Illinois, playing opposite Julius Peppers.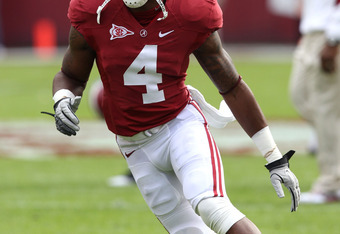 Mike Zarrilli/Getty Images
With a full complement of draft picks this year and next, maybe Emery could consider trading up for the best safety in the draft.
Mark Barron from Alabama is by far the best safety in the draft and could play either free or strong safety, which is needed in a Lovie Smith defense. Barron could give the Bears their best safety since Mike Brown was the leader of the secondary.
If they decide not to trade up, I'm sure they would be very happy drafting Notre Dame safety Harrison Smith, who Smith saw personally at the Fight Irish's Pro Day, as reported by the Chicago Tribune.
While he is tipping his hand a bit, Emery has also left himself with plenty of possibilities. Also, don't be surprised if wide receiver Michael Floyd falls in their lap, and they scoop him up without thinking twice.
Whoever they pick with their first pick in the draft, for the first time in a long time, I expect that player to immediately step on the field and make an impact. Let's hope I'm right.
Make sure to follow me on Twitter @dachicagofan, and check out my weekly Bears podcast every Monday on my site The MG Experience.