NHL Playoffs 2012: Goaltenders Are the (Secret) Key to a Championship
April 20, 2012
Patrick McDermott/Getty Images
Perhaps the easiest route to the Stanley Cup Finals is riding the glove and stick of the hot goalie.  The goalies' play in the playoffs, so far, has been exceedingly average.  Roberto Luongo has lost his starting job until further notice, and no goalie has seemingly stepped up and willed their team to a series victory.  That's not to say that all the goalies have been bad per say, and it seems likely that one of these goalies is going to step up and carry their team all the way to the hoisting of the Cup.
Tim Thomas, Bruins

Thomas did it last year with the Boston Bruins, allowing four goals in the last five games of the Stanley Cup Finals against the Canucks on his way to winning the series MVP.  Thomas has looked just fine in these playoffs despite the fact that the Bruins are tied in the series 2-2.  Thomas was not fantastic in the playoffs last year up until the finals having allowed 15 goals in the first four games of the Eastern Conference Finals against the Lightning, but due to the way he played at the most important time last year, I'm going to give Thomas the benefit of the doubt until the Bruins are officially eliminated.
Pekka Rinne, Predators

The Detroit Red Wings are averaging 34.5 shots per game (third best in the playoffs) and allowing 22.8 shots per game (best in the playoffs).  Normally those numbers would indicate a team is dominating their particular series.  Pekka Rinne is not normal, and he has the Detroit Red Wings in a 3-1 series deficit and playing for their playoff lives on Friday.  He has been rock solid as the net minder of the Predators and has a 94 percent save percentage.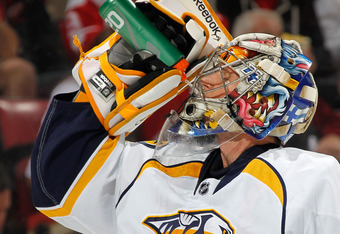 Gregory Shamus/Getty Images
Braden Holtby, Capitals

"Holtby holds it!" 
That was sort of the running theme of game four against the Bruins.  Holtby played fantastic and stopped (and held) everything he could get his hands on.  A lapse on the offensive end of the ice allowed the Bruins a cheap goal in Game 4, but that was all the Bruins could draw up against Holtby, who was flat out dominant.  He has a spectacular 95 percent save percentage and has his over-matched Capitals going back to Boston tied, 2-2.
Cory Schneider, Canucks

It may not actually be Schneider that carries the Canucks out of a 3-0 deficit against the Kings (Daniel Sedin's return may be a bigger deal).  But Schneider's stellar play in Game 4 certainly could turn the tide of the series.  Coming out of a 3-0 series deficit in the NHL is not unheard of (the Flyers did it against the Bruins in 2010), and the Canucks certainly have the talent to do so.