Full Grades for the 2012 San Antonio Spurs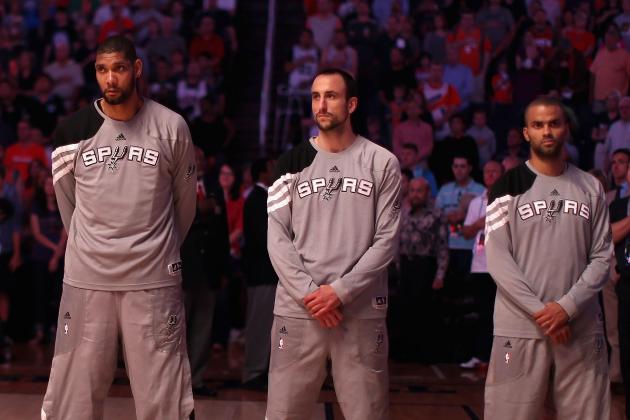 Christian Petersen/Getty Images

The San Antonio Spurs have had yet another fantastic season, posting the best record in the Western Conference and the second-best mark in the NBA behind the Chicago Bulls.
They're headed for the postseason for the 15th consecutive year, which is the league's longest active streak.
This year's squad possesses a nice blend of veterans like Tim Duncan and Tony Parker, and talented youngsters like Kawhi Leonard and DeJuan Blair.
Here are the grades for the 2011-2012 Spurs. Only guys who've appeared in at least 30 games this season will be graded, so that eliminates the Stephen Jacksons, Boris Diaws and Patty Millses of the world.
Let's begin.
Begin Slideshow

»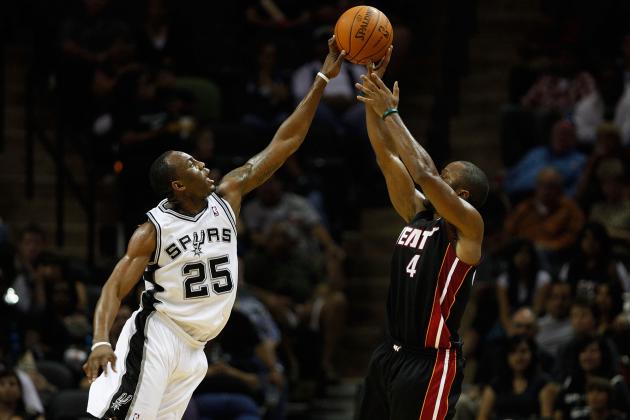 Chris Graythen/Getty Images

Grade: C-
Anderson, taken 20th overall by the Spurs in the 2010 NBA draft, has struggled to find playing time with so many solid wings on the roster.
He's averaged 3.4 points per game this season, while playing 10.9 minutes a night.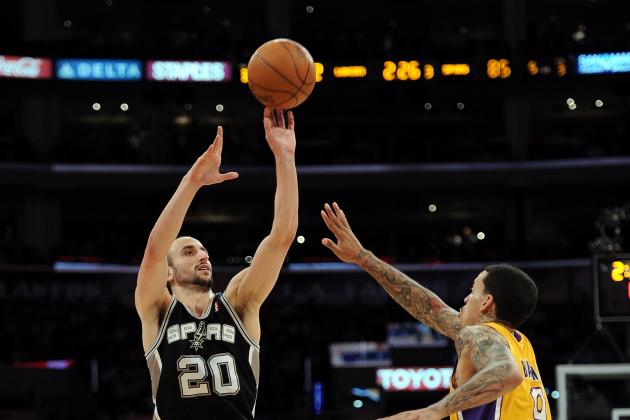 Harry How/Getty Images

Grade: C+
Despite battling injuries, Ginobili has produced decent numbers this year, with 12.9 points and 4.4 assists per game.
Now in his tenth NBA season, the 6'6" guard from Argentina is still one of the game's better sixth men.
Tim Duncan has taken home three NBA Finals MVPs and Tony Parker has one on his resume. Will Ginobili win one this year and join his teammates?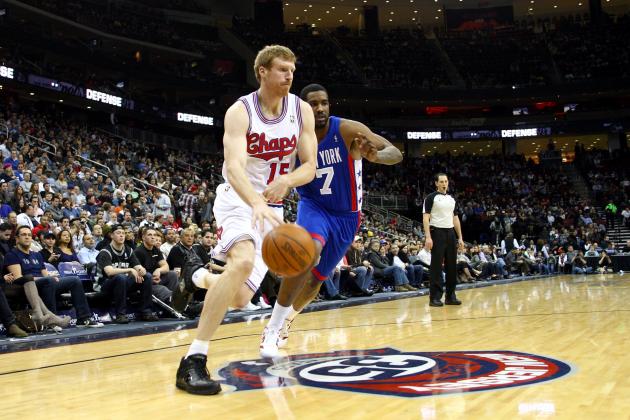 Chris Chambers/Getty Images

Grade: B-
Nicknamed "The Red Rocket," Bonner is one of the league's best three-point shooting big men and a valuable reserve for the Spurs.
In eight different games this season, he knocked down at least four from downtown.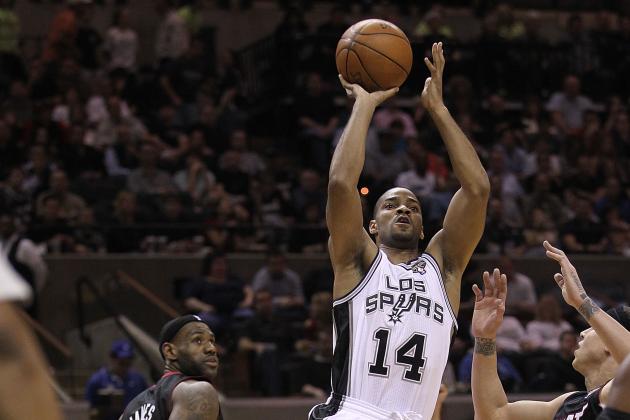 Ronald Martinez/Getty Images

Grade: B-
Neal enjoyed a nice rookie campaign and has played great as well this season for San Antonio.
The undrafted player out of Towson has spent time at both backup guard spots and can definitely shoot it from long range, hitting 41 percent of his three-pointers.
He is averaging just a tad under 10 points per game.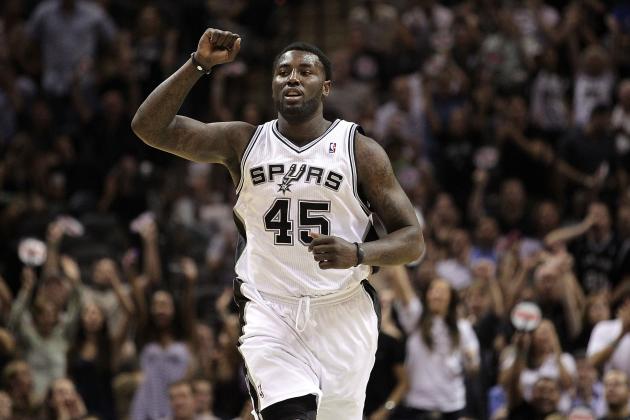 Ronald Martinez/Getty Images

Grade: B-
Blair went from being drafted in the second round of the 2009 NBA draft to being a starter for the title-contending Spurs.
He had a monster game in February, dropping 28 points and ripping down 12 rebounds against the Denver Nuggets.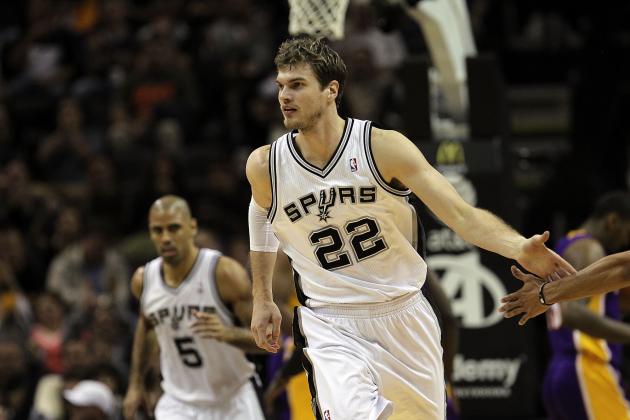 Ronald Martinez/Getty Images

Grade: B
Logging 19 minutes per game, Splitter has averaged nine points and five boards off the bench for the Spurs this season.
His best game of the year came in January versus Houston, as he recorded 25 points, 10 rebounds, four assists and shot 11-of-13 from the field.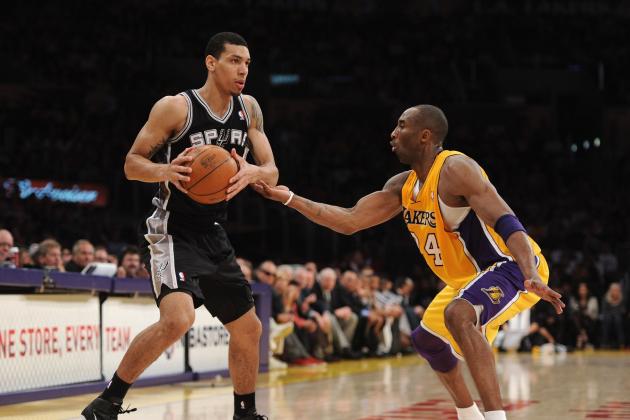 Harry How/Getty Images

Grade: B
Green isn't as well known as his former North Carolina teammates Tyler Hansbrough and Ty Lawson, but he has emerged as a solid NBA contributor.
Coming off the bench for the first part of this season, Green was promoted to the starting lineup in February, playing alongside Tony Parker in the backcourt.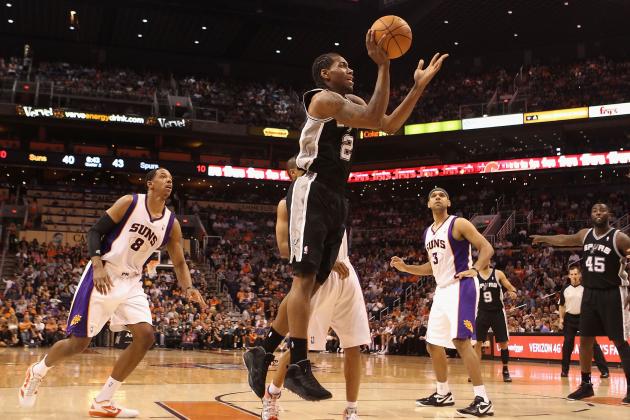 Christian Petersen/Getty Images

Grade: B
The Spurs gave up a quality player in George Hill to acquire Leonard.
Leonard, the former San Diego State star, hasn't disappointed, putting together a fine rookie season down in San Antonio.
He starts at small forward, guarding the opposing team's toughest perimeter player each night.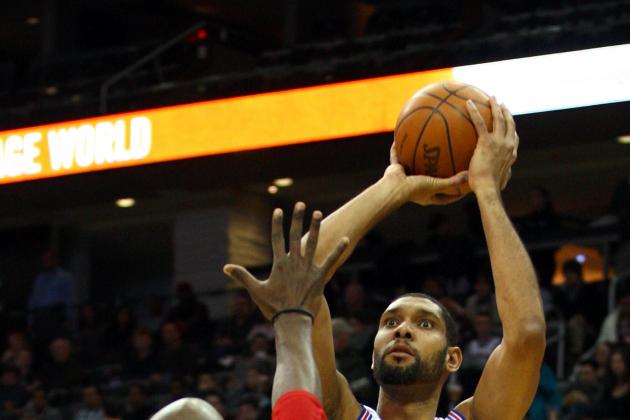 Chris Chambers/Getty Images

Grade: B+

Timmy D doesn't put up the superstar numbers that he used to, but his 15 points and nine boards per game aren't too bad for a 36-year-old.
Duncan leads the Spurs in both rebounding and blocked shots, and is second on the team in scoring.
He wasn't named an All-Star for the first time in his career, but oh well, he's probably focused on more important things like winning his fifth ring.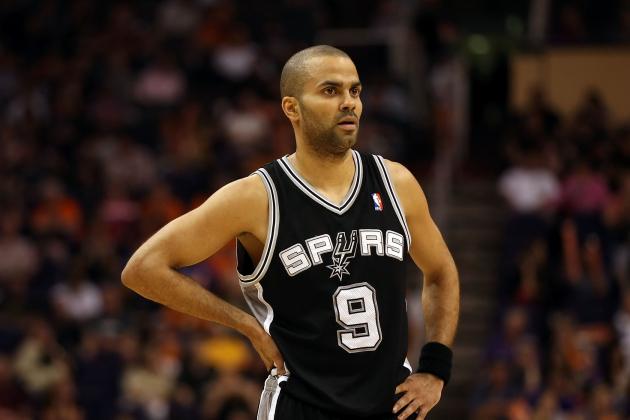 Christian Petersen/Getty Images

Grade: A
Parker is having one of the best seasons of 11-year career.
The 2007 NBA Finals MVP is averaging 18.3 points and 7.7 assists per game, and was named a Western Conference All-Star four the fourth time of his career.
Parker has had several mind blowing performances this season, like his 42 points against Oklahoma City, 37 against Philadelphia and a 34-point, 14-assist night versus Toronto.
Without a doubt, he has been San Antonio's MVP this year.