NHL Playoffs 2012: Updated Predictions for Each Eastern Conference Series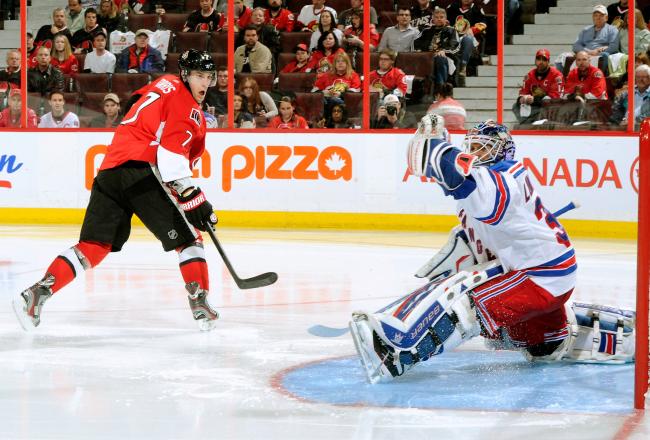 Richard Wolowicz/Getty Images
Even though controversial hits have garnered most of the attention during the first round of the NHL playoffs, the play on the ice has been exciting in its own right. There were no sweeps and three of the four Eastern Conference matchups are tied through four games.
Let's take a look at how each series has been progressing and make predictions on how they will all turn out. Based on the early games, there will be no shortage of drama over the next week.
New York Rangers vs. Ottawa Senators (Tied 2-2)
After the Rangers cruised to victory in Game 1 it appeared the conference's top seed wouldn't have much trouble dispatching Ottawa. Give credit to the Senators for fighting back hard, however. They have picked up two overtime wins to level the series.
The biggest problem for New York has been a lack of strong defensive play. The Rangers have been out-shot in three of the games and, even with Henrik Lundqvist between the pipes, that's always going to catch up with a team.
With two days off to find a remedy for their defensive woes, I expect the Rangers to bounce back in Game 5 before closing out the series in Ottawa.
Prediction: Rangers in six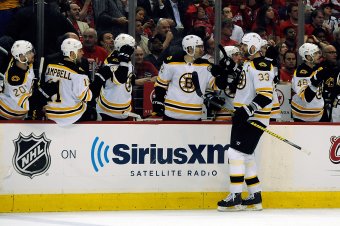 Patrick McDermott/Getty Images
Boston Bruins vs. Washington Capitals (Tied 2-2)
The Bruins have been a more effective team than Washington throughout the series, but the Capitals have been able to keep it close with timely goals and great play from goalie Braden Holtby. They still need to find a way to win another game in Boston, however.
While Alex Ovechkin gives them a puncher's chance, since it appears he's shaken off his regular season malaise to become a force again, the Bruins aren't going to let him get any space over the final three games. He'll be seeing a lot of Zdeno Chara.
Home-ice advantage has already changed hands twice during the series, but I think both teams will hold serve at home the rest of the way with the Bruins advancing after Game 7 in Boston.
Prediction: Bruins in seven
Which team will reach Round 2?
Florida Panthers vs. New Jersey Devils (Tied 2-2)
This series isn't getting much attention due to the lack of star power. That said, there has plenty of tension since each of the first three games went right down to the wire. The Devils picked up a more convincing victory in Game 4 to tie things up.
The key to the final three games will be Devils goalie Martin Brodeur. When he plays up to his usual legendary level, like he did on Thursday, New Jersey has a major advantage over Florida. He struggled in the middle two games, which is why Florida came out on top in both.
It's tough to pick against him knowing all he's accomplished, but the pesky Panthers won't make it easy on him. All told, look for the Devils to move on in another series that goes the distance.
Prediction: Devils in seven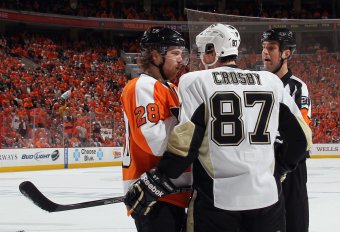 Bruce Bennett/Getty Images
Pittsburgh Penguins vs. Philadelphia Flyers (Flyers lead 3-1)
The Penguins and Flyers have given hockey fans everything they could have hoped for in a series. There have been 45 goals, numerous fights and plenty of intensity. The Penguins stayed alive with a huge win in Game 4 before heading home.
More importantly, it seemed like the Penguins finally realized they had no chance to advance if they kept playing Philadelphia's style. They opened things up en route to 10 goals. The game plan will likely be the same tonight in Game 5.
I wouldn't completely count out the Penguins yet because they have enough talent to make a comeback, but I think they just dug themselves too big of a hole. They'll win another one before the Flyers finish them off at home.
Prediction: Flyers in six
This article is
What is the duplicate article?
Why is this article offensive?
Where is this article plagiarized from?
Why is this article poorly edited?