Why the Toronto Maple Leafs Won't Be Trading for Roberto Luongo
April 20, 2012

Rich Lam/Getty Images
It's no secret that Brian Burke and the Toronto Maple Leafs need to improve their goaltending drastically in order to finally reach the playoffs.  In their search they will be limited in their options.
The Vancouver Canucks have a long term (albeit reasonable) contract tying them to Robert Luongo for 10 years or retirement.
I'm saying right here, right now, that Burke will not be bringing this player into the Maple Leaf fold.
The Contract
For one, the contract is too long.  Burke has this hate-on for long term contracts.  If it's longer than five years you can safely bet that Burke didn't engineer the contract. 
Luongo will have 10 years left remaining if Burke picked him up this summer.
How would Burke explain to his fan-base that he refused to extend a long term contract to say Richards or Kovalchuk when they were available UFA's simply on principle against the "circumvention of the cap."
Those players would have been huge assets to the Leafs this season.
The NTC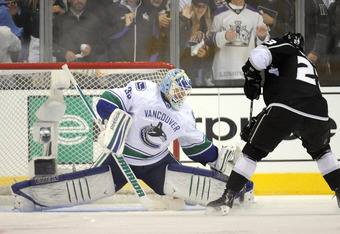 Harry How/Getty Images
For Luongo to come to Toronto, he'd have to agree to waive his no-trade clause.
Now lots of players have done that, and will continue to do that in the future.  But how many players waive their NTC to go to a team that is at the top of the standings to a team that is at the bottom of the standings?  From ceiling to basement?  You don't.
Highly unlikely, seeing as Luongo would be relying on our rice-paper defense to bail him out of jams to keep his career stats reasonably solid.
He's got a good thing in Vancouver.
The Player
I don't think that Luongo is the fantastic player he's made out to be. 
Quite the opposite, I think he's a mediocre to slightly above average goalie who's had the great fortune to have decent to very good defensive teams playing in front of him with the exception of NYI.
Schneider
It would be far better for Burke to go after Cory Schneider via trade or offer sheet.
If Burke would offer say a five year, $23.5 million contract, they would lose their 2013 1st and 3rd round picks.  Very reasonable considering the Leafs biggest upgrade need is goaltending.
Burke could even kick it up a notch by offering a five year, $30 million contract, losing their 1st, 2nd and 3rd round picks in 2013.  However that's a bit steep for my blood.
That's not to say that Mike Gillis wouldn't match it.  If he did, it would put their goalies at over 10 million in cap hit.  In effect having two number one goalies.  Egos will clash (Luongo's ego...)
That's also not to say that Burke and Gillis couldn't work something out in trade.  Say a young defenseman not named Gardiner and maybe some picks of various grades depending on the player they chose.
Sure Gillis could go to other teams—but my bet is that if he goes trade route with Schneider, he's not going to the west. 
And going to the east, there's no reason the Leafs couldn't package something comparable to the two or three other teams that could also be in the mix.