2012 NBA Playoffs: Predictions for Every 1st-Round Matchup and Then Some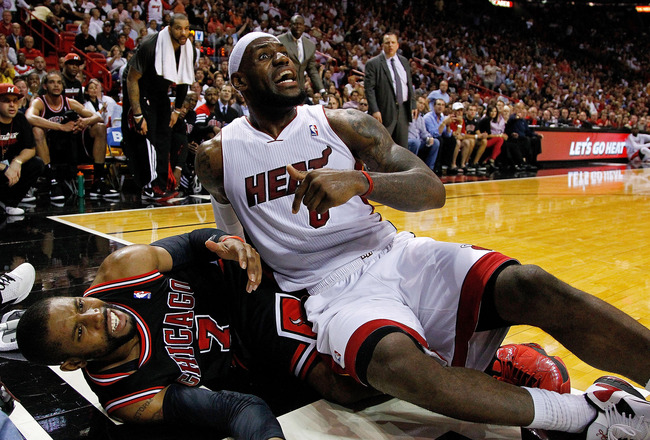 Mike Ehrmann/Getty Images
The NBA season is on its home stretch, and at this point, the potential playoff picture is looking great. Classic rivalries are set to reach new boiling points, while some new ones could potentially be born.
Craziness is happening even as the regular season winds down. The banged-up Chicago Bulls are in a fight to the death with the Miami Heat for the top seed in the Eastern Conference, and the same is happening out west between the San Antonio Spurs and Oklahoma City Thunder.
On top of that, teams once thought to be making the Big Dance are on their way to being on the outside looking in.
Thus, let's have a look at every potential first-round playoff matchup, plus a little something extra.
Something Extra: Who Won't Make It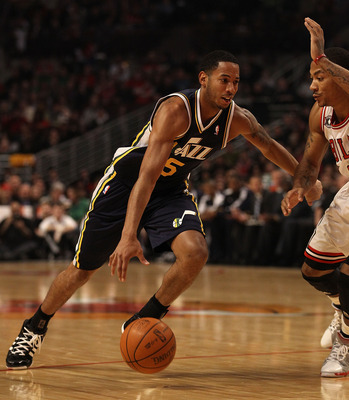 Jonathan Daniel/Getty Images
Utah Jazz
Devin Harris' scoring touch may finally be appearing, but that, plus Gordon Hayward's hot streak, will prove to be too little too late for this team. Talented as they may be, the Jazz's lack of a true leader on the floor will ultimately lead to them being left on the outside looking in.
Houston Rockets
I honestly don't know what happened to this team. They looked so good, and now they've just laid down and died to the tune of six straight losses.
I don't know whether it's youth or fatigue from the shortened season and rushed training camps, but the Rockets have lost their blast and need a refueling quite badly. They may be headed in the right direction, but this just isn't their year.
Milwaukee Bucks
Last week, they were considered serious contenders and were in a battle with the New York Knicks for the final playoff spot in the Eastern Conference. Now, the Bucks find themselves on a three-game losing streak and three games out of the aforementioned spot.
Scott Skiles, I suggest you get ready to find a new coaching job.
No. 1 Chicago Bulls vs. No. 8 Philadelphia 76ers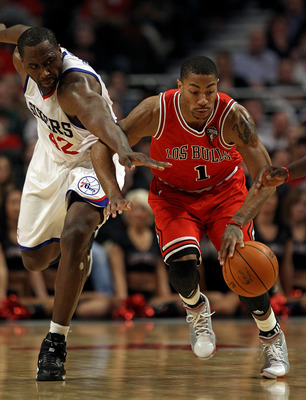 Jonathan Daniel/Getty Images
At this point, it's hard not to feel bad for the Sixers. They looked so good at the start of the season, with their balanced team play and sharing of the ball.
Yet their lack of a true star who could step up in crunch time came back to bite them.
Once atop the Atlantic Division, Philadelphia is now the No. 8 seed in the Eastern Conference and should everything stay as it is, they'll have to face the dangerous Bulls. Given how Chicago has multiple people who can step up, this prediction is fairly easy.
Prediction: Bulls in four

No. 1 San Antonio Spurs vs. No. 8 Phoenix Suns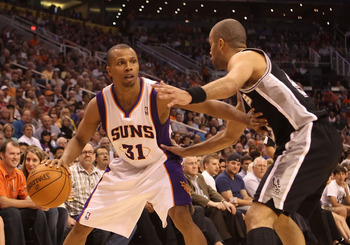 Christian Petersen/Getty Images
The Suns are one of my favorite teams to watch, but this is a playoff matchup that does not bode well for them.
San Antonio, despite being on the older side, is a very balanced team.
Phoenix, on the other hand, is Steve Nash and a bunch of guys who are hit or miss.
In the postseason, that only gets a team so far—and not as far as the NBA Finals.
Prediction: Spurs in five

No. 2 Miami Heat vs. No. 7 New York Knicks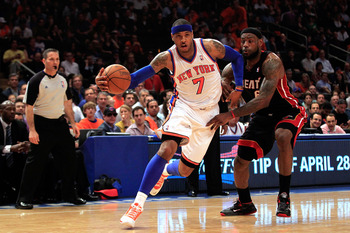 Chris Trotman/Getty Images
As good as the Heat may look on paper, they are anything but a true team. Their Big Three is responsible for two-thirds of the scoring, and their bench players are rarely used.
Enter the New York Knicks, who have looked great under coach Mike Woodson and should have star forward Amar'e Stoudemire back for the playoffs. With the entire team adjusting to Woodson's system, on top of the fact that the bench is actually used effectively, New York is going to look the best it has all season when this classic rivalry is revisited.
Prediction: Knicks in seven

No. 2 Oklahoma City Thunder vs. No. 7 Denver Nuggets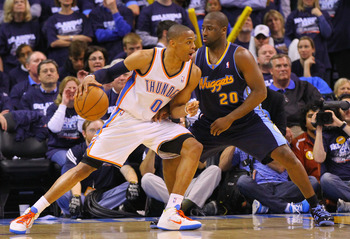 Dilip Vishwanat/Getty Images
Despite the seeding gap, the Nuggets will be anything but easy for the Thunder. They are a team full of talent whose only curse is youth, with only three players more than 30 years old. From point guard Ty Lawson to rookie forward Kenneth Faried and bench player Wilson Chandler, Denver has many options when it comes to finding someone to take over in the fourth quarter.
Yet let's not forget that the Thunder are still the Thunder.
Kevin Durant is one of the league's best players, and with some shutdown defense coming from Serge Ibaka, Oklahoma City will take one step forward.
Prediction: Thunder in six

No. 3 Indiana Pacers vs. No. 6 Orlando Magic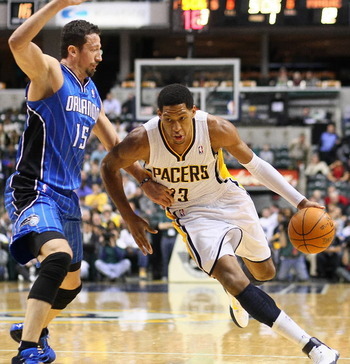 Assuming the Magic can hold on to this seeding, it's going to be a short, slow and painful postseason for them.
Matched up against the red hot Indiana Pacers, Orlando will be without All-Star center Dwight Howard, who will miss the entire postseason while recovering from back surgery.
Given how much of a game-changer he is and how much Orlando relies on him, this prediction is pretty open and shut.
Prediction: Pacers in four

No. 3 Los Angeles Lakers vs. No. 6 Dallas Mavericks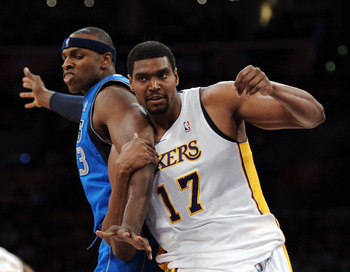 Harry How/Getty Images
Here we have a rematch of last year's Western Conference semifinals, which ended on a horrible note for the Lakers.
This season, going up against the defending champion Mavericks, I'm thinking that fortunes will be slightly different.
Sure, Dallas is a talented team and could certainly pull out some stops to make another Finals run, but this just isn't going to be their year. Losing Tyson Chandler and J.J. Barea to free agency will turn out to be just too much for them as the balanced Lakers surge ahead on the back of a fully recovered Kobe Bryant.
Prediction: Lakers in six

No. 4 Boston Celtics vs. No. 5 Atlanta Hawks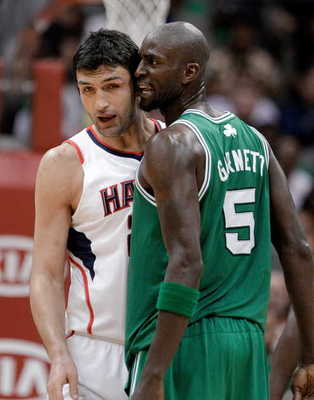 Though no real rivalry exists between these two teams, it's sure to be a great series that features some physical play and a lot of trash talking from Kevin Garnett.
In the end, it's going to be tough to say who will come out victorious.
Both teams faced off in the playoffs back in 2008, and the No. 8 Hawks then took Boston to the deciding Game 7 before their youth and inexperience showed them the door.
This year, they are a better-rounded team, and in this matchup, their youth is actually an advantage. Throw in the fact that power forward Al Horford has been cleared for contact, and his potential return gives the edge to Atlanta over Boston's aging roster.
Prediction: Hawks in seven

No. 4 Los Angeles Clippers vs. No. 5 Memphis Grizzlies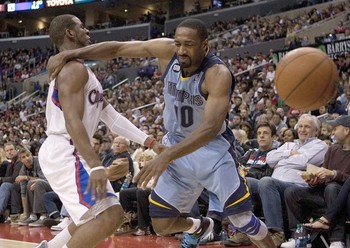 This first-round matchup is going to be a lot of fun to watch, seeing as how it features two teams that greatly improved after last season.
Memphis just used last year's momentum to fuel it this season, while the Clippers went out and made a blockbuster trade for All-Star point guard Chris Paul. Sure enough, Paul's pass-first approach meshed well with star Blake Griffin and big man DeAndre Jordan, as the myriad number of dunks led to the Clippers being known as "Lob City."
That being said, the Clippers' multiple go-to options, paired with Jordan's shut-down defense, is what will give them another advantage on top of having home court.
Sure, they're young and inexperienced when it comes to postseason play, but Paul's leadership is going to be the difference-maker here, even as Memphis puts up a fight.
Prediction: Clippers in seven

Keep Reading