Should LA Lakers Follow San Antonio Spurs' Model of Success?
Use your ← → (arrow) keys to browse more stories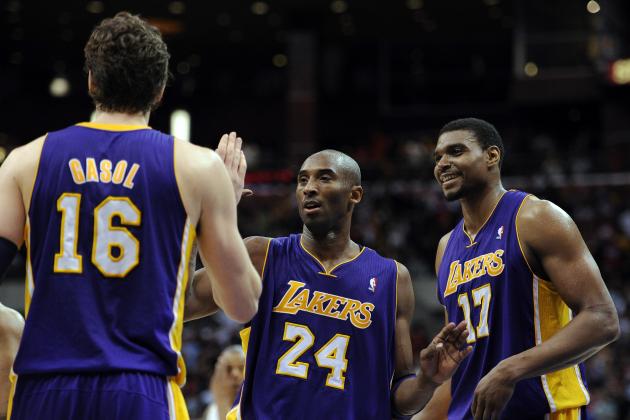 Harry How/Getty Images

The San Antonio Spurs are the team that just doesn't go away.
Every year, fans and analysts feel the aging core of Tim Duncan, Manu Ginobili and Tony Parker will finally collapse, putting the Spurs into the dreaded age of rebuilding.
However, the Spurs have defied these expectations, and they are the No. 1 seeds in the Western Conference as of April 20th.
But, how do they do it?
The main tenet of the Spurs' current model of success is to know your role. Each player on the Spurs roster has a specific duty on the court, and they don't stray away from it.
It starts with the big three.
Duncan provides a post presence that can score, rebound and play good defense, while Ginobili gets to the rim, hits jumpers and passes. Parker is the focal point of the Spurs offense as a penetrator and passer.
Meanwhile, the Spurs can space the floor and move the ball around to Daniel Green, Kawhi Leonard, Matt Bonner, Gary Neal, Boris Diaw, Patty Mills or Stephen Jackson, each of who can provide instant offense with three-point shooting.
Furthermore, DeJuan Blair, Tiago Splitter and Leonard effectively rebound the ball.
Another principle of the Spurs' success is having a deep team—11 players play at least 19 MPG. With Duncan and Ginobili in their 30s, and Parker getting close, it's important that they get their rest. And while their stars on the bench, the Spurs can rely on role players.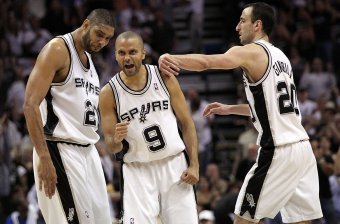 Ronald Martinez/Getty Images
It's not unreasonable to believe that the Spurs can win a championship based on this model, but can other teams?
The Los Angeles Lakers are a team with an aging core of Kobe Bryant and Pau Gasol. While the Lakers are succeeding with the duo playing significant minutes, Bryant and Gasol will not be able to play as much in the future.
That's when the Lakers should consider following the Spurs' model of success.
Bryant and Gasol can model Ginobili and Duncan—while playing 20-30 MPG, Bryant and Gasol will still be able to produce well, like Duncan and Gasol. Andrew Bynum can model Tony Parker; like Parker, Bynum can be the focal point of the Lakers offense.
The Lakers will need to acquire a plethora of good role players in order to follow the Spurs' model of success.
While they currently have Ramon Sessions, they don't have the three-point shooters and rebounders they need for success in the future.
If they somehow acquire these players, the Lakers will continue to be a force to be reckoned with for the foreseeable future, just like the Spurs have been.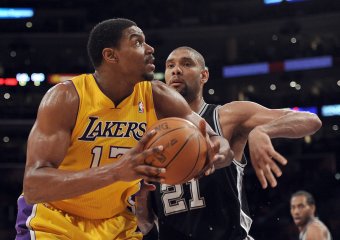 Harry How/Getty Images
However, this seems like a pipe dream of sorts, as it doesn't seem quite realistic.
Bryant is an extremely competitive player who wants as much floor time as possible. As a result, it doesn't seem plausible that he will be completely satisfied with a significantly reduced role in the Lakers offense.
In addition, productive role players don't exactly grow on trees. The Spurs have masterfully assembled an array of serviceable role players comprised of veterans and unknown young players who can play in the future.
Furthermore, can the Lakers trust Andrew Bynum as the core of its offense, what with all the repeated flashes of selfishness and immaturity this season?
Lastly, the Spurs have one of the best coaches of all time: Gregg Popovich.
Unlike many other coaches, Popovich is an offensive genius that is willing to rest his starters and rely on his role and bench players.
The Lakers, on the other hand, have Mike Brown. While Brown is a good coach who learned under Popovich, he certainly doesn't possess his genius.
While it would be great for the Lakers' future if they followed the Spurs model of success, it doesn't seem feasible because so many things need to go right.
In other words, the Spurs system may be too unique for anyone to mirror.