Ramon Sessions: How Newest Laker Compares to the League's Elite PGs
April 20, 2012

Harry How/Getty Images
Ramon Sessions is not an elite point guard...yet.
But after 20 games with the Lakers, 16 of them as starter, the fourth-year, 6'3" playmaker from Nevada is most definitely performing at a very high level and has established himself in that "just below the radar" group as a young, up-and-coming PG to watch.
When the Lakers traded for Sessions last month, they knew they were getting a young player with a skill set better than any PG they had on their roster.  He wasn't Chris Paul but, then again, they didn't need to decimate their roster in order to obtain him.
What the Lakers didn't know was how well Sessions might adapt to playing with one of the NBA's elite franchises and being thrust onto a stage that can only be described as melodramatic entertainment.  If you can make it here...well, you know the rest.
Sessions has not only met expectations, he's exceeded them.  Sessions had little time to acclimate himself to the Lakers style of play, although coach Mike Brown did bring him off the bench for the first few games, limiting his minutes while he played backup to Steve Blake and tried to learn the system. 
Still, Sessions fit in right from the beginning, coming to L.A. just as the Lakers were sending veteran captain and five-time world champion Derek Fisher to Houston in a trade for center/forward Jordan Hill.  His poise at the first press conference was noticed by all: 
"Fisher was a great part of this organization," Sessions told Janis Carr of the OC Register.  "I can't speak enough about the guy.  But I'm not worried about what people think.  I'm not trying to fill his shoes.  I'm just trying to play basketball and helping us win.  Whatever that takes, I'm going to do it."
In 20 games, Session is averaging 13.2 points, 6.7 assists and four rebounds in 31 minutes.  He's as deadly (50 percent) from two-point range as he is from three (52 percent).  He turns the ball over just 2.6 times per game, a very good number for a point guard in the NBA, better than most of the group of elites.
Although it seems there is a fantastic point guard on almost every team in the league now, there are just a handful who would qualify as elite.  And although he is not quite in their stratosphere, in some areas, Sessions outperforms the likes of Derrick Rose, Chris Paul, Russell Westbrook, Deron Williams, Steve Nash, Tony Parker and Rajon Rondo.
Would the Lakers love to have any of these elite PGs?  Of course they would.  Who would argue with Rose and his all-around game of 22.5 points per game, 7.9 assists and 3.5 rebounds?  Or Paul, probably the league's best, at 19.3 points, nine assists, 2.5 steals, 48 percent shooting and 21 double-doubles?
Rondo is a tremendous passer, averaging 11.6 assists per game, yet he scores just 12 points and can't make a three-pointer to save his life (24 percent).
Williams is a big PG at 6'3" and 210 pounds and will be highly coveted as a free agent this summer—but is he really worth $18 million a year?  Williams will give you 20 points and close to nine assists a night but shoots just 41 percent from the floor and turns the ball over a lot (four times per game).
Westbrook has come into his own—the 23-year-old All-Star averages 24 points on 46 percent shooting, grabs 4.5 rebounds, five assists and two steals a game for the Thunder.  He turns the ball over just under four times a game but is also out on the court 35 minutes versus 30 for Sessions.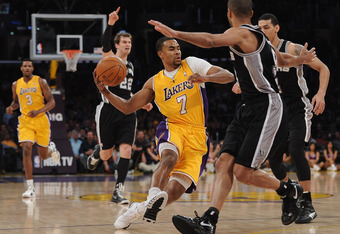 Harry How/Getty Images
Tony Parker could get the MVP this year—at least the way he's played against the elite teams.  He scorched the Lakers for 29 points and 13 assists in a blowout win on Monday and has beat up on Oklahoma City for 42 and 25 points in previous wins for the Spurs.
At 38, Steve Nash is the master of the group with over 16 years in the league and still going strong.  A career 49 percent shooter, Nash this year is averaging 12.6 points on 54 percent (40 percent from three-point range) and 89 percent from the charity stripe.  He also hands out 11 assists and averages 32 minutes for the Suns, who have him to thank for keeping them in the playoff hunt this spring.
Sessions falls just below this group—he is a free agent this summer and would like nothing more than to sign a long-term deal with the Lakers.  As good as Ty Lawson, D.J. Augustin, Kyrie Irving, Brandon Jennings and Stephen Curry are, Ramon Sessions is a tremendous fit and will only get better knowing he has some security for a few years.
I'd say Mitch Kupchak did very well on this one.