Josh Hamilton: Will Texas Rangers Regret Not Giving Hamilton an Extension?
April 20, 2012

I'm not sure what's more shocking. That the Texas Rangers have started the season with a blistering 11-2 record, or that the Los Angeles Angels of Anaheim haven't.    
Yeah, the Texas Rangers are really, really good—we all knew that—but the Angels were pretty okay too. And the word on the streets was that they got even better this offseason. Cash-whipping the best hitter on the planet will raise expectations.
The Angels also dipped into the depths of the Rangers talent pool and plucked away the former "ace" of their divisional rivals. So far, not so good for the Halos.
Clearly, if you're an Angels fan, it's way too early to panic. But, man, 4-9 and six-and-a-half games out of first place in the AL West. Really?
Albert Pujols has somehow made it through 54 at-bats with the same amount of home runs as the Rangers' (bench player) Brandon Snyder...zero. Sure, Pujols is batting a respectable .296, but I'm pretty sure the Angels wanted a little bit more than four RBI and three walks for their $250 million.  
Oh yeah, speaking of money, the Texas Rangers might just be starting to regret not giving Josh Hamilton that offseason extension that was rumored to be in the works. 
Granted, the topic was broached, then the drunken shenanigans—aka "the incident"—might have served to shut down the cash conversation quicker than random construction can clog I-35.
Well, if you're a pubic figure and you relapse—and you're not an NFL player—then there is no better time to skirt some scrutiny than right before the Super Bowl. 
It seems like years, not months ago, anyways.  
Besides, let's face it, if Josh Hamilton continues to put up the type of numbers he's capable of—and stays healthy—then no matter what the Rangers pony up to pay the big man will be a steal.
He's off to a nuclear start, batting .426 with five HRs and 12 RBI. He, along with Mike Napoli, formed a two-headed wrecking crew that caused Boston's new skipper, Bobby Valentine, to double his dosage of Prevacid. If being outscored 24-6 (over just two games) doesn't cause acid indigestion, then what will?
There are still plenty of people out there that think it would be unwise to extend Josh Hamilton. And many of them offer valid points. Here are some of the sillier ones.
Josh Hamilton has a drinking problem. We can't risk signing him to a long-term deal
I wish I had a dollar every time I've heard someone rehash this argument over a cold beer. Yes, I get it, most people aren't alcoholics, and saying Hamilton has a drinking problem is akin to saying that magma is a tad tepid.
Sure, we don't need him to join the priesthood. We just need him to stay clean and sober while he finishes up his playing career. And, aside from two well-publicized miscues in the past four years, he's been more than capable of keeping his demons in check.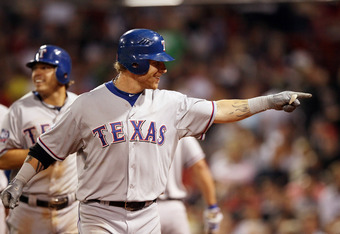 Elsa/Getty Images
Truth be told, whether it's by public relations disaster, injury, or alcohol, every player is a potential time bomb. You just never what you're going to get.
At least with Hamilton, you can easily identify the potential problems. Get him an accountability partner, load up the contract with opt-outs to protect the team, and then, get the dang deal done.  
If the Texas Rangers don't, another team will. The Los Angeles Dodgers have now solidified themselves not just as a solid team, but as a fiscal force too. Teams with money that need a center fielder, well, they'd let Hamilton sign a contract in Budweiser beer foam...
The Rangers don't need Hamilton, they've got Leonys Martin waiting to take over in center field
First off, if Leonys was ready, he'd already be up in the bigs. Second, Josh Hamilton is the best center fielder in the organization. Period. And no, Julio Borbon—and his noodle arm—is not a viable replacement either.
The Texas Rangers don't negotiate contracts during the season.
General manager Jon Daniels is quite fond of stating that he doesn't like to negotiate contracts during the season. But hey, that didn't stop him from getting second baseman Ian Kinsler inked to an extension just a few days ago.
Now is the time to do the same for Josh Hamilton.  
Because if the Rangers wait too long, or, worse yet, get into an offseason bidding war, then 2012 might just be Hamilton's last as a Ranger. And that would be too bad.  
For the Texas Rangers, there is no need to lament not getting an extension done in the offseason—especially if they can work out a new deal right now.