Los Angeles Galaxy vs. Colorado Rapids: Analysis, Reaction and More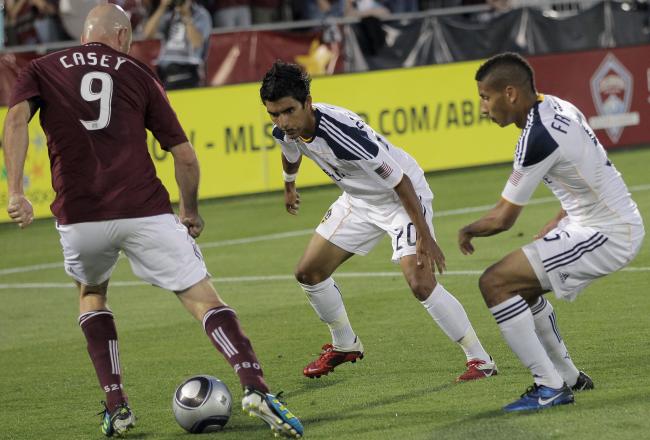 Doug Pensinger/Getty Images
Bruce Arena's Los Angeles Galaxy continue their 2012 Major League Soccer season on April 21 when they travel to Dick's Sporting Goods Park in Commerce City, CO to take on the Colorado Rapids.
The Galaxy are 2-3 (six points) and are near the bottom of the MLS Western Conference, while Oscar Pareja's Rapids are 3-3 (nine points) and are sixth in the MLS Western Conference standings.
Los Angeles got back on the winning trail after a 3-1 victory over the Portland Timbers at the Home Depot Center last weekend, while Colorado lost 1-0 to the Seattle Sounders at CenturyLink Field in Seattle last Saturday.
Can the Galaxy go on a tear, or will the Rapids bounce back at home? Kickoff is scheduled for 6 p.m. PT/9 p.m. ET and will be locally televised by KDOC and KWHY.
Keep it right here on Bleacher Report for continuing coverage of the 2012 Major League Soccer season and all things World Football.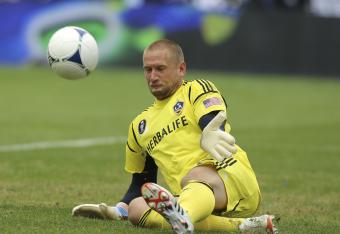 It was a tense last twenty minutes and stoppage, but Bruce Arena's Los Angeles Galaxy escape Dick's Sporting Goods Park with a 2-1 victory over the Colorado Rapids thanks to some clutch goalkeeping heroics.
A cross from David Beckham in the 73rd minute was collected by Rapids goalkeeper Matt Pickens, who had been struggling in the first half.
In the 76th minute, Omar Cummings challenged David Junior Lopes, squandering a chance for a brace. Cummings challenged Juninho and was cautioned in the 83rd minute.
A couple of corners for Colorado in the 85th and 86th minutes were cleared, but the Rapids regained possession, with a sense of urgency on their faces. In the 90th minute, a free kick from Kosuke Kimura was headed away by Sean Franklin.
Andre Akpan, who came in as a late sub, won a penalty for Cummings, but it was cleared. That would effectively seal the deal for the Galaxy, who evened their record to 3-3.
A match recap will be posted on Bleacher Report and the View from Victoria Street.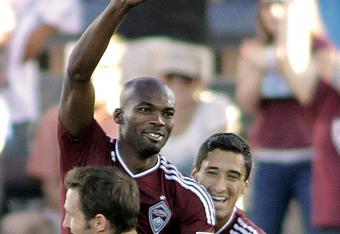 All season, Bruce Arena's Los Angeles Galaxy have been playing with fire, and once again their hands got singed.
It's a new game at Dick's Sporting Goods Park, with an accelerated pace as Omar Cummings has brought the Colorado Rapids back in the match with a breakaway opportunity in the 63rd minute to make it 2-1 to the Galaxy.
A dangerous chance by Jaime Castrillon in the 65th minute was cleared by A.J. DeLaGarza, forcing a corner. Juninho was cautioned in the 66th minute for a challenge on Jeff Larentowicz. An effort from Cummings with his weaker foot in the 67th minute sailed wide left.
Edson Buddle tried his luck in the 68th minute and missed wide left. Josh Saunders collected another chance from Tony Cascio a minute later. A chance for Mike Magee in the 71st minute from David Beckham missed, allowing Colorado to counter.
It's a new game, and now the Galaxy must deliver the hammer, or this match will be on level terms.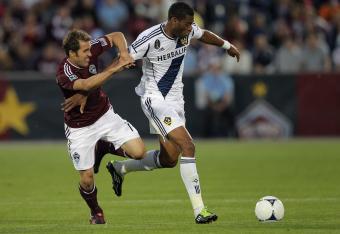 The Los Angeles Galaxy remain up 2-0 on the Colorado Rapids at the hour mark at Dick's Sporting Goods Park.
Early in the second half, a chance for Robbie Keane in the 46th minute was whiffed, allowing Colorado to counter with a chance from Omar Cummings that was collected by Galaxy netminder Josh Saunders. A shot from David Beckham in the 48th minute was parried, forcing a corner that was collected by Matt Pickens.
An attempt from Jeff Larentowics via Jaime Castrillon was sent over the goal in the 51st minute. In the 52nd minute, a long kick intended for Tony Cascio was collected by Saunders. Still, the Rapids were applying pressure and nearly saw Cummings turn loose.
A cross from David Beckham in the 54th minute was smothered by Pickens, and on the counterattack, LA defender Sean Franklin held Colorado's Luis Zapata at bay. Buddle was called for offsides in the 57th minute.
In the 58th minute, a decent sequence from the Rapids saw Castrillon with a speculative effort that went out of play. A chance for Buddle in the 59th minute, his best of the night, was collected by Pickens.
Is the rout on? That is the collective mood so far at Dick's Sporting Goods Park as the Los Angeles Galaxy lead the Colorado Rapids 2-0 at halftime.
Mike Magee was shaken up after a challenge on Kosuke Kimura in the 43rd minute This triggered a free kick, and Landon Donovan headed it wide for a goal kick to Matt Pickens. A cross for Luis Zapata in the 45th minute was squandered. Another chance for Donovan was collected by Pickens in injury time.
The irony so far this match is that Colorado has been dominant on the stat sheet, with more duels won (53 percent to 46 percent), more open play crosses (nine to three) and superior passing accuracy (77 percent to 70 percent).
However, poor defending combined with inexcusable goalkeeping has contributed to the scoreline as it stands, and to be fair, the outcome should have been worse for Colorado. Still, there is plenty of time to see this match break wide open by the Rapids in the second half. As for LA, things are stabilizing, and the Galaxy will look to improve on their efforts.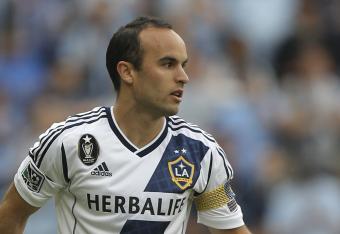 Landon Donovan has given the Los Angeles Galaxy a 2-0 lead over the Colorado Rapids. The finishing for Colorado has been nothing but acrimonious.
In the 25th minute, a chance from Cascio via Kosuke Kimura went over the bar and out. Colorado's next sequence in the 28th minute was called for offsides on Cascio. Robbie Keane was whistled for a challenge seconds later on a sequence that showed promise for Edson Buddle.
A dangerous chance for Omar Cummings in the 29th minute was cleared by LA's Todd Dunivant. Seconds laster, a chance for Kamani Hill went over the bar. In the 33rd minute, Luis Zapata tried to find someone in a maroon shirt, but it went out for a goal kick.
Despite the poor finishing, the Rapids have been solid with ball possession, and their ball possession has reduced the damage. A free kick from Larentowicz in the 36th minute was collected by Josh Saunders. Buddle was called offsides after a decent buildup from LA in the 38th minute of play.
Finally, Donovan broke through in the 39th minute on the breakaway from Robbie Keane. The goal was his second of the season.
The Los Angeles Galaxy have taken a 1-0 lead thanks to an own goal by Marvell Wynne.
Edson Buddle was challenged by Colorado defender Marvell Wynne cleanly in the 17th minute, escaping a would-be penalty opportunity for LA. With the bullet dodged, Colorado went on the counter, but Jaime Castrillon was met by Josh Saunders.
Loose balls have been an issue for the LA Galaxy this year, and Colorado has been the beneficiary, forcing Josh Saunders to get involved. In the 20th minute, Cascio was unable to receive the through ball from Jeff Larentowicz.
In the 21st minute, a free kick from David Beckham found Mike Magee, although it was actually an own goal to Wynne.
With Colorado now on the ropes, the onus is on the Rapids to deliver a response. If not, this has all the makings of a disasterpiece.
It's a tense affair at Dick's Sporting Goods Park, and both the Los Angeles Galaxy and Colorado Rapids are scoreless.
The match started off ragged for both teams, more so for LA. Early in the first half, a chance for Colorado's Tony Cascio in the third minute was denied by David Junior Lopes, who was marking him outside the box. In the fifth minute, Cascio whiffed on an opportunity from Omar Cummings.
After a ball possession battle, Kosuke Kimura tried to find Cummings, but missed wide left in the eighth minute. Landon Donovan nearly made the Rapids pay second later but missed the header. Another chance for Donovan in the 11th minute was cleared by Rapids goalkeeper Matt Pickens.
A free kick in the 12th minute from David Beckham was punched aware by Pickens for a corner that missed Robbie Keane.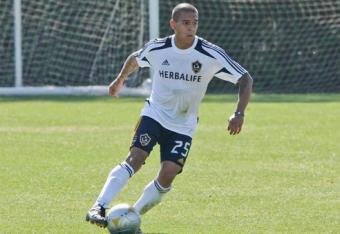 Rafael Garcia may not be on the bench, let alone start, against the Colorado Rapids for the Los Angeles Galaxy on Saturday (kickoff: 6 p.m. PT/9 p.m. ET), but he is a young player with a lot of promise.
Garcia scored a game-winner against the Seattle Sounders in the MLS Reserve League at the Home Depot Center earlier this week.
Assistant manager Curt Onalfo had rave reviews for Garcia.
"I love him, I have to say," Onalfo told MLSSoccer.com's Luis Bueno. "I've always liked him. I loved him in college and was just glad we got him."
As for Garcia, he kept his feet on the ground after helping the reserves break through.
"Any time I step on the field I try and make the best of it," Garcia said. "There's a lot of good players so we're going to have to share some time for a while. My mentality is to help the team in any way I can help and get those points."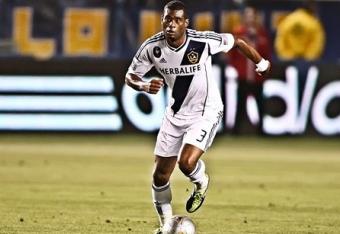 A reason why the Los Angeles Galaxy bounced back from a two-game losing streak is the play of defender David Junior Lopes, who shined in LA's 3-1 victory over the Portland Timbers.
Lopes is expected to start in central defense this Saturday at Dick's Sporting Goods Park in Commerce City, Colo. against the Colorado Rapids (kickoff: 6 p.m. PT/9 p.m. ET, KDOC and KWHY).
"I was very happy for the start," Lopes told MLSsoccer.com's Luis Bueno. "I think it was a good game for me and for the group because we came out with three points, which is most important. We have time now to work on things and improve before the next game."
A.J. DeLaGarza is back and healthy, and could slide into the right back position, allowing Lopes to team up with Tommy Meyer, with Todd Dunivant at left back.
"A good start and a good win like we had on Saturday always gives you confidence to do your job better, do things every time with more focus and concentrate more," Lopes added. "I think it gives the whole team confidence, more desire to continue fighting for three points and that's important."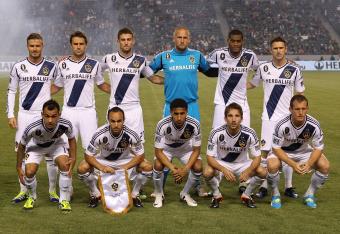 After a breakthrough 3-1 victory over the Portland Timbers, the morale Bruce Arena's Los Angeles Galaxy seems to be back to 2011 levels heading into Saturday's match with the Colorado Rapids (kickoff: 6 p.m. PT/9 p.m. ET, KDOC and KWHY).
Midfielder Mike Magee firmly believes the magic is returning for the defending MLS Cup Champions.
"I can actually enjoy my life," Magee told MLSSoccer.com's Larry Morgan. "I can go back to smiling and showing my face at Starbucks."
Galaxy forward Pat Noonan, who has seen success as a member of the New England Revolution and Seattle Sounders, thinks the club has turned a corner.
"Winning helps," Noonan said. "The performance against Portland was a team effort, which was encouraging. I think as a group you come into training the next week feeling positive, thinking 'Hey, we did that as a team.'
"And that's great."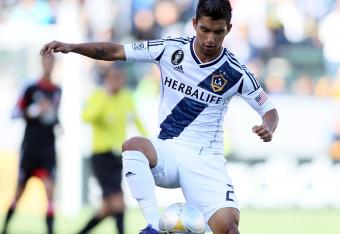 Defender A.J. DeLaGarza of the Los Angeles Galaxy was unavailable for last week's match with the Portland Timbers due to an adductor strain. However, as the old saying goes, "time heals all wounds" and DeLaGarza should be ready to start against the Colorado Rapids on Saturday (kickoff: 6 p.m. PT/9 p.m. ET).
"I'm feeling good. I've been practicing the last few days so it's not an issue for me anymore," DeLaGarza told MLSSoccer.com's Luis Bueno. "If I'm called upon, I'll be ready."
With DeLaGarza back in the lineup, manager Bruce Arena has backline options in the middle, which also include Tommy Meyer, Andrew Boyens and David Junior Lopes.
"Whatever way the coaches go – me, Tommy, Andy, David – we've got to have a good partnership and be ready for a very fast group and guys who are looking to get three points at home," DeLaGarza said. "We're all confident in our abilities. It's just about going out there and showing it."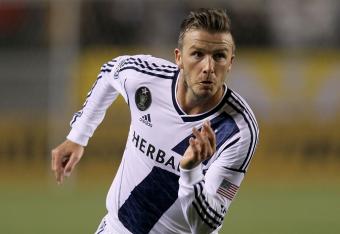 Bruce Arena's Los Angeles Galaxy are a focused bunch ahead of Saturday's tilt with the Colorado Rapids at Dick's Sporting Goods Park (kickoff: 6 p.m. PT/9 p.m. ET, KDOC and KWHY).
"It's another big game for us, obviously," midfielder David Beckham told LAGalaxy.com's Larry Morgan. "Coming off last weekend's game we needed that win, we needed the three points. But we need to push forward."
Beckham closed the door on the Portland Timbers last weekend with a Goal of the Week shot late into stoppage time. However, in spite of high hopes, the No. 23 for LA believes that the situation this week will be much more challenging.
"I think to be honest, I think we turned a little bit of a corner the weekend before (in Kansas City)," he said. "Last week was a little better, but we're still a long way from where we need to be, where we should be. It's a good test this weekend."