Auburn Football: Latest News, Injuries and Updates for the Tigers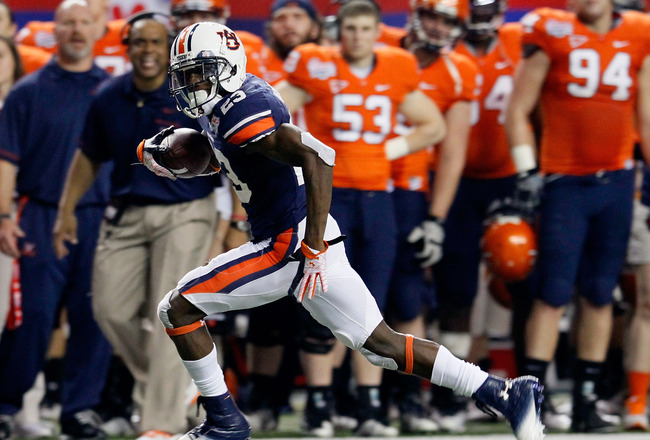 Kevin C. Cox/Getty Images
The Auburn Tigers have finished spring practice, leaving a host of injury news and updates.
The Tigers have not had any major position changes, and don't expect any soon. Auburn has a lot of talent and depth at virtually every position, but even the few holes that remain in the depth chart will be filled by fall.
As the Tigers prepare to head into the summer, here are the latest news, injuries and updates for the Tigers.
Heisman Statues Unveiled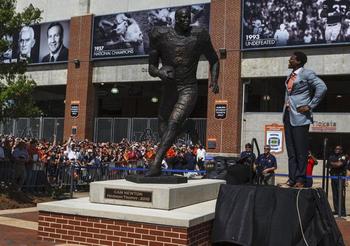 Photo by Vasha Hunt | Opelika-Auburn News
In case you missed it, Auburn unveiled three Heisman statues honoring their three Heisman winners. Auburn also unveiled a bust of John Heisman, former Auburn football coach and inspiration for the Heisman Memorial Trophy.
Auburn is the only school that has been coached by Heisman and had players that have won the award.
All three winners for Auburn were present, with Cam Newton making a surprising impact on the crowd. Newton had written a poem about his former school. It went like this:
365 days that was my tenure
But for some strange reason it felt like I've always been here.
All the blood, sweat and tears it took to get this
I'll always honor and cherish this.
My road to the top had a couple pit stops
But during my time at Auburn the love of the Auburn family would not let my moral drop.
Greatness was what I strived for and greatness is what I got
The mentality of the Auburn man took me to the top
Some people will never understand the feeling of what it means to be an Auburn man
But I'm lucky enough to be able to raise my right hand and be able to say "I can."
My time at Auburn, I don't know if it could have been any better
Man, was it great.
We won an SEC title, a national championship
And, oh yeah, we beat that team, 27-28
As a wise man once said, "This place," as in Auburn, "was great way before you were thought of" (Coach Chizik)
And this place is where I will always love
So as I share this day with two of Auburn's beloved want to end by saying "War Eagle" and "I believe in Auburn and love it."
It was a special moment for Auburn fans. It was a day that solidified how they felt about their most recent Heisman winner.
Quarterback Still Up for Grabs, Sort of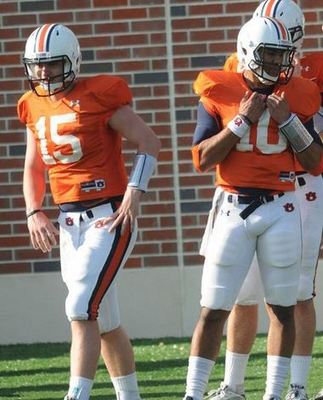 (Birmingham News / Hal Yeager)
The Auburn quarterback race will continue—at least on the surface—as the Tigers head into the summer workout period.
Both Kiehl Frazier and Clint Moseley looked great on A-Day, but the competition does not appear to be as close as the Tigers coaches make it out to be.
Clint Moseley has battled through a shoulder injury for much of spring practice, allowing for Frazier to gain invaluable one-on-one instruction from new offensive coordinator Scot Loeffler. Frazier has been very vocal throughout spring as well.
No coach wants to end a position battle due to injury. At this point, they may have to. The Tigers know who will lead the team and making it official would allow the Tigers to have more focus going into the season.
Safety Is the New Competition to Watch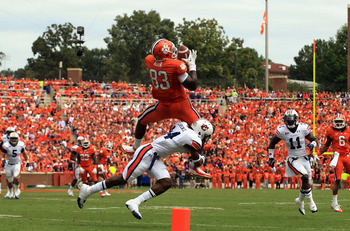 Streeter Lecka/Getty Images
With the shift of Jermaine Whitehead to safety, and the injuries that fell over the position at the end of spring, the safety position has really opened up.
To start spring, the Tigers looked settled at the position with Demetruce McNeal returning, and Erique Florence solidifying his role as a starter. Both McNeal and Florence fell to injury however, opening up the competition for Ryan Smith and Whitehead.
As the Tigers head into the summer, the battle appears to be on. This is a position that seemed settled, but with the spring that Whitehead and Smith had, it became impossible to deny that a position battle has begun.
Another name to keep an eye on is walk-on Trent Fisher. Fisher lacks ideal size, needing to add bulk this summer, but his knowledge of the game and tenacious attitude will get him on the field in the fall. Fisher is the son of NFL coach Jeff Fisher.
This will be a very exciting competition to watch, as the Tigers look to be stacked at the safety position.
Jawara White Gives Up Football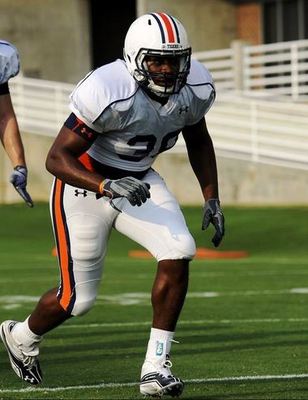 Photo by Todd Van Emst
During the spring, the Tigers always seem to find a bit of bad injury news. This season was no different as Jawara White had to hang up his cleats for the final time.
White has battled injury throughout his short Auburn career. Two years ago, fluid that surrounded his spine after a neck injury forced an extended absence from the field.
This spring, White was competing for playing time with Jake Holland at the middle linebacker position.
There is no definitive information that has been released as to the specifics of his injury.
Shon Coleman Returns
Photo courtesy of al.com
The Tigers received great news on the injury front for a change with the return of Shon Coleman to the Tigers lineup.
Coleman was a five-star offensive tackle during the 2010 recruiting season. Coleman signed with the Tigers, but shortly after found out that he had leukemia.
After a lengthy treatment at St. Jude's, Coleman received the news that he could return to football competition in the last week of spring practice.
This is a great feel-good story for football and Auburn. This guy has a resilience and fortitude that should make the most hardcore Auburn haters enjoy watching his return to the field.
Summer Sees the Return of Eguae and Carter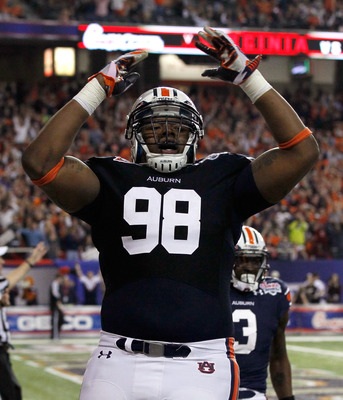 Kevin C. Cox/Getty Images
The Tigers took some lumps on the defensive line early in spring. Injuries to Nosa Eguae and Kenneth Carter happened before the first snap of practice.
Within the first week, Gabe Wright also fell to injury.
That knocked out three returning starters, paving the way for younger Tigers to step up to the plate and earn some valuable time in the trenches.
Angelo Blackson, JaBrian Niles and DaVaunte Sigler all stepped up this spring. The three young Tigers worked hard and gained a lot of ground.
This summer will see the return of Eguae, Carter and Wright. It will also see guys like Blackson, Niles and Sigler battling for time on the inside. While no injury is wanted or needed—especially along the defensive line—these injuries could not have come at a more ideal time.
Auburn has a very talented defensive line group. With the added experience to the younger Tigers up front, Auburn heads into summer with a lot of talent ready to contribute.
Jay Prosch Still Waiting on Waiver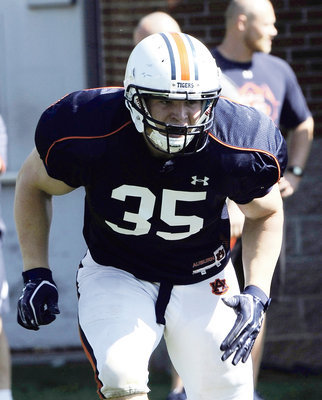 AP Photo
One question that lingers as the Tigers leave the spring practice session is the eligibility of Jay Prosch.
It is a question that I see often in the comments and is one that is worth visiting and giving my best attempt to explain why the Tigers feel confident his waiver will be granted.
According to the NCAA's transfer rules and regulations, Prosch should be eligible immediately to play at Auburn.
With the hardship that his family faces—his mother was diagnosed with cancer two years ago—the return to Auburn is a natural fit for Prosch and his family.
According to the above NCAA blog post, Prosch should be eligible for the 2012 season as his transfer falls under the guidelines.
Nothing is set in stone however, and I am no NCAA employee, but I believe the waiver will be granted.
Multiple Offense Defined at Auburn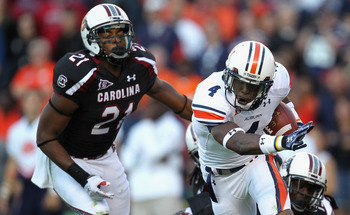 Streeter Lecka/Getty Images
A big question that lingered over the Tigers heading into spring surrounded the look of the offense. With new OC Scot Loeffler landing in Auburn, there was a ton of speculation as to the tendencies and formations he would use at Auburn.
It appears we finally have an answer. Granted, A-Day is not a coming out party for offensive schemes, but it did show what the Tigers want to do.
Auburn showed a lot of shotgun, but they did take snaps from under center often, something that will likely be the majority of the offensive sets this fall.
The Tigers also showed pistol sets, as well as off-set I-formations with a motion back.
The multiple offense at Auburn will be just that, multiple. Look for tight ends to be integrated heavily in the passing game, and for the Tigers to shift from under-center to shotgun style snaps often.
Keep Reading

Auburn Football: Like this team?