Tennessee Football: 5 Players Ready to Contribute in 2012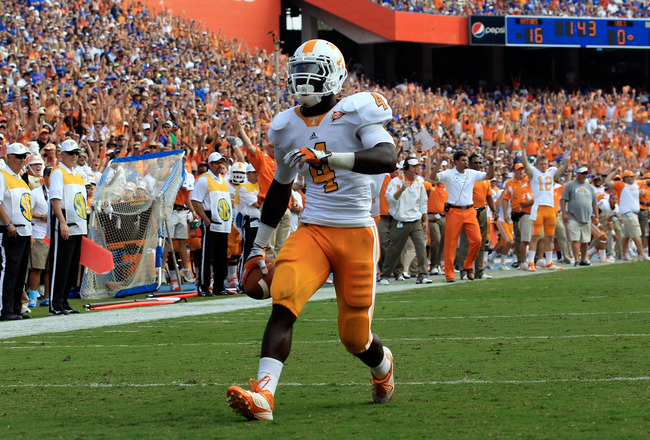 Sam Greenwood/Getty Images
Derek Dooley's two seasons on The Hill have been filled with struggles. Not everything has been Dooley's fault though.
Programs that change coaches often experience roster attrition. Programs that change coaches twice in as many years, the attrition multiplies. The Tennessee program falls in the latter category.
Underclassmen have played a vital role over the last two seasons within the program. The Vols have heavily relied upon newcomers to carry much of the load.
In 2011 alone, DeAnthony Arnett, Alex Bullard, Cameron Clear, Justin Coleman, Maurice Couch, Brendan Downs, Marcus Jackson, A.J. Johnson, Izauea Lanier, Curt Maggitt, Byron Moore, Brian Randolph, Justin Worley, and Devrin Young all started at least one game in their first season in Knoxville. Two others, Vincent Dallas and Marlin Lane, didn't start a game but played a significant amount.
For the first time, Derek Dooley has some depth built up in the Tennessee program. In turn, newcomers won't be relied upon quite as heavily in 2012. However, even with depth, there will be newcomers who make an impact this fall.
Here are five newcomers ready to contribute in 2012.
Cordarrelle Patterson
Kevin C. Cox/Getty Images
The prize of Tennessee's most recent recruiting class, Cordarrelle Patterson easily brings with him the most excitement of any Tennessee newcomer.
Patterson, a 6'3" wide receiver, was a two-time NJCAA All-American at Hutchinson Community College, and the top-ranked junior college prospect according to 247Sports. During his two years at Hutchinson, he caught 113 passes for 1,832 yards and 24 touchdowns.
Tennessee already has a pair of top-flight wide receivers in Justin Hunter and Da'Rick Rogers. Those two alone make the Vols' passing attack very dangerous. Adding a talent like Patterson to the mix is only going to make the passing game that much better.
For Patterson, the situation he is walking into is quite nice. He has two big-time receivers that are the focus of opposing defenses, which should only open up the field even more for him.
The Vols would have liked to have Patterson as an early enrollee so he could get acclimated with the offense, but he will have plenty of time in fall camp to learn the offense and make an impact in the fall.
Darrington Sentimore
Sam Greenwood/Getty Images
Tennessee had seven members of its 2012 signing class enroll for classes in Knoxville for the spring semester. One of those was Darrington Sentimore, a 6'2", 273 pound defensive lineman.
Sentimore comes to the Vols via Gulf Coast Community College. However, the Louisiana native spent two years as a member of the Alabama Crimson Tide, playing in 11 games in 2010.
The fact that Sentimore played as a redshirt freshman at Alabama should tell you that the talent is there for him to handle life in the SEC. The Vols' coaching staff hopes the SEC experience he already has will make the transition from junior college to Tennessee easier.
Tennessee enters the 2012 season thin on the defensive line. In Sal Sunseri's new 3-4 defensive scheme, the Vols will be looking for more beef on the defensive front, and Sentimore definitely has that.
There's playing time to be had on Tennessee's defensive line, and Sentimore could help fill a major need.
Daniel McCullers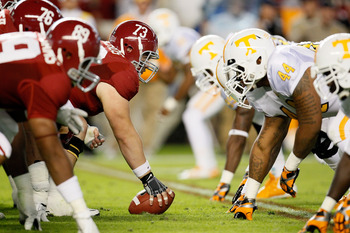 Kevin C. Cox/Getty Images
Tennessee fans don't have to dig deep in their memory bank to remember the 2009 loss at Alabama. It was Terrance "Mount" Cody who blocked two Daniel Lincoln field goals, including the potential game-winning field goal as time expired.
Why do we bring up that terrible memory for Vols' fans? Cody is the most common comparison when discussing 2012 Tennessee signee Daniel McCullers.
McCullers is listed as 6'6" 380 pounds. It doesn't matter what level of football being talked about, that is a huge human being.
Aside from being massive, McCullers is the perfect fit for Tennessee's new defense. In the 3-4 defense, the nose tackle is responsible for clogging up the middle of the defensive line. Generally, that player is bigger than your average 4-3 defensive tackle. McCullers obviously fits that mold.
Assuming his weight is kept under control and he is in good enough shape, McCullers has the opportunity to fill a huge hole in the Tennessee defensive front, both figuratively and literally.
Trent Taylor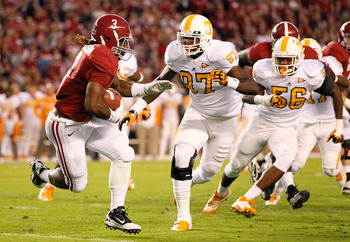 Kevin C. Cox/Getty Images
Did I mention that Tennessee is thin on the defensive line?
Like the aforementioned Sentimore and McCullers, Trent Taylor has a chance to garner some early playing time along the frontline in 2012. Like Sentimore, Taylor has been on the Tennessee campus for several months and has been going through spring practice.
Taylor, a Lakeland, Florida native, racked up 29 sacks in his junior and senior seasons combined playing in Florida's highest classification of high school football.
Going through spring practice is the reason Taylor finds himself on this list. With a new defense being installed, and playing a position where the Vols are thin, opportunities are there for early playing time. Having participated in the spring, Taylor gets the benefit of having a head start on the other newcomers.
Taylor wasn't a highly talked about member of the 2012 signing class, but Vols' fans will know his name in the fall.
Alton Howard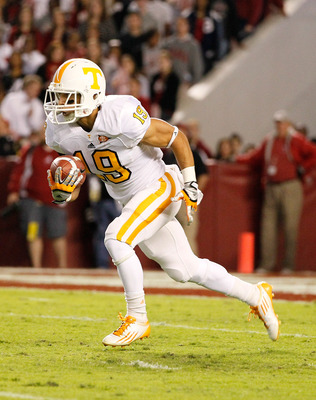 Kevin C. Cox/Getty Images
College football analysts often say the quickest way for a newcomer to make an immediate impact is on special teams. In 2011, it was true freshman Devrin Young who made a name for himself returning kicks for the Vols.
In 2012, the most likely candidate to make an immediate impact on special teams is Alton "Pig" Howard.
Opposite his nickname, Howard is listed at just 5'9" and 180 pounds. At Edgewater High School in Orlando, Florida, Howard was the do-it-all player, working as a receiver, running back, and kick returner.
Young will more than likely be the leader of Tennessee's return game in 2012. However, Howard will have the chance to join alongside Young and contribute to the Vols' special teams.
If Howard is able to live up to the reputation that comes with him, his impact will be felt in Knoxville in the fall.
Keep Reading

Tennessee Volunteers Football: Like this team?