Breaking Down the Warriors' Draft Options If They Get a Top-7 Pick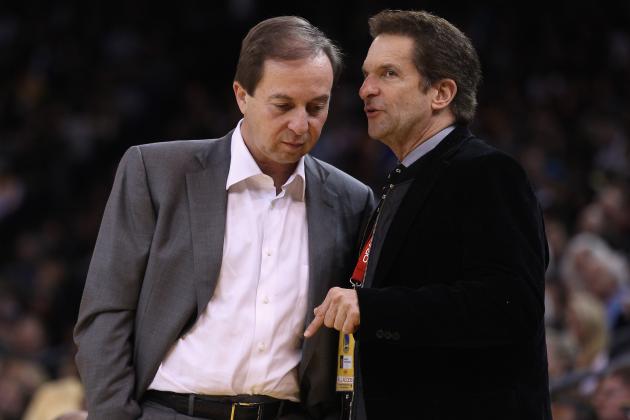 Ezra Shaw/Getty Images

The Warriors are currently in full-on tank mode, scratching and clawing for a draft pick that could help put the team into playoff contention next year. If Golden State ends up eighth or below in the draft order, their pick will go to the Utah Jazz. However, there are many questions looming if the Dubs do actually land in the top seven.
First and foremost, which pick will they receive? That question is still very much up in the air, and there is a big difference between the fourth pick and the seventh pick. A lower pick is more likely at this point, so I will focus on realistic options should the Warriors end up picking seventh.
The next question is whether or not the team should be focusing on a role-player or someone they see starting eventually. The only position that sticks out as not having a dedicated starter next year is small forward, but other positions would certainly benefit from some help at backup.
So who should Golden State pick? Follow me inside and we'll do some exploring. Feel free to comment below.
Begin Slideshow

»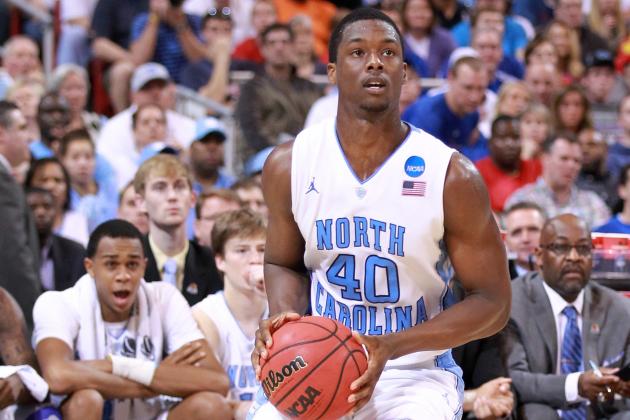 Andy Lyons/Getty Images

The Warriors need a reliable starting small forward. Dorell Wright has had an off year, and at his best he really only offers three-point shooting. He's a mediocre defender, and doesn't always make the smartest decisions with the ball. He's not incredibly athletic, and at 6'8", 205 pounds, he's not bringing much else to the table.
Brandon Rush is a nice alternative, but he's definitely more productive as an energy player off the bench than a consistent starter. He offers a little bit of everything, but I don't see him contributing starter's minutes anytime soon. The same goes for Dominic McGuire.
Therefore, I think any conversation on who the Dubs should draft has to start with Harrison Barnes. He's a versatile scorer, and though his percentages leave much to the imagination, he has a lot of room to grow into an NBA offense, especially with elite shooters positioned around him.
In his time at UNC, Barnes has shown himself to be rather clutch. He plays much better on the ball than off, and could possibly have a rocky start with the Warriors because of that. However, he's got a great basketball mind, in addition to a body built for playing defense, with a 6'11" wingspan.
Once Barnes gets acclimated to the NBA, he could be a marked improvement of Dorell Wright at the starting 3.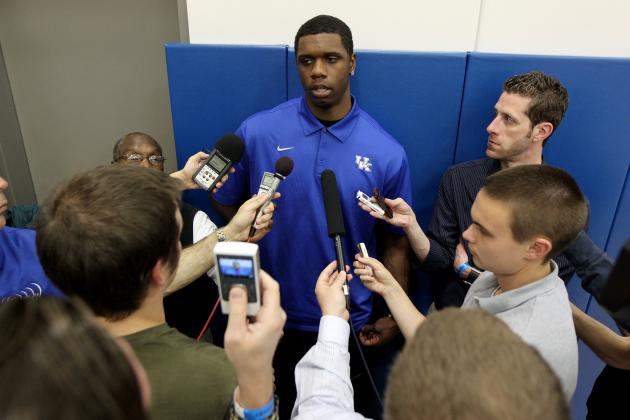 Andy Lyons/Getty Images

As a team that has never really been known for its prowess in the lane, the Warriors have to love the size that Terrence Jones is bringing to the table at power forward. Additionally, he's a skilled ball-handler at his position, and is already a champion with the Kentucky Wildcats.
He lost a lot of hype when he decided to go back to Kentucky for his sophomore season, but he can still be a solid contributor backing up David Lee. He's not as good a defender as Ekpe Udoh, but with a real center in the middle, it won't be as much of an issue—the Warriors often had Udoh playing center last year in a small-lineup.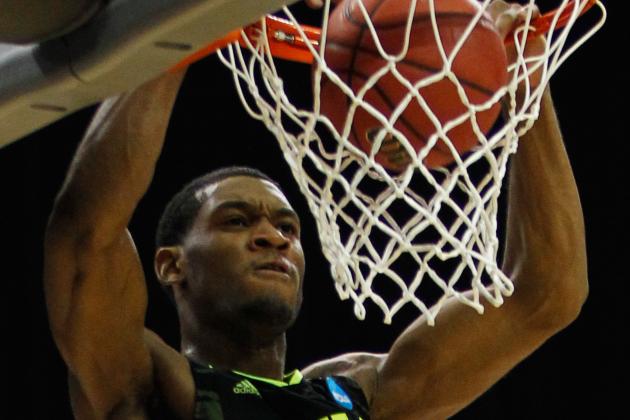 Streeter Lecka/Getty Images

The Warriors need a backup center. Andris Biedrins is horrible, and has been for years at this point. The fact that Golden State was still trotting him out this season (not to mention starting him) is beyond sad.
Enter Perry Jones.
The Baylor product has great upside if he reaches his full potential. He's not huge, but like Udoh, has an enviable wingspan (7'2.5"). He can create his own shot, and is an impressive passer in the post as well.
Unfortunately, his defense leaves much to the imagination at the moment. However, with Mark Jackson and Andrew Bogut influencing him, Jones could very quickly learn to play both ends of the floor.
Ezra Shaw/Getty Images

The Warriors are a very young team already. They could choose to trade their pick for a solid, veteran bench producer or potential starter at small forward. While this choice might be seen as very unpopular based on all the tanking that has gone on the past few weeks, if the Dubs make the right move, the could end up finding that final piece to propel them into contention status.
Whatever they end up doing with the pick, they first have to acquire it, which, as of now, will require a couple more losses and a lot of luck, thanks to a comeback win over the free-falling Timberwolves.
Nice job, Warriors.