NFL Draft: The First Overall Picks from the Past 12 Years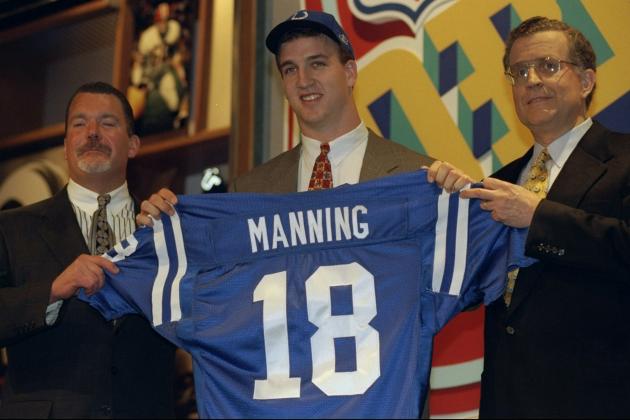 Ezra Shaw/Getty Images

The NFL draft is one of the most anticipated events in all of sports. Every fan becomes eager to find out which players will be picked to join their team for the upcoming season. Each year, there are players that live up to their expectations and players that don't, making nearly every pick a risk for the selecting team.
For the first time since 1998 (when they selected Peyton Manning), the Indianapolis Colts hold the rights to the first pick in the 2012 NFL Draft.
To give you a better understanding of why there is so much pressure on the team making the first pick, here is a brief history of the first players chosen in the past 12 NFL drafts.
Begin Slideshow

»
Chris Trotman/Getty Images
Cam Newton was drafted 1st overall by the Carolina Panthers out of Auburn.
After being drafted first by the Carolina Panthers, Cam Newton silenced his critics, putting together an impressive rookie season and breaking the single-season rushing-touchdown record for a quarterback with 14. Newton looks poised for a successful career.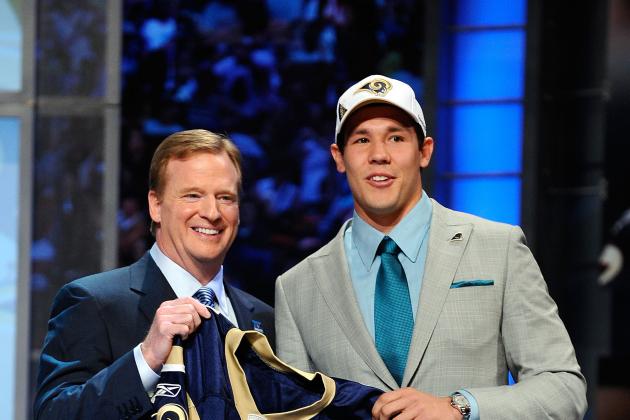 Jeff Zelevansky/Getty Images
Sam Bradford was drafted 1st overall by the St. Louis Rams out of Oklahoma.
Sam Bradford put up jaw-dropping numbers at Oklahoma, passing for 50 touchdowns his sophomore year. Since his entry into the NFL, Bradford has not necessarily been a disappointment, but he has struggled to stay healthy.
Only time will tell whether the 24-year-old was worthy of the first pick in the 2009 draft.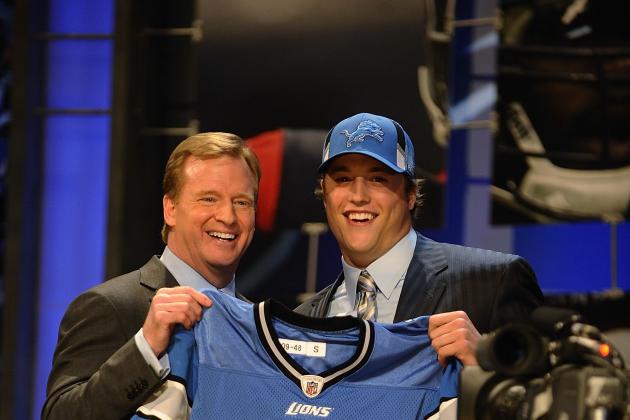 Jeff Zelevansky/Getty Images

After Matthew Stafford's first two seasons in the NFL, many began to question his ability. Stafford was dogged with injuries, but proved his value during the 2011 season, throwing for 5,038 yards and 41 touchdowns.
At the age of 24, Stafford should continue to thrive in the NFL, especially considering he has Calvin Johnson on his side.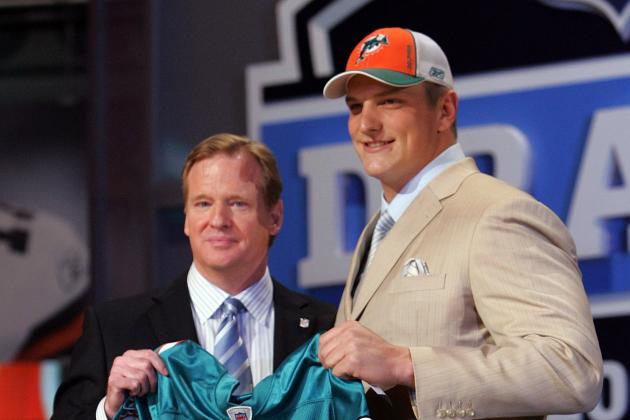 Jim McIsaac/Getty Images

Jake Long became part of a rare breed in 2007 when he was drafted first as an offensive lineman by the Miami Dolphins. Since then, Long has shown his value, making it to four Pro Bowls in four seasons in the NFL.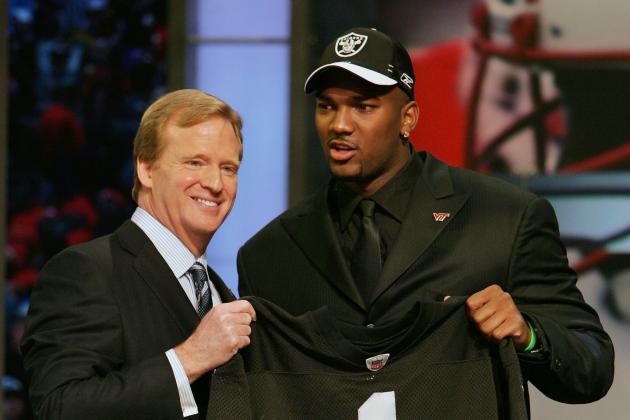 Richard Schultz/Getty Images

Coming out of LSU in 2007, fans, scouts, coaches and just about everybody else were raving about JaMarcus Russell. He was fast, athletic and displayed unbelievable arm strength.
Unfortunately for the Oakland Raiders, Russell lacked determination and had a poor work ethic. As a result, he became known as one of the biggest draft busts in NFL history.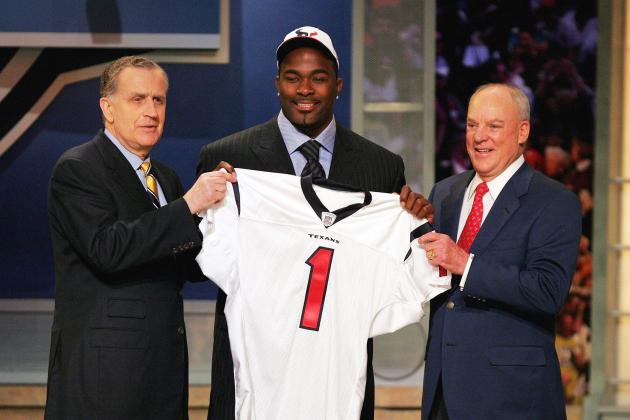 Ezra Shaw/Getty Images

Out of college, everybody knew Mario Williams was destined to become something great in the NFL. In just his second season, Williams met those expectations, recording 14 sacks.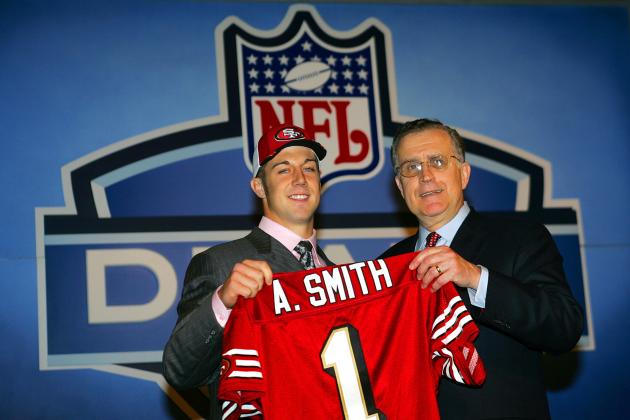 Chris Trotman/Getty Images

Just when every football fan was more than ready to declare Alex Smith a bust, he took the San Francisco 49ers to the NFC championship game this past season. Prior to that, Smith had five straight sub-par seasons.
Many have argued that this success came due in large part to Jim Harbaugh, his new head coach and a former NFL quarterback.
Chris Trotman/Getty Images

This was one of the more interesting first picks in NFL draft history. In 2004, Eli Manning was selected first by the San Diego Chargers.
Eli's father, Archie Manning, made it clear before the draft that he did not want his son being drafted by San Diego because they were against long-term contracts with quarterbacks.
After San Diego drafted Manning, they traded him to the New York Giants for Phillip Rivers.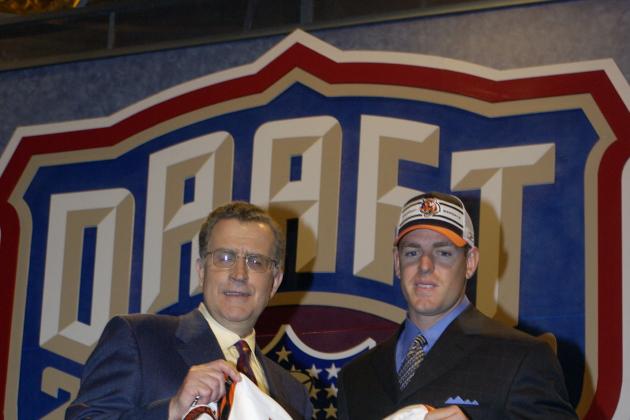 Ezra Shaw/Getty Images

The Cincinnati Bengals drafted Carson Palmer first in the 2003 NFL draft. After sitting his first year on the bench behind Jon Kitna, Palmer looked to be the superstar quarterback that scouts expected him to be.
In 2005, Palmer posted a 101.1 passer rating with 32 TDs and 13 interceptions and led the Bengals to the playoffs. During the first round in the playoffs, on Palmer's first pass, he completed a 66-yard pass to Chris Henry.
Unfortunately, on the same play, Palmer took a shot to the knee from Steelers defender Kimo von Oelhoffen. The hit caused serious knee damage that required surgery.
Since then, Palmer has not been the same.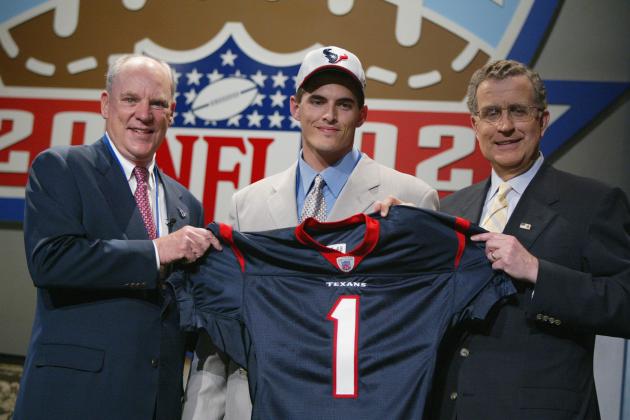 Doug Pensinger/Getty Images

David Carr was drafted first by the Houston Texans out of Fresno State in 2002. Carr threw 42 touchdown passes his senior year in 2001 and looked ready to begin a prominent career in the NFL.
To date, Carr has a career record of 23-56 as a starting quarterback, adding him to the disappointing list of NFL's biggest draft busts.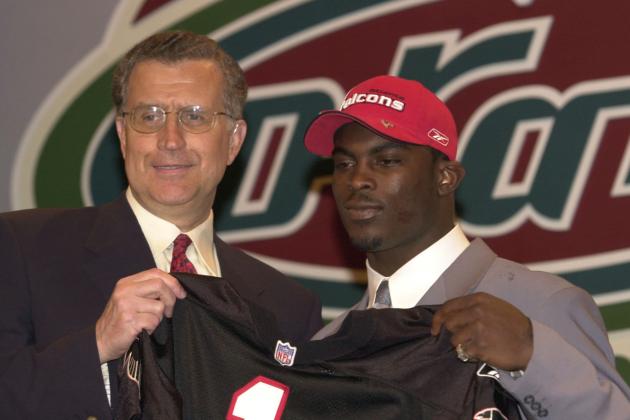 Ezra Shaw/Getty Images

Next to LeBron James, Michael Vick will arguably go down as one of the most anticipated sports prospects of all time. The world was amazed with Vick's athletic ability at the quarterback position (ran a 4.25 40-yard dash). Excluding his troubles with the law, Vick has met his high expectations since being drafted first by the Atlanta Falcons in 2001.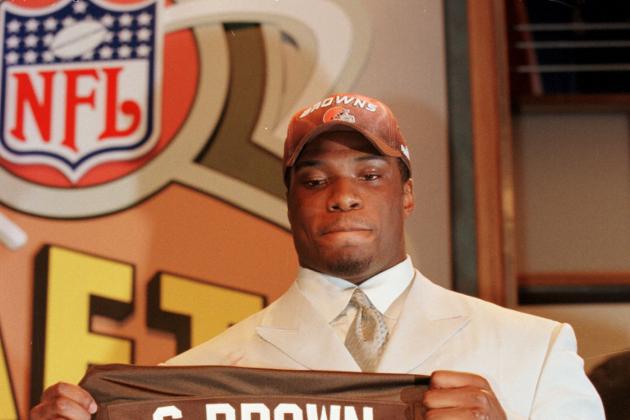 M. David Leeds/Getty Images

Courtney Brown was drafted first by the Cleveland Browns in 2000. At 6' 5", 270 pounds, Brown ran a 4.5 40-yard dash at the NFL Scouting Combine. Brown struggled to stay healthy throughout his career, which came to an end in 2005 at the age of 27.