Matt Cassel: What Does One Cornerback Have to Say About Chiefs QB?
April 20, 2012

Brian Bahr/Getty Images
It is no secret to everyone that Kansas City Chiefs quarterback Matt Cassel is not a fan favorite in Kansas City. The perception Chiefs fans have of him is not a positive one.
Even though Cassel helped the team to win the AFC West in 2010 after passing for 27 touchdowns with seven interceptions—which was enough to make the Pro Bowl—Chiefs fans have allowed his 2009 and 2011 performances to overshadow his better work.
When you take away his 2010 season, Cassel has 26 touchdown passes and 25 interceptions during his time in Kansas City. Cassel has thrown 53 touchdown passes and 32 interceptions in 39 games as the Chiefs quarterback.
Many have suggested that the biggest reason Cassel succeeded in 2010 was because of the easy schedule which the Chiefs went through that season. This showed in the regular-season finale and in the first round of the playoffs, when Cassel threw no touchdown passes and five interceptions against the Oakland Raiders and Baltimore Ravens.
Although Cassel does not have a vote of approval from the fans, he does have a vote of approval from his new teammate. Until arriving in Kansas City this offseason, Chiefs cornerback Stanford Routt had been a member of the Oakland Raiders from the time he was drafted in 2005.
Routt faced Cassel five times following the quarterback's arrival in Kansas City in 2009.
He was recently asked if believes there is a quarterback controversy on the Chiefs roster. Routt did not seem to be on the same page with the reporter and instead gave his own point of view of Cassel.
"I know he's a good quarterback," Routt said in Tuesday's press conference. "Him and Dwayne Bowe, [Steve] Breaston, [Jonathan] Baldwin, [Jamaal] Charles, [Tony] Moeaki. I keep going down the list. He was just fine to me everytime I was going against him."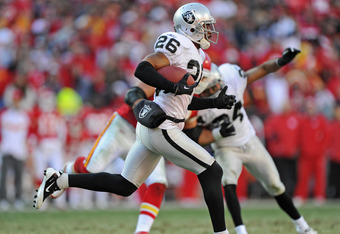 Peter Aiken/Getty Images
The question asked was a surprise to Routt, as players on defense don't usually answer questions about the quarterback on their team. Furthermore, since Routt is now a member of the Chiefs, it would be controversial of him to say something negative about Cassel.
However, Routt supported his opinion on Cassel by bringing up the offensive players that he has worked with. Routt knows the offense well because he has faced them numerous times. What's more, he only mentioned players that Cassel has played with in the past, not new team members Peyton Hillis or Kevin Boss.
Cassel has found success with the players he has played with in the past. With some of the additions made this offseason, there is no reason to believe that Cassel won't improve.
Nonetheless, Routt's positive comments are interesting and something that we should consider since he has gone up against Cassel five times since 2009.
As we all know, with the potential that this team has heading into the draft, Cassel has no excuses this year.