Portland Trail Blazers: 5 Things the Blazers Can Learn from Top Teams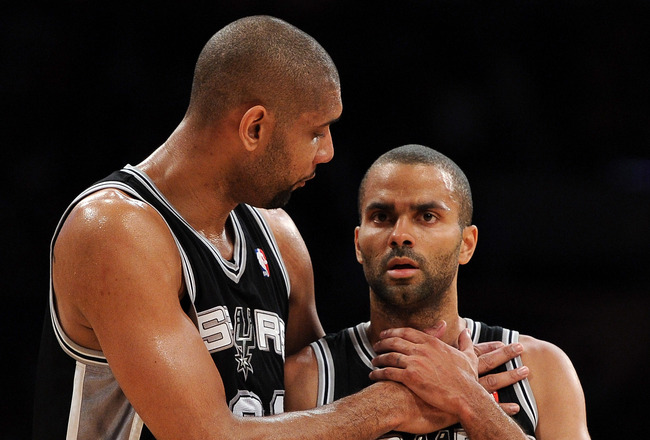 Harry How/Getty Images
Let's be clear, Portland Trail Blazers fans. I am on your side.
I live in downtown Portland, and I too am sick of the Timbers dominating the local sports scene.
That being said, the Blazers are a mess right now.
They started out the year looking really strong, but like a Greg Oden knee, they crumbled down the stretch.
And as the team sorts out their front office and myriad other issues, they are left to ponder what exactly is to become of the franchise.
Here are five lessons that can be learned from the top teams in the league.
Find Your Voice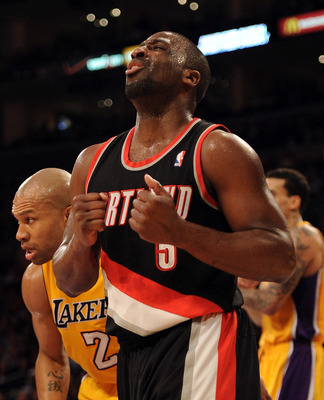 Harry How/Getty Images
The Blazers, for the last few years, have been fairly rudderless.
They don't know exactly what they are.
Initially, that could be forgiven. They were a snake-bitten team that was essentially sacked by injuries.
But now they have to deal with the reality of their situation.
They have an elite power forward, a solid small forward, and not much else.
Wesley Matthews is a solid player and Luke Babbitt is a cheap young guy, but the rest of the roster is in flux.
This team needs to figure out what exactly they want to focus on. Are they an up-tempo team? Are they a defensive-minded squad? Or are they a half court group?
Given the fact that they have a very athletic power forward, they might be able to roll with just about any situation.
Since only Aldridge and Nicolas Batum are surely to be around next year, their options are open.
Personally, I would suggest that this team becomes a half court focused, grind-it-out kind of team, but that's just me.
All Michiganders are fans of defense-first basketball.
But Portland could also decide to go up-tempo and build around a point guard.
There are plenty of teams to model themselves after.
San Antonio is a defensive team that builds around character and unselfishness.
Boston builds around defense and perimeter scoring.
Miami goes uptempo at all costs.
The problem is that the team doesn't have a point guard committed after this year, so they probably will have some work cut out for them if they go that route.
No matter what, they need to figure out what kind of team they are going to be, or they will waste another five years.
Keep All Options Open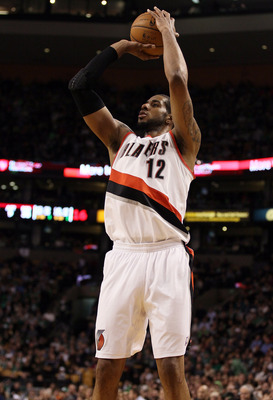 Elsa/Getty Images
The best teams in the league can figure out what they have, and are willing to deal top prospects if need be.
The problem with Portland over the past five or so years has been an unwillingness to deal top prospects.
But Portland needs to realize that if someone is willing to pay top dollar, they need to make everyone available.
Don't get me wrong, I love Nic Batum and L.A., but what exactly are those guys?
Blazers fans want to equate Batum to Scottie Pippen, and Aldridge to Karl Malone.
Those guys are good, but they aren't that good.
I personally would love to keep Aldridge since I believe he is a special talent, but Batum should be tradeable.
Portland needs a top-notch point guard, and they need to make everyone available in order to get one.
Take a look at the Clippers. They were a terrible franchise, got Chris Paul and became a contender.
Portland needs to pull out all the stops and get their franchise point guard, even if it is painful.
Go All out in Free Agency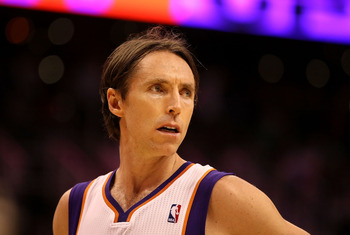 Christian Petersen/Getty Images
The Blazers really haven't gone all out in free agency in years.
Last year, they brought in Jamal Crawford, but it really wasn't a big deal.
They thought they were a contender, and a scoring sixth man made sense.
But they aren't, so this is a luxury.
It seems likely that Crawford will opt out of his contract, meaning that Portland will have a lot of cash to throw around this offseason.
The Blazers need a draw, and they need a point guard.
That's why they should take a serious run at Steve Nash.
Nash is getting old, but he has not slipped at all.
He is still perhaps the top playmaking point guard in the league, and would instantly become the John Stockton to LaMarcus Aldridge's Karl Malone.
More than anything, he would bring excitement to a suddenly stagnant fanbase.
Draft Rationally
Andy Lyons/Getty Images
The Blazers should actually be in a great position in this draft seeing as they will have two lottery picks, but they can't let that go to their head.
Plenty of teams have screwed up top picks.
With both of these lottery picks, they need to draft for value, and draft players that are good now.
The pick that they got from New Jersey should be an excellent pick. Right now it is slated as the fourth pick overall.
That being said, this pick will be a substantial challenge.
If Michael Kidd-Gilchrist is there, take him. He will be a top defender.
If Thomas Robinson is there, take him. He will be a stud rebounder.
But there is a chance that both of those guys are gone, and this is where things become challenging.
Andre Drummond will be tempting, but he is too much of a project. Last year his offensive game look paltry, his defense timid, and his rebounding pedestrian.
Perry Jones should be avoided at all costs; seven footers that think they are shooting guards are not suited to this league.
Portland needs to get this pick right, and that means drafting someone who has at least one skill that translates at the next level.
If they can't get that, they should consider dealing the pick.
I mean, do you really want to gamble on an undersized Bradley Beal or a string bean like Jeremy Lamb just because you need a shooting guard?
Regardless of position, the Blazers need to draft for value here.
The second pick is a lot less of a gamble.
They could get a big like Tyler Zeller or Meyers Leonard, or maybe even a point guard.
But there is also a chance that Harrison Barnes is there. If so, the Blazers need to gobble him up, even if they got lucky and got Kidd-Gilchrist earlier.
This team needs talent everywhere, and need to get sure things regardless of position.
At worst, you have two excellent wings. At best, you have more trade options.
The Blazers need to get someone that can help right away, and a project won't help here either.
Look at the top teams out there. With the exception of the Lakers and Andrew Bynum, not a lot of top teams have projects that have panned out.
Teams like the Spurs routinely find gems at all levels, and other top squads like Oklahoma City rarely miss on top picks.
This draft is crucial to Portland, and could turn this franchise around quickly if done right.
The Blazers need a sure thing, not a project.
Get Physical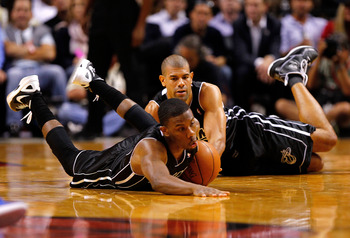 Mike Ehrmann/Getty Images
The Blazers, in their prime, were a physical bunch.
Buck Williams was the heart and soul of the Blazers in the 1980s and early 90s, and has yet to be replaced even 30 years later.
The Blazers need to get some guys that can hit the opponents.
Aldridge is more of a finesse player, and needs to be paired with a physical presence.
Hopefully, the Blazers can get a top-five pick and get someone like Anthony Davis or Thomas Robinson.
But even if they can't, they need to pick up some physical guys in free agency or via trade.
Look at the top squads.
Chicago has Joakim Noah, Boston has Kevin Garnett, and Memphis has Marc Gasol and Zach Randolph.
Brandon Bass, Paul Milsap or Jason Maxiell would definitely be welcomed additions to this team, and would help to excite the fanbase.
Keep Reading

Portland Trail Blazers: Like this team?