NFL Draft 2012: Kellen Moore and Other College Stars Who Will Go Undrafted
April 19, 2012

Ethan Miller/Getty Images
The upcoming NFL draft is going to be an outstanding weekend for well over 254 players.
But for plenty of others, it's going to be one of the worst weekends of all time. Not getting selected in the seven full rounds is an incredibly big hit to the ego, and for some it comes as a complete shock.
When you are the big man on campus in college and are universally revered by classmates, you end up believing the hype.
When you are left out in the cold on draft weekend, it's a stomach punch of epic proportions. Here are three collegiate stars that will have a rude awakening next weekend.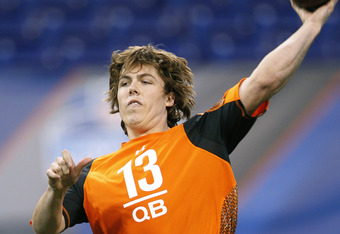 Joe Robbins/Getty Images
Kellen Moore, QB, Boise State
Moore was robbed of a BCS game in his final two years—despite losing a grand total of two games—and is going to be robbed of a draft pick in the NFL.
At only 6'0'' and 190 pounds, his frame is a huge concern at the next level. If you can't see the coverage over your 6'6'' burly linemen, you aren't going to have much success.
He doesn't have a ton of mobility and has below-average arm strength for a pro prospect. With so many other QBs currently ahead of him on the big board, the QB with the most wins in NCAA history (50) is going to be signing with a team as a street free agent after getting snubbed in the draft.
Vontaze Burfict, LB, Arizona State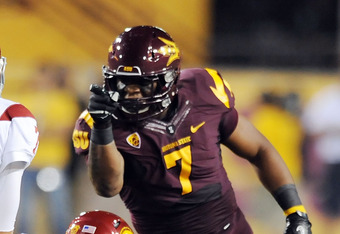 Norm Hall/Getty Images
This guy's draft stock is plummeting faster than Niagara Falls right now.
Mel Kiper recently suggested that Burfict won't be drafted, after he was projected to be a first-round pick as late as February.
His character issues and lack of accountability are extremely troubling, and his 5.0 40-yard dash is horrible for a linebacker.
He has nobody to blame but himself, and it's going to be interesting to see if he can prove the doubters wrong in a "nobody believed in me" sort of scenario.
Robert Blanton, DB, Notre Dame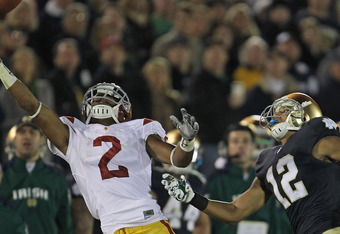 Jonathan Daniel/Getty Images
One of the better defenders in college last season, he registered 70 tackles and two interceptions to close out his career in 2011.
Problem is, he had a miserable combine. He posted a 4.66 40-yard dash—which is quicksand slow for a corner—and he didn't do too well in the strength portion of the event, either.
He just doesn't stack up against his peers and is going to be looking for a job with few interested parties a week from Monday.