Amile Jefferson: Comparing Duke's Top Remaining Target to Devils Past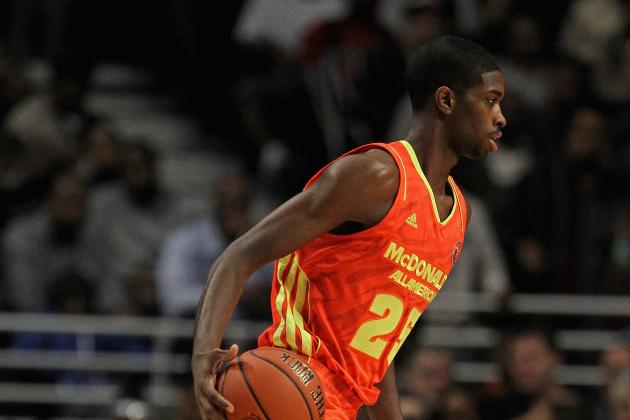 Jonathan Daniel/Getty Images
Amile Jefferson recieved the No. 25 ranking in the latest ESPNU 100
The toughest part of evaluating young players is guessing how they will translate to the next level. We can look at how they perform at camps and showcases, but even that ends up being insufficient at times. For these reasons, I like to compare players to players with similar bodies and skill sets and how they translated to the next level.
Amile Jefferson is one of the top unsigned players in the class of 2012 due to the potential associated with both of those factors. He has cut his list down to Kentucky, NC State, Vilanova and Duke. For our purposes here, we will look at the City of Brotherly Love product by comparing him to Blue Devils of the past.
For comparisons sake, here are Jefferson's vitals (according to ESPN):
6'7", 190 pounds
Power Forward
Frame is lean but has a lot of potential.
Rebounds well, works hard on the inside.
Feathery touch around the rim, needs to develop a better outside game.
Here are five former Duke players that should be considered when looking at Jefferson.
Begin Slideshow

»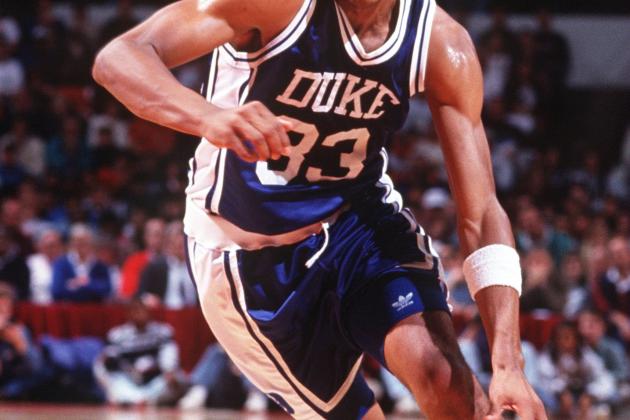 Doug Pensinger/Getty Images
Grant Hill was huge during Duke's run of success in the early 1990's.
This comparison may appear lofty at first glance, but look a little deeper and the comparison starts to get a little better.
When Hill first stepped on the court in Cameron, he stood 6'7" and 210 pounds. He was highly regarded recruit who still had to work on his jump shot and did not have a true position.
Hill's freshman year was a success, averaging 11.2 points and 5.1 rebounds en route to a spot on the national All-Freshman team. However, Hill attempted just two three-point shots on the season despite being listed as a small forward.
As Hill's career went on he became a more confident shooter from the outside, especially in his senior season when he almost single-handedly brought the Blue Devils to a National Title. Hill shot 39 percent from three, taking 100 shots from deep.
Jefferson compares well to Hill in terms of frame and skill set and this truly represents his ceiling with the Blue Devils.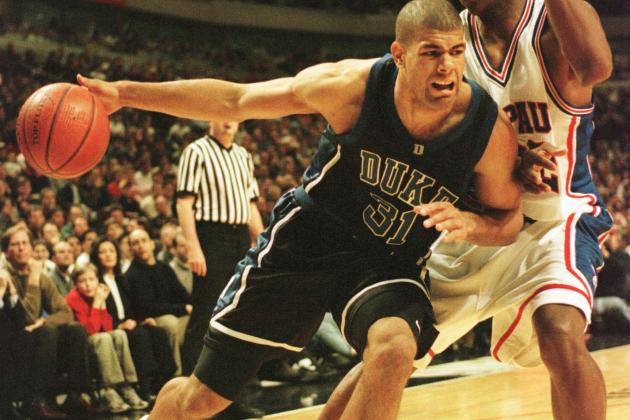 Matthew Stockman/Getty Images
Shane Battier was a senior on the 2001 National Championship team.
Another slide, another Duke legend. Battier was a much more polished small forward headed into Durham than Jefferson is, but he developed into a dangerous wing player and elite defender.
Like Jefferson, Battier stands 6'8" and weighed 220 pounds during his time at Duke. Battier's 254 blocked shots ranks third in school history while his 266 steals rank second.
Jefferson has good timing with his blocks and could develop into as dangerous of a defensive player as Battier was by the time Mike Krzyzewski is done with him. The shooting stroke would take a serious overhaul, but defensively Jefferson is already a somewhat finished product.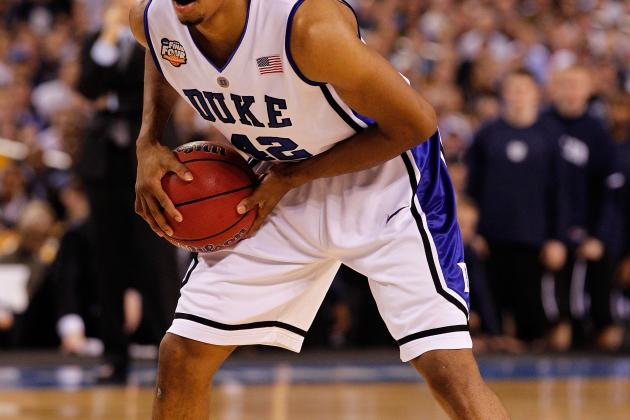 Jonathan Daniel/Getty Images
Lance Thomas was a co-captain on the 2009-10 National Championship team.
Now things are starting to look a little more reasonable, right?
Lance Thomas was not a world-beater during his days in college. He did his best work on the glass and was recognized for his defense by being named to the All-ACC Defensive team in 2009-10.
Thomas's career numbers are not staggering, or even that impressive. He averaged 4.6 points and 3.6 rebounds while getting 19.7 minutes per game. That being said, Thomas finished his career ranked 10th in team history in offensive rebounds.
Jefferson has shown more of a small forward's skill set than the power forward one that Thomas has, but their physical similarities are hard to see past. Thomas stands 6'8" and 225 pounds, making him the prototype power forward for Duke.
If Jefferson decided to add more bulk and work on the inside, being the next Lance Thomas is not too far outside the realm of possibility.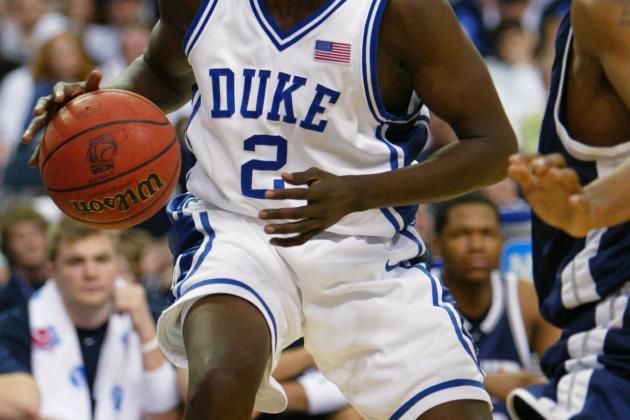 Jamie Squire/Getty Images
Luol Deng was one of the original one-and-done players at Duke, playing in just the 2003-04 season.
Comparing Jefferson to Luol Deng is tough because Deng was already a top-flight college basketball player when he arrived on campus. Deng was ready physically (6'8", 220 pounds) and had the diverse game that made him the seventh overall pick after just one season at Duke.
Deng started 32 games for the Blue Devils in 2003-04, averaging 15.1 points and 6.9 rebounds while shooting 36 percent from three-point range. Deng was a finished product when he arrived on campus while Jefferson could reach that level after a year or two.
Deng played the small forward position about as well as it can be played. He rebounded, defended (1.3 steals per game) and scored the ball both inside and out.
Just like Hill, Jefferson's ceiling is somewhere around the level of Deng but only after allowing for some time to develop his skills.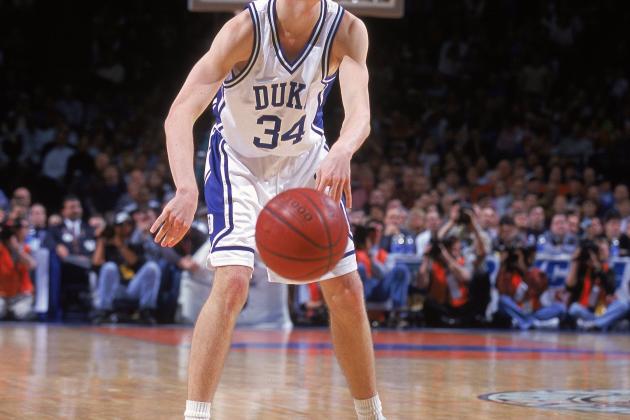 Craig Jones/Getty Images
Mike Dunleavy Jr. was a first-team NABC All-American as a junior in 2001-02.
Here is where Jefferson will likely find himself.
After watching him play, it is clear that Jefferson favors the face-up game of the small forward to the back-to-the-basket style of the power forward, which means that he will be committed to improving his jumper.
Mike Dunleavy Jr. was the original Kyle Singler. He had the size at 6'9" and 230 pounds to play the power forward, but he shot the ball extremely well from the outside. For his career, Dunleavy was a 37 percent shooter from downtown.
While most of this was due to his four-inch growth spurt between his freshman and junior seasons, Dunleavy never shied away from playing from the outside. If Jefferson can develop an outside shot that can even be compared to Dunleavy he could really be something special.
These are just a few possible outcomes for Jefferson should he come to Duke. These are all fair comparisons and should he live up to even 80 percent of each (except Thomas...he could destroy that one) than he would go down as one of Duke's more revered players.
Honorable Mentions
Kyle Singler
David McClure
Josh McRoberts