NBA Rumors: Blazers Reportedly Pursuing Lakers GM Mitch Kupchak for Vacancy
April 19, 2012

Jeff Gross/Getty Images
No amount of winning from the Lakers will take the focus off a tumultuous situation behind the scenes, and the latest is a report that general manager Mitch Kupchak is being targeted by the Portland Trail Blazers. 
ESPN's Chris Broussard and Marc Stein cite sources to report the Blazers are interested in taking one of the most respected general managers in the NBA away from the L.A. Lakers. 
Kupchak is one of the Blazers' top targets in their quest to land an executive with experience running a franchise's basketball operations, sources told ESPN.com.

It remains to be seen, however, whether the Lakers would be willing to grant Portland permission to speak to Kupchak, who has spent more than 25 years in L.A.'s front office.
It is widely believed that the transition from Jerry Buss to son Jim Buss has been a rocky one for one of the most storied and successful franchises in sport. 
The rumors and rumblings have been so extreme that Jim Buss recently answered questions on the subject with ESPN's Dave McMenamin.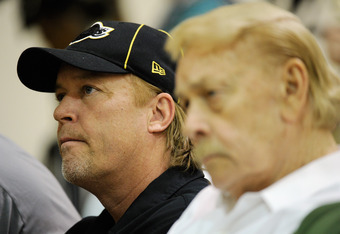 Kevork Djansezian/Getty Images
Buss went so far as to classify his relationship with Kupchak as healthy and strong, but there continues to be talk that the GM has grown tired of Buss, who has the last say in basketball decisions. 
NBC Sports' Kurt Helin cites sources that would serve to paint a different picture on the relationship. 
The whispers have been all over Staples Center — Lakers General Manager Mitch Kupchak is not happy and wants out of working with Jim Buss. Kupchak is also the ultimate team player and would never say that publicly and disparage ownership. I'll say I've heard the same rumors of his unhappiness from a couple second hand sources (not something I would write on its own, but I tend to believe them).
As Helin writes, the claims are unsubstantiated and need to be taken with a grain of salt, but there is enough smoke to think that things continue to be tumultuous in the front office. 
First, the Lakers would have to grant Kupchak permission to speak with the Blazers, as he is still under a lucrative multi-year contract. 
Second, there is the notion that the Blazers' gig would be just as miserable. Helin reminds us that Portland went through two general managers, Kevin Pritchard and Rich Cho, because they couldn't get along with owner Paul Allen. 
Every Lakers fan will tell you that things have hardly been business as usual since Jim Buss took over operations. 
The thinking is that Kupchak doesn't have nearly the say he once did in forming a championship-caliber team. 
This is a GM credited with pulling off a trade for Pau Gasol that has so far led to two titles, but what seems to be the main impetus now is saving money, as the deal that sent Lamar Odom off prior to the season demonstrated. 
There is no way of knowing whether Kupchak is done dealing with the new regime, or if the rumors are completely contrary to the truth. 
The answer, unfortunately, will come in the form of Kupchak's decision. If he does flirt with the Blazers' job offer, despite having what should be one of the best jobs in the NBA, we will know there is trouble in paradise.