Photo Courtesy: The University of Arkansas
April 19, 2012
First Mississippi State, then Michigan and now Arkansas.
Arkansas announced Thursday that it will hop on the bandwagon and paint the Twitter hashtag "#GoHogs" on the field during Saturday's Red-White spring game. The hashtag will be painted on the 25-yard line of the southeast and northwest corners of the field.
Hashtags are used so Twitter users can search and follow along people who are discussing particular topics. 
"The hashtag on the field is just another example of our commitment to engaging our fans with the Razorbacks through social media," Vice Chancellor and Director of Athletics Jeff Long said in a statement released by the University. "It is a simple way for our fans to show their support for our team and the student-athletes representing the University of Arkansas."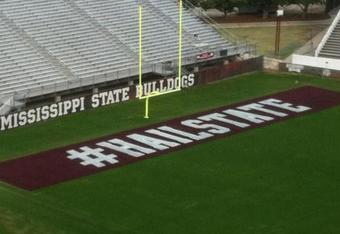 Photos courtesy: KegsNEggsBlog.com
This isn't new to the SEC. Mississippi State painted the hashtag "#HailState" in the end zones last fall for its annual Egg Bowl game against intra-state rival Ole Miss.
Michigan painted "#GoBlue" on the field for its spring game earlier this month.
When the Wolverines announced the plan, my colleague Adam Jacobi over at B/R's Big Ten Blog suggested some creative hashtags that Big Ten schools could use—so let's do that for the SEC:
SEC East
Florida - #SoWhatIfJeanShortsAreCool
Georgia - #NoSuspensions
Kentucky - #IsItHoopsSeasonYet
Missouri - #WaitWhereAmIGoing
South Carolina - #WeArentClemson
Tennessee - #PleaseWinDerek
Vanderbilt - #WillFightAnyCoach
SEC West
Alabama - #Got14or13or12or9orALotOfTitles
Arkansas - (There are too many options nowadays...most of which aren't even safe for the Internet...so #WPS would be a safe alternative to #GoHogs)
Auburn - #DoesCamHaveEligibilityLeft
LSU - #ItsBeenALongDayTailgatingWhyAreThere427PlayersOnTheField
Mississippi State - #OurState (#HailState has been done)
Ole Miss - #YawYahYawYawYaw (an ode to Ed Orgeron)
Texas A&M - #YouPlay2HalvesInTheSEC
Like the new article format? Send us feedback!