NHL Playoffs: Storylines in Game 4 of the Coyotes vs. Blackhawks Series
April 19, 2012

Jonathan Daniel/Getty Images
The series between Chicago and Phoenix is quickly becoming one of the more interesting matchups in Round 1. There are a few important storylines leading into Game 4.
The two teams are evenly matched, with all three of their games thus far being decided in overtime. All three games have remained close, with Chicago tying the score with seconds left to play in the first two contests.
The two teams play a different style of game, yet when playing each other they seem to be very well matched. Phoenix managed to win three out of their four games during the regular season. This is not to discount the Blackhawks, who have a talented and experienced group of players, a number of whom won the Stanley Cup in 2010.
In the three games thus far, Chicago has out-shot Phoenix 132-101 and managed 50 shots en route to their victory in Game 2. The Coyotes have managed 34 twice in their winning efforts.
It shows that Phoenix netminder Mike Smith is not easily intimidated, as he has faced close to 40 shots every game. Phoenix is playing a more patient, defensive-minded game. Yet Chicago proved in Game 2 that if you put a lot of shots on goal, some will eventually get by Smith.
Chicago has struck first in every game of the series thus far. Jonathan Toews scored a goal in his first game back from the concussion he suffered on February 19th. Brain Bickell and Andrew Burnette scored first in Games 2 and 3 respectively.
One major point to the scoring story has been Mike Smith, who is currently holding a .939 Save percentage and has faced the fourth most shots in these playoffs. The Hawks have been scoring early, but they have been having trouble both keeping the lead and expanding on it.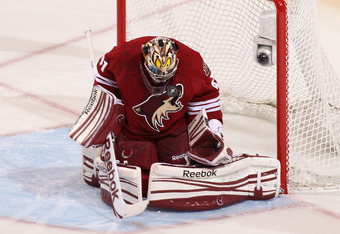 Christian Petersen/Getty Images
This is an issue that is also facing the Coyotes. In the first two games of the series, Phoenix gained a 2-1 lead but were unable to hold on.
These two teams have never faced one another in the postseason, and only played each other four times this year. Yet after watching the physicality of this series, it looks more like two old rival teams facing off once more in the playoffs.
Both teams have one man suspended, the Blackhawks lost Andrew Shaw after a hit to the head on Phoenix goalie Mike Smith. While Shaw will be back for Game 6 if needed, the Coyotes do not know how long they have lost Raffi Torres because of the hit on Marian Hossa.
Torres' hit to Hossa was like watching a replay with a different jersey. During last year's Stanley Cup Finals, Torres (then playing for Vancouver) hit Boston Bruins Nathan Horton in almost the exact same way.
It shouldn't surprise fans that Torres hit Hossa, as the two faced each other a number of times in the postseason when Torres was with the Canucks, a playoff rival of Chicago. Those series were as physical as this one is shaping up to be.
Not to condone the hit on Hossa, it was excessive and will most likely see Raffi Torres out for the remainder of the playoffs. Once again.
Players and coaches from Chicago have stated that they are not going to look for retaliation in this game. It could be that the best form of retaliation for the Blackhawks is to win Game 4 and tie the series.
There has been a combined total of 22 penalties in this series, with no game having less than seven. While penalties do not speak of the physicality of a series, look at Game 1 between Nashville and Detroit. It's the type of penalties being taken, from roughing calls to both teams having a player with a game misconduct as well as an unsportsmanlike conduct.
Since their move to Phoenix, the Coyotes have yet to pass the quarterfinals; this series shows that they have the passion and something to prove.
Let's face it, Phoenix is a club in trouble. The NHL has been operating the team for a number of years and there has been speculation that the team may have to move. They are in the south where interest in hockey is the lowest in the US. The team knows they need to win this series, and they're playing like it. A win in Game 4 would leave Phoenix needing only one win to close the series.
Chicago on the other hand, won the Stanley Cup just a few years ago. They are seen as one of the top teams in the league. The club has stated they are not going to underestimate the Coyotes and so far they haven't. The Blackhawks have been playing a tough game that has involved putting the puck on the net. In order to win Game 4, they will need to look for and take advantage of the opportunities.
Of all the first-round series, the passion in this one from both teams has made it one of the most interesting. At this point it could easily go either way. The only real issue that arises from a series like this is fatigue.
Both teams are playing hard and trying to gain the upper hand in the game and the series. If this series goes to seven games, the winner will be tired no matter who it is.