Mark Bocek: "If You Use Marijuana, You Shouldn't Be Fighting"
April 19, 2012

There's been a growing connection with the sport of mixed martial arts and marijuana over the past several years as the sport continues to grow.

However, it needs to be made clear that there are many fighters who shy away from the marijuana discussion as they believe in doing things the right way.
One of these individuals is UFC lightweight Mark Bocek (10-4) who recently sat down with Bleacher Report.
"I think if your doctor is telling you that you need to take medicinal marijuana, you probably should not be fighting," said Bocek.
The proud Canadian will continue to do things the right way as he finishes up final preparations for his upcoming bout at UFC 145.
Bocek was originally expected to meet Matt Wiman but will now square off with John Alessio because of an injury that sidelined Wiman.
"I'm not disappointed at all that Wiman got injured. I'm just happy to have an opponent," said Bocek. "I think if you're fighting in the UFC, you deserve to be in this position."
Bocek is coming off a win over Nik Lentz at UFC 140 where his hand was raised via unanimous decision.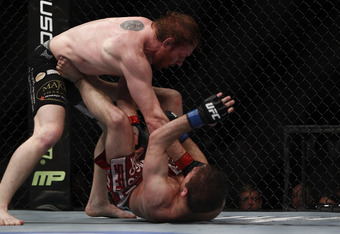 On paper, Bocek holds the clear advantage as the odds heavily favor his skill set.
In fact, Bocek's last loss came when he went the distance with current lightweight champion Benson Henderson only to come up short by way of the judge's scorecards.
The fans aren't the only ones who feel Bocek is entering with the wind at his back.
"I believe I have an advantage in every area of this fight," said Bocek. "I don't really know how I'll win, but I will find a way to win."
As Bocek continues to elevate back to elite contender status, he remembers those who've assisted him along the way.
As we know, a fighter is only as good as those in which he surrounds himself with.
"I would like to thank Mary Oliveira, Firas Zahabi, Jon Chaimberg, Mike Dolce and my training partners. I'd also like to thank my sponsors: Major's Pharmacy, Kleinburg Private Wealth, Kaiwaa, Fight Decals, Dr. Paul Biondich, Vitalife Therapeutics, Life Pulp, Level 12, Venum,  Dr. Josie Buttice, and Street Soldier," said Bocek.
"And of course all my family and friends."
For additional information, follow Garrett Derr on Twitter.