2012 NFL Draft: 5 Big Ten Prospects the Saints Could Draft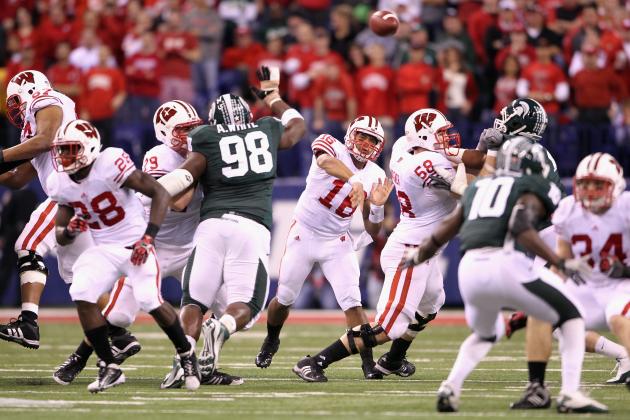 Andy Lyons/Getty Images

Can you believe the 2012 NFL draft is a mere week away? I certainly cannot.
Sadly the New Orleans Saints do not have a selection until the third round (Pick No. 91). With no first- or second-round pick, Mickey Loomis and Rick Reiprish's job becomes nearly an impossible task.
They must find at least two or three starter-potential players in rounds when you normally expect to find backups (third is generally thought to produce starters, whereas the fourth and later are considered to be the backup rounds).
Not to worry, though, as there are some underrated players coming out of the Big Ten who potentially could be available in the third round or later. Here are five Big Ten stars who could become big-time NFL players that the Saints have to consider drafting if they are to be available at pick No. 91 or later.
Begin Slideshow

»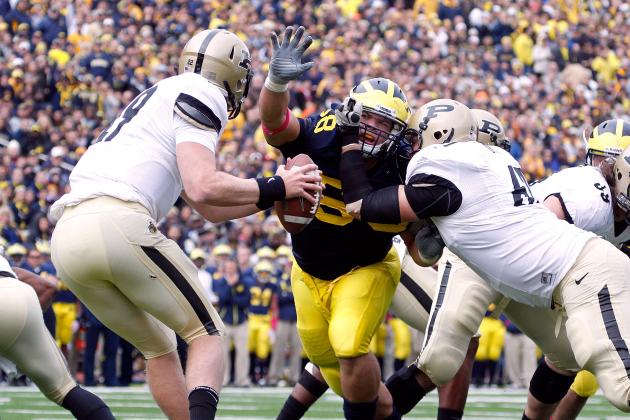 Gregory Shamus/Getty Images

If Mike Martin were to fall to pick No. 91, I'm almost certain the Saints would fly to the clock to select the Michigan defensive tackle.
Though many scouts have him projected as more of a 3-4 defensive end, in my estimation he fits pretty well as a defensive tackle in the Saints' 4-3 defensive scheme.
He's not an explosive player who is going to blow by anyone or make tons of plays in the backfield. But he is plenty strong enough to maintain the point of attack against the run and move the line. And he has good enough lateral quickness against zone schemes to force the ball-carrier further inside and allow the linebackers to fly up and make the tackle (something Curtis Lofton and Jon Vilma both do well).
Unlike the disappointing free agent pickup Shaun Rogers, Martin has great balance and stays on his feet nearly every play. That is so important so as to not clog up gaps for linebackers and other defenders to get to the ball-carrier.
Martin would be most effective against the run, but has a motor which would allow him to become an effective pass-rusher over time, especially in Steve Spagnuolo's scheme.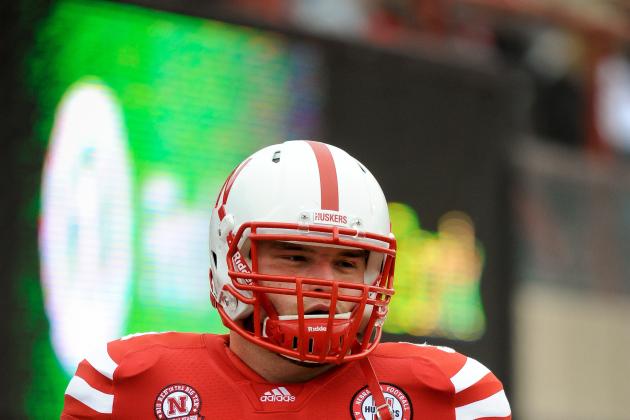 Eric Francis/Getty Images

I haven't watched film of every prospect in this year's draft—in fact not even close. Of those that I have, though, Jared Crick is one of the best football players. Other guys may be stronger, faster or can jump higher. But Crick is plain and simply a great football player.
He is technically sound with multiple pass-rushing moves. He uses his hands well and knows how to rip through in traffic to get his desired destination.
He is an aggressive player who sometimes overruns plays. But considering how little production the Saints got from their defensive tackles last year—especially in the offensive backfield—I think the Saints would be okay with Crick's aggressive pursuit of the man with the ball.
But there is one fairly major hiccup with Crick—that is a torn pectoral injury he suffered Oct. 8 against Ohio State. While that is a fairly common injury for interior linemen it is not desirable for a prospect to enter the league in such a state.
Thus it is crucial that Crick has checked out a-okay physically before a team takes a chance on him. If teams decide to pass in the early rounds, that is obviously cause for concern but not necessarily a death sentence for his NFL potential.
He's a beast and should recover just fine. If he does he'd be the perfect fit for this New Orleans Saints squad—especially given Spagnuolo's propensity to use defensive linemen interchangeably on passing downs.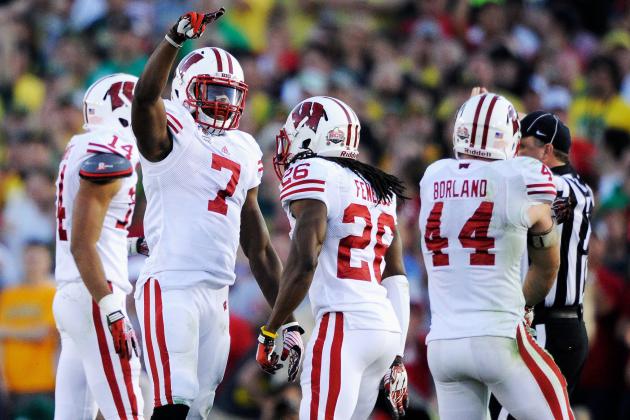 Kevork Djansezian/Getty Images

Aaron Henry of Wisconsin is a player I have highlighted in Saints mock drafts for months now. He figures to be available in the fourth round, as most scouting services have him listed in their top 125.
The Badger free safety is everything the Saints lack in a safety and thus drafting him becomes necessary. He is not the playmaker that Malcolm Jenkins or Roman Harper are—though those traits haven't always been ever-present while the Saints defense was led by a man who, as he was growing senile, became a meathead with little concern for schematics.
With the more level-headed Steve Spagnuolo running the defense, the New Orleans Saints can get back to running intelligent schemes and allowing those schemes to create turnovers and big plays. A player such as Henry will help keep the ball front of the other defenders giving players like Jenkins and Harper opportunities to scoop and score.
And while Harper figures to face a heady suspension in the early part of the year, Henry can start if so deemed necessary, or at least play an even more integral backup role on the defense.
He would instantly be the best man-to-man cover guy of the three, though Jenkins isn't exactly garbage in that department—everyone just thinks so after he got trashed by Vernon Davis in epic fashion in January.
Stephen Dunn/Getty Images

I highlighted Russell Wilson back in January after the Senior Bowl. Not much has changed about my opinion of the young man, other than that it seems he will go before the sixth round as I projected then.
If he is available in the fifth round, the Saints have to consider the kid for a couple of reasons.
It is true that he is pretty much a clone of Chase Daniel and Drew Brees. Like those two, he was a winner in college. Like them, he is limited by size and arm strength, but he would benefit greatly from learning from those two veterans.
And I've made much mention before of how much I like to draft a QB every year. That is often referred to as "The Packer Way." I am fully in support of that method of drafting. I believe Chase Daniel will soon be gone, meaning a new backup must be trained.
And Brees cannot play forever. At some point his actual replacement must be found. If that moment were to come sooner than expected, the Saints' best bets would be open tryouts.
At least with Daniel and Wilson around they'd have three players they could trust and the two backups could at least weather the storm until a great replacement were found (assuming neither of them became that).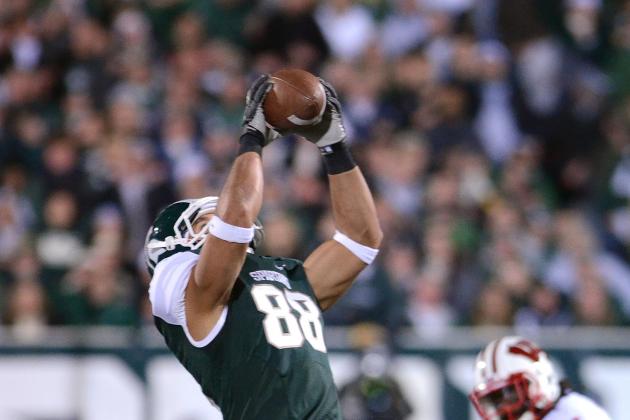 Mark Cunningham/Getty Images

As a guy who looks like an offensive lineman, there is no way a light linebacker or safety wants to see Brian Linthicum running full speed ahead trying to pancake block them.
Linthicum is one of the most underrated tight ends in this year's draft class. He isn't just big and bulky. He has a high football IQ allowing him to line up all over the field—something that is of course a prerequisite for any skill player in the New Orleans Saints offense.
He runs good routes, has dependable hands and isn't going to go down easily with the ball in his hands. But most of all he is a stone wall as a blocker. Whether it's inline blocking for his quarterback or exterior flat-lining in the running game, Linthicum makes the quarterbacks and ball-carriers job easier every time.
For this reason alone, he is the perfect fit in New Orleans. The team has been looking for a consistent No. 3 tight end for at least two years now. With Linthicum, the Saints have a guy who fits their system, has a tough-mindedness and physical aspect to his game and plays the game the right way.
There isn't much dislike about the former Spartan. If he is available in the sixth round, the Saints would be foolish to pass on this particular player.
These five players are all good options for this Saints team. We will find out in a week which ones, if any, will be sporting the black and gold of the New Orleans Saints to begin their professional careers.