For most fans of the Philadelphia Flyers, the hope a four-game sweep over the Pittsburgh Penguins had disappeared long before starting goaltender Ilya Bryzgalov skated from the crease to the bench on Wednesday night. At the time, the scoreboard read 5-3 in favor of the Penguins, with those five goals coming on a mere 18 shots.
Flyers fans have been so focused on beating the Penguins that they are missing one key point: Their goaltender is playing terribly. Luckily for them, Marc-Andre Fleury has been atrocious in the net for the Penguins.
The numbers don't lie; Bryzgalov is sporting 4.95 goals-against average to go along with a .844 save percentage. The only goalie in the playoffs that is worse is—you guessed it—Fleury, whose numbers are 5.43 GAA and .817 SP. What makes it worse is that Flyers are forking over $51 million over nine years for that kind of performance.
With those numbers in mind, the statement that Peter Laviolette made after the game was stunning, as the Flyers head coach told NHL.com:
He had seen five goals 22 minutes in and that's enough for him. He's been carrying the load for us. I think it's important for him to come out of that situation and give Bob [Sergei Bobrovsky] an opportunity to go in and battle for us. We have a lot of confidence in Bob as well. To change it up, shake the tree a little bit.
That's a nice spin from the coach, but the fact remains that this was not the only bad game that Bryzgalov had played in the series with the Penguins; it was the fourth bad game in four games. In the three previous games, he had given up three, five and four goals, respectively.
You can define "carrying the load" in many ways, but when eight of the 19 goalies that have seen ice time in the playoffs have a goals-against average below 2.0 and 13 of those 19 have a save percentage above .900, well, your goalie is not carrying anything.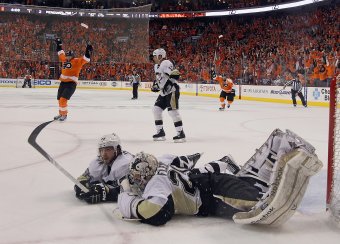 Bruce Bennett/Getty Images
Game 4 was not a fluke, it was not an aberration; the Penguins have a real chance to run off three more wins in this series and move on to Round 2. It seems as if Fleury and Bryzgalov are in some kind of anti-Conn Smythe trophy race, one that will determine who is the least valuable player to his team.
Right now, Fleury is in the lead in that race, but after last night's performance I would not be surprised to see Bryzgalov overtake him.
One thing is for certain: With the way their goaltenders are playing, it's going to be a short postseason for both of these hockey clubs.