2012 NFL Mock Draft: Combine Stars That Will Fall Flat
April 20, 2012

Joe Robbins/Getty Images
With each NFL draft, several prospects gain a ton of hype during their workouts at the combine, only to end up becoming busts in the NFL. 
It's certainly unfortunate, but there's a risk teams take with just about every draft pick they make. 
The same thing will happen in the 2012 NFL draft, and it won't be long until see these players flop. 
That said, here's my 2012 NFL mock draft with info on each pick and a more in-depth look at those combine stars that will fall flat on their faces. 
2012 NFL Mock Draft 
1. Indianapolis Colts (2-14): Andrew Luck, QB, Stanford   
The best prospect in the draft, Luck is a lock for the Colts, and I, for one, cannot wait to see him play in the NFL. 
2. Washington Redskins (5-11): Robert Griffin III, QB, Baylor
Another guy that will be extremely exciting to watch as a rookie, Griffin has the dual-threat abilities that will help him thrive in the NFL for quite some time.  
3. Minnesota Vikings (3-13): Matt Kalil, OT, USC
Minnesota may trade this pick, but staying put and getting superb protection for Christian Ponder is the wise decision. 
4. Cleveland Browns (4-12): Trent Richardson, RB, Alabama 
Here's another Top-Five pick that could be traded. Still, if the Browns want to play it smart, getting the sure thing in Richardson to significantly upgrade the offense is a must. 
5. Tampa Bay Buccaneers (4-12): Morris Claiborne, CB, LSU 
Claiborne is the top defender in the draft, and he'll be a huge upgrade for the Bucs' secondary. 
6. St. Louis Rams (2-14):  Michael Brockers, DT, LSU
Brockers is a beast in the trenches, and he'll provide some much needed youth to the Rams defensive front. St. Louis needs a WR, but it's too risky to draft one here with Brockers being a safer pick. 
7. Jacksonville Jaguars (5-11): Justin Blackmon, WR, Oklahoma State 
Blackmon tore up the college scene and impressed in a big way at the combine, despite the fact he suffered a hamstring not long before the event. 
The 6'1", 207-pound wideout did a great job in pass-catching drills, but folks shouldn't get too crazy over him excelling in a comfortable setting like that. When he puts the pads on and tries to make it in the NFL, it will be a completely different story. 
Blackmon will be up against much harder competition, and that will doom him in the NFL. The Jaguars are desperate for playmakers, so they'll take the gamble on Blackmon, but it won't pan out. 
8. Miami Dolphins (6-10): Alshon Jeffery, WR, South Carolina 
Ryan Tannehill is quite the popular pick here, and it's very possible that's where the Dolphins lean. However, Jeffery is a better option for Miami, especially after the Dolphins traded away Brandon Marshall. 
9. Carolina Panthers (6-10): Quinton Coples, DE, North Carolina 
Coples has tremendous skills, and he's easily the biggest boom-or-bust prospect in the draft. This Carolina kid should be able thrive for the Panthers, though, unless he gets too comfortable and doesn't feel like working hard to win. 
10. Buffalo Bills (6-10): Courtney Upshaw, OLB, Alabama 
The Bills might consider a lineman here or even a wideout, but their best bet would be to stockpile the defense with more talent. After all, they have to find ways to stop the Patriots and the Jets if they're ever going to win big. 
11. Kansas City Chiefs (7-9): Riley Reiff, OT, Iowa
The Chiefs have a number of options here, but the wise decision would be to add Reiff to provide solid protection for Matt Cassel. 
12. Seattle Seahawks (7-9): Nick Perry, DE, USC 
Perry is an explosive defender off the edge, for which the Seahawks happen to have a big need.
13. Arizona Cardinals (8-8): Melvin Ingram, DE, South Carolina  
The Cardinals have several options as well, but improving the pass rush by selecting Ingram is the right call. 
14. Dallas Cowboys (8-8): Dre Kirkpatrick, CB, Alabama
Kirkpatrick has great coverage skills, and he'll definitely be a warm welcome in Dallas as the Cowboys shoot for another championship. 
15. Philadelphia Eagles (8-8): Luke Kuechly, LB, Boston College  
Kuechly is a tackling machine that will provide excellent depth for the Eagles. He plays all over the field and can stop the run with ease. 
16. New York Jets (8-8): Michael Floyd, WR, Notre Dame 
Floyd needs to stay away from the booze, but with Super Bowl aspirations in New York, this fine red-zone target should stay focused and be hungry to win.  
17. Cincinnati Bengals (via OAK 8-8): Lamar Miller, RB, Miami  
The Bengals need another running back to complement BenJarvus Green-Ellis. Miller and his blazing speed will definitely be a solid fit in Cincinnati. 
18. San Diego Chargers (8-8): David DeCastro, OG, Stanford 
DeCastro is the best interior lineman in the draft, and he'll be a great addition to San Diego. Defensive line is a need as well, but the Chargers would be reaching big-time for one here. 
19. Chicago Bears (8-8): Jonathan Martin, OT, Stanford 
Martin can easily step in for the Bears and provide Jay Cutler with great protection, as well as open up big holes for Matt Forte. 
20. Tennessee Titans (9-7): Stephon Gilmore, CB, South Carolina
With the top pass-rushers off the board, the Titans will move their focus to helping the secondary, and Gilmore is a phenomenal pick here at No. 20. 
21. Cincinnati Bengals (9-7): Janoris Jenkins, CB, North Alabama
The Bengals have been known to take troubled players in and make things work. They'll key in on Jenkins' talent and try to forget his character issues. 
22. Cleveland Browns (via ATL 10-6): Kendall Wright, WR, Baylor 
The Browns wisely continue to improve their offense by bringing in an exceptional deep-ball threat in Wright. He'll instantly make Colt McCoy a better QB. 
23. Detroit Lions (10-6): Cordy Glenn, G, Georgia                       
Cornerback is an option here, but the offensive line is more important in my opinion. Matthew Stafford needs all the protection he can get. 
24. Pittsburgh Steelers (12-4): Alfonzo Dennard, CB, Nebraska 
Dennard will provide the Steelers with some much-needed youth in the secondary. After all, Ike Taylor isn't getting any younger, plus Pittsburgh can't afford to get burned deep in big situations again. 
25. Denver Broncos (8-8): Dontari Poe, DT, Memphis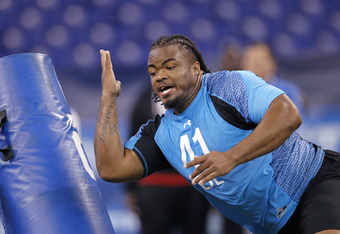 Joe Robbins/Getty Images
Poe tore through the combine, making headlines with a 40-time of 4.98 seconds. That's astonishing for a guy that's 6'4" and 346 pounds. 
The Broncos will be all over the hype of Poe, selecting him at No. 25 because defensive tackle is their biggest need. 
However, Poe will fail to live up to the expectations he set for himself with his earth-shattering combine workouts. Based on skills and technique, Poe will get worked too much by opposing linemen this coming season. 
26. Houston Texans (10-6): Stephen Hill, WR, Georgia Tech  
Another combine stud, Hill isn't going to pan out like people think he will, at least not right away. 
Sure, his amazing 4.36 speed is extremely enticing, but his other skills aren't up to par. The Texans will take him anyway, hoping he can take pressure off Andre Johnson and make big plays every game. 
Unfortunately, Hill needs work on his route running and separation skills. He can block well and run fast, but that won't be enough to amount to the type of success that comes with being a first-round pick. 
27. New England Patriots (via NO 13-3): Peter Konz, C, Wisconsin  
The Patriots love to make sure Tom Brady is kept safe, and stacking the offensive line with more help by adding Konz is something Bill Belichick won't pass up. 
28. Green Bay Packers (15-1): Whitney Mercilus, DE/OLB, Illinois  
The Packers need a guy who can step in right away and make an impact alongside Clay Matthews. Mercilus had 16 sacks a year ago, and the Packers will continue to make him work hard so he can dominate in the NFL and prove he's not a one-hit wonder. 
29. Baltimore Ravens (12-4): Dont'a Hightower, LB, Alabama 
Drafting the best overall player here is the smart move for the Ravens, although they'll probably think long and hard about offensive tackle Mike Adams of Ohio State. Still, Hightower has what it takes to be the next Ray Lewis, and Baltimore can't let him get away. 
30. San Francisco 49ers (13-3): Mark Barron, S, Alabama 
The 49ers don't have any pressing needs, as their offense improved in a major way during free agency. Trading down is a strong possibility, but staying put and getting the best overall player in Barron would be a good decision as well. 
31. New England Patriots (13-3): Andre Branch, DE, Clemson
The Patriots decide to keep their second first-round draft pick and use it to help the defensive front. Or, Belichick does the expected and trades this pick to a team trying to get back into Round 1. 
32. New York Giants (9-7): Chris Polk, RB, Washington 
With Brandon Jacobs out of the picture now, the defending champs are going to need another back to work with Ahmad Bradshaw, and Polk is the perfect guy for the job.