Madden 2013: EA Can't Lose in Cam Newton vs. Calvin Johnson Cover Battle
April 19, 2012

EA will have a great Madden cover athlete no matter who wins the final matchup between Calvin Johnson and Cam Newton. Both players have presented themselves well through their awesome on-field gifts and off-field charisma.
In short, we're talking about two of the coolest players in the NFL.
EA must be happy that Rob Gronkowski was eliminated from consideration. As Pasta Padre wrote in an article about Gronk's Madden cover possibilities,
"It would be a PR nightmare for the company if he were to become the face of Madden NFL 13 – this is not the image that would be desired for promotional purposes."
Gronk's party habits and other allegedly questionable behavior could have been an issue, but Megatron defeated him, and now the world is safe again.
Since when does the bad guy winning restore order?
It's just a nickname; for everything we've ever seen, Megatron is almost as great a guy as he is a wide receiver.
I say almost because if that were the case, he'd be like Jesus or something, and he's not—is he?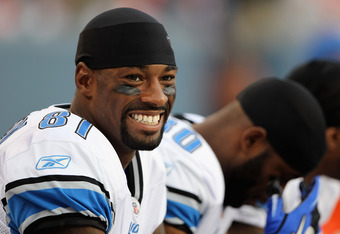 Doug Pensinger/Getty Images
Johnson told mlive.com's Justin Rogers about the potential honor:
One, you've never seen a Detroit player on the cover. Two, it would be huge for the city. You can only imagine. Then, after that, it gives a lot to my foundation and my charities I work with back home and in Detroit.
As cool as Johnson on the cover would be, I think Newton will take the vote.
He is so next as far as endorsement and overall popularity goes in the NFL. This cover coronation would just be another step in the building—and well-deserved—marketing monster Newton is becoming.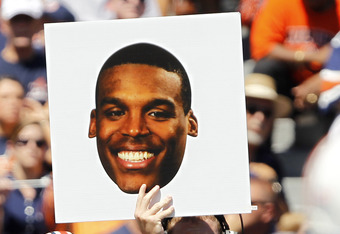 Butch Dill/Getty Images
He has seemingly become Under Armour's foremost pitchman and endorser, as well as inking a deal with Gatorade.
Of course, he's a QB, so that does give him an edge. But he also won the Heisman Trophy and the Offensive Rookie of the Year award.
Hardware is always the ultimate validation for popularity—even on a video game.
Though I believe Newton will win, EA will have a worthy and cool representative either way.
Follow Brian Mazique
and Franchiseplay—A Haven For Sports Expression