WWE Rumors: The Rock, Brock Lesnar, John Cena and Friday's Top WWE News
April 20, 2012

J. Meric/Getty Images
As we approach the Extreme Rules pay-per-view next weekend, I look at the card and realize just how little WWE cares about the low- and mid-card stars it currently has on the roster. 
There have been four matches announced for the show, all of them involving the very top stars like John Cena vs. Brock Lesnar. 
I often wonder how we got to this point, with so little regard for wrestlers like Dolph Ziggler, Jack Swagger, Tyson Kidd, et al. Sure, the top stars are what sells the show, but it is the mid-card workers who can become stars if they were given a chance to succeed. 
Now that you are depressed, here are the latest backstage rumblings and grumblings from WWE to put a smile on your face before the weekend. 
THE ROCK VS. JOHN CENA PART DEUX?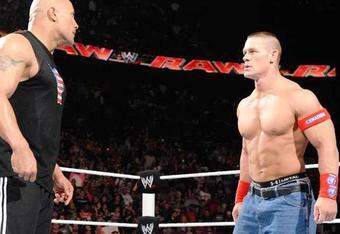 Considering the financial success of The Rock vs. John Cena match at WrestleMania 28, WWE is reportedly considering doing a rematch at WrestleMania 29. Of course, there are also plans for Rock vs. Brock on the same show, so everything appears to be on the table right now. 
Question on Everybody's Mind: Which match makes more sense?
Our Take: Rock vs. Cena was entertaining for what it was, but it also felt like the end to a story. Instead of hoping that lightning strikes twice, WWE should focus on Rock vs. Brock and doing something else with Cena for next year's show. 
Hype Meter: 5 out of 5 WrestleMania Main Events
If WWE were to go back to the Rock-Cena well, hopefully the creative team learned from some mistakes trying to build the match. Like, instead of bringing Rock down to Cena's level, try elevating Cena up to Rock's level. 
Deeper Dive
Ideas For WrestleMania 29 (Wrestling Observer)
--------------------------------------------------------------------
WWE SKEPTICAL OF BROCK LESNAR'S LONG-TERM DRAWING POWER?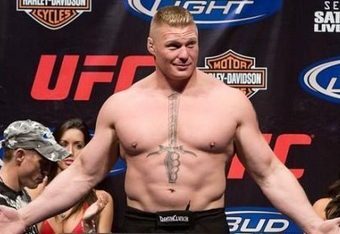 One reason WWE isn't quite sure what to do with the main event of next year's WrestleMania is because of Lesnar. Specifically, how long his drawing power as a wrestler will last. He has been known to fly off the rails at any moment, so if he gets bored in a few months, everything will change. 
Question on Everybody's Mind: Is Lesnar going to lose that much drawing power?
Our Take: It would take a lot for Lesnar to become just another WWE performer. Right now, he is on top of the world. That interview segment that ran on Monday was as good as anything WWE has put together in a long time, but we are just one wig on Lesnar's head away from him turning into a Goldberg-level disaster. 
Hype Meter: 5 out of 5 Ass Kickers
Considering how temperamental Lesnar is, it is hard to see him trying anything that would hurt his marketability. He is making money from WWE and sponsors, so he wants to present himself in the best possible light. 
Deeper Dive
WWE On The Fence With Lesnar At WrestleMania (Wrestling Observer)
-----------------------------------------------------------------------------
CHRIS JERICHO LEAVING WWE BEFORE SUMMERSLAM?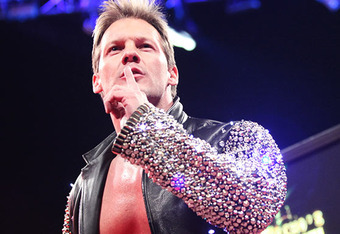 While there seems to be some rumor about Jericho's future every week, word from the man himself is that his current stint with the company will end before SummerSlam because of touring and recording commitments with Fozzy. 
Question on Everybody's Mind: Why would Jericho go before a show that big?
Our Take: Jericho loves to play games with the fans--just look at how vehement he was about not returning earlier this year. I would imagine he will work SummerSlam, but likely appear on Raw via satellite for a few weeks to build a match with whomever he is working. 
Hype Meter: 5 out of 5 Electric Jackets
With Jericho's future so up in the air, you can really see why WWE was so desperate to get Brock Lesnar signed to a contract, even if it only includes 32 dates. They need all the roster help they can get right now. It's actually quite sad. 
Deeper Dive
Jericho's WWE Future (NoDQ)
-------------------------------------------------------------------------
JOEY STYLES WANTS PAUL HEYMAN IN THE WWE HALL OF FAME
One of the great sources of controversy and debate among WWE fans is who is and, more importantly, who isn't in the Hall of Fame. Paul Heyman might not be the most egregious snub, but Joey Styles certainly thinks he belongs in. Here is what he said on Twitter. 
"@SMillard20: @JoeyStyles for the WWE Hall of Fame at Wrestlemania 29 #ECW!" I would rather induct the much more deserving @HeymanHustle.

— Joey Styles (@JoeyStyles) April 18, 2012
Question on Everybody's Mind: Will Heyman ever get into the WWE HOF?
Our Take: Considering the clashes he had with Vince and especially Stephanie during his most recent run with the company, don't hold your breath. If anyone in the McMahon family doesn't like you, you aren't getting in. 
Hype Meter: 4 out of 5 Heyman Hustles
Even if WWE were to offer Heyman a spot, I am not sure he would accept it. He does deserve it. He may not have been a good businessman, but there are few people who can say that they are better bookers than he is. 
Deeper Dive
Former WWE Star Headed to Bellator? (B/R)
---------------------------------------------------------------
Check back for more on the WWE as it comes, and check out Bleacher Report's Wrestling Page to get your fill of the WWE. For more WWE talk, check out Ring Rust Radio for all of the hot topics you just can't miss.